Microsoft Downgrades Windows Phone Hardware Requirements, Targets Enterprise, Entry-Level Segments
In an effort to target the enterprise market, which has stringent hardware requirements on what a phone or device can or cannot have on-board, as well as the low-end entry level smartphone market, Microsoft is relaxing some of its hardware requirements with Windows Phone 7. The company made a drastic Apple-like shift when it moved away from the relaxed and open Windows Mobile platform to Windows Phone 7, requiring a certain set of minimum hardware to ensure a consistent experience across all phones and devices with the Windows Phone OS on board.
However, it is discovered that as of September 23rd, Microsoft had eased some of those requirements, which would help to bring Windows Phone 7 to a broader audience and help the platform compete better against Android.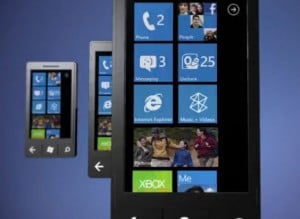 Now, hardware makers like HTC, Nokia, and Samsung can optionally include a compass, gyroscope, front-facing camera, and rear camera on their devices. Making the cameras optional is new for the platform and helps to ensure that Windows Phone 7 devices can meet the security needs of enterprises and government where there may be bans on devices with cameras. Additionally, making optional the compass and gyroscope will help to reduce the costs of devices and may make Windows Phone 7 more accessible.
The following are still part of the hardware requirements for Windows Phone 7:
A common set of hardware controls and buttons that include the Start, Search, and Back buttons.
A large WVGA (800 x 480) format display capable of rendering most web content in full-page width and displaying movies in widescreen.
Capacitive 4-point multi-touch screens for quick, simple control of the phone and its features.
Support for data connectivity using cellular networks and Wi-Fi.
256 MB (or more) of RAM and 8 GB (or more) of flash storage.
A-GPS
Accelerometer
It is rumored that Microsoft will be working specifically with Nokia on the Windows Phone 7  platform codenamed Tango, that will appear after Mango's release, to target the entry-level segment. The loosening of these requirements will definitely help to lower device costs.
Via: WP Central

As an Amazon Associate I earn from qualifying purchases.