Microsoft Drops Office 2007 Ultimate Price for Students to $59.95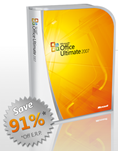 If you are in school you no longer need to be satisfied with the student edition of Microsoft Office. Microsoft just dropped the price of the ultimate edition of Microsoft Office 2007 from $679.95 to $59.95 for students. That's a 91% drop. You need an email address ending in .edu to qualify for the discount. Check it out here.

This article may contain affiliate links. Click here for more details.