Microsoft Fixing Surface Tablet's Biggest Flaw for One Week Only
Microsoft is addressing one of biggest concerns of users willing to consider it's Surface tablets over similar products like Apple's iPad Air and rival 2-in-1s from partners like Lenovo. All Surface tablet buyers will receive a free Touch Cover with the cost of their tablet in a special promotion this week.
Microsoft began offering the deal to Surface buyers through its Microsoft Store website earlier today. A look at the offer's terms and conditions doesn't reveal any obvious gotchas. Simply put, users who purchase a Surface, Surface Pro, Surface 2 or Surface Pro 2 get to choose a touch cover of their choice at no additional charge.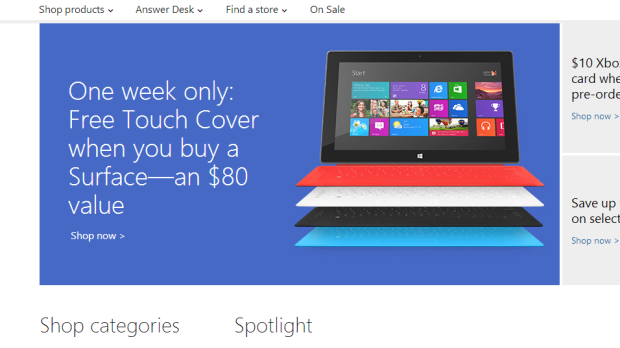 These are the same covers that Microsoft introduced alongside the Surface devices, and the company has included them in all of its advertising. Despite this, the company doesn't actually offer any Surface tablets that come bundled with either version of the Surface Touch Cover. Users who purchase the device are now guaranteed an $80 savings over what users would normally pay for a Touch Cover.
To be clear, these covers aren't to be confused with the Touch Cover 2 accessories. They're keys are still touch sensitive, however users can't do gestures by running their fingers across multiple keys. There's absolutely no backlighting to speak of on the original Touch Cover either. As such, users who want either of those features will still need to pay $119.99 extra for a Touch Cover 2.
This deal does include the Surface 2 with LTE iPad competitor that Microsoft announced formally last week, and users can choose between black, red, white and cyan Touch Covers for their devices.
If there's one catch it's that Microsoft only plans to offer the deal until this coming Saturday, March 29th. After that, the Touch Cover will go back up to its usual price and users will be stuck paying for an accessory that many think should have been actually included with each Surface tablet.
Read: Microsoft Surface 2 Review: Less Confusing and More Viable
A Surface 2 with free Touch Cover sets users back $449, while an iPad Air would cost $499 and a Logitech Ultrathin Keyboard Cover would cost another $99. For now, a Surface 2 sounds like a slightly better deal.