Microsoft Gives 20GB of Free Skydrive Storage to Windows Phone Users
Ho! Ho! Ho! Microsoft is acting like Santa Claus and stuffing Cloud stockings with some extras Skydrive storage. If you're a Windows Phone user look for an email from Microsoft soon. That email is offering 20GB of free Skydrive Cloud Storage for one year. Users will have to claim their free Skydrive storage by the end of January 31, 2014.
Microsoft previously had offered 200GB of free Skydrive storage to consumers buying a Surface 2 or Surface Pro 2 Tablet for two years. It looks like Microsoft wants its device users to go all in with Skydrive and is willing to lure them in with free storage.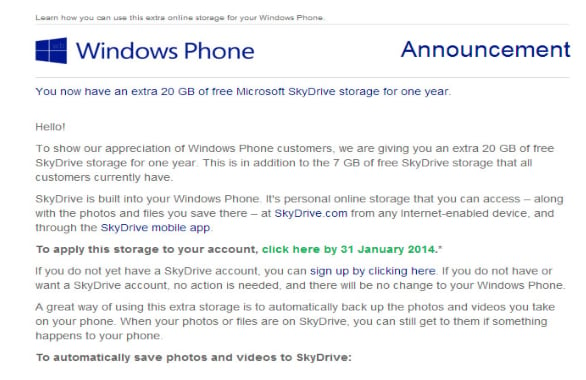 Skydrive is Microsoft's Cloud storage and syncing capability. Users can store, retrieve, and sync documents, photos, and music on Skydrive. Skydrive is tightly integrated with Windows 8.1 and is also available on iOS and Android as well.

As an Amazon Associate I earn from qualifying purchases.