Microsoft Goes After iPad Using Siri in new Windows 8 Ad
This week, Microsoft debuted a new ad that's designed to showcase the strengths of its Windows 8 operating system and ecosystem, while highlighting the weaknesses of the iPad. How did it choose to do so? By letting Siri, the audio assistant included on the iPhone and iPad, speak for itself.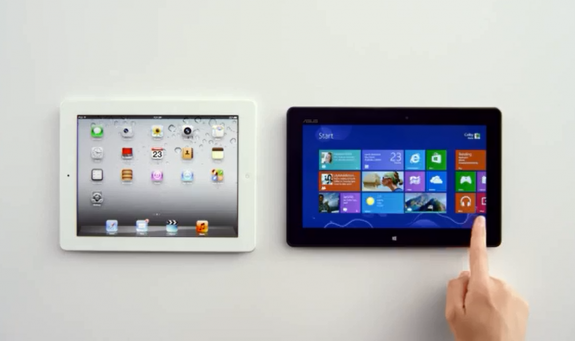 The advertisement features the 64GB iPad and the Asus VivoTab Smart side by side. During it, Siri is heard over the gentle play of music, answering questions about the features of the iPad. The ad begins with a look at the home screen of the iPad and the Start Screen in Windows 8, then zooms in on Windows 8's Live Tiles. Siri is then heard saying that she "doesn't update like that."
A user's finger then starts a video on both tablets. On the VivoTab the user is seen making use of Windows 8's Snap feature to browse his email while still watching the video he just started. Siri then says that she "can only do one thing at a time." Snapped states allows users to pin applications to use two applications at a time, one taking up the greater portion of the screen, and another that runs along the edge in a sort of resized, pared down mode.
The ad then moves on to an opened Microsoft PowerPoint presentation on both devices. The user's finger is seen being able to edit and customize a PowerPoint presentation on the VivoTab, but only being able to look at a PowerPoint presentation on the iPad. The iPad's Siri assistant then says "I guess PowerPoint isn't one of those things," a reference to the fact that since the Asus VivoTab Smart is tablet running Windows 8, it can.
Siri then asks, "Should we just play chop sticks?" Effectively calling the iPad a play thing.
It then attempts to complete the humiliation further by referencing the price of $699 price of the iPad with 64GB of storage and the Asus VivoTab Smart with 64GB of storage, which only costs $449.
The new ad marks a fundamental shift in the way Microsoft is attempting to combat the iPad with advertisements. Until now the company had focused its efforts on highlighting the Windows 8 operating system's ability to be included on as many next-generation of form factors as possible or highlighting the abilities of its own Surface RT and Surface Pro tablets.
Read: Microsoft Shipped 900,000 Surface Tablets, claims IDC
Microsoft could be angling to put more support behind the tablets of its hardware partners in relation to Windows 8. Recent sales numbers compiled by IDC indicated that Microsoft had become the world's fifth largest tablet hardware vendor, while sales of tablets made by its partners totaled only another 900,000 units.

As an Amazon Associate I earn from qualifying purchases.