Microsoft Holiday Super Sale Has Stunning Xbox One Deal
Not to be outdone by the company's retail partners, the Microsoft Store has an amazing deal available right now. The Microsoft Store is offering new Xbox One buyers $50 in savings on the console, plus free games and a bonus gift card. And that's just one of the deals available through the site.
Microsoft revealed the Holiday Super Sale this morning. Besides the Xbox One deal, there are some steep discounts on the new Microsoft Band 2 accessory for smartphones and some limited savings on the new Lumia 950 smartphone that just launched a few weeks ago.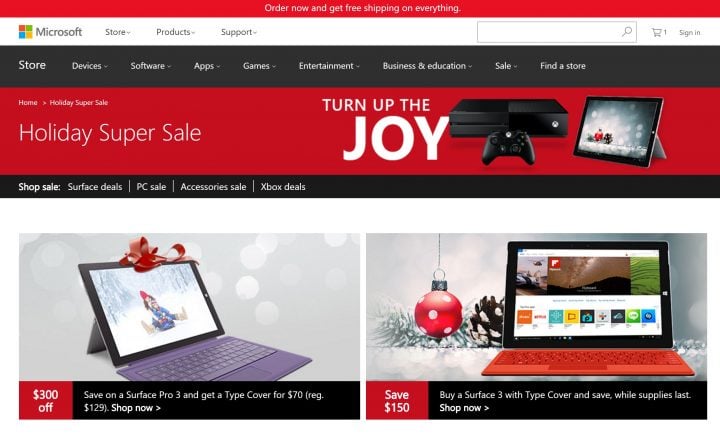 The Xbox One deal is the most attractive of all the savings though. As of right now, anyone that purchases one of the site's Xbox One bundles gets a free game and a gift card to go with their purchase. Microsoft already discounted most of its Xbox One bundles by $50 a few weeks ago to match the $299 cost of the PS4. It's the free game and gift card that are worth getting.
The digital gift card that Microsoft provides as a part of this Xbox One deal isn't for the Microsoft Store, but for the Windows Store. The Windows Store is Microsoft's digital marketplace for apps, movies and television shows. The Store also offers direct access to the Xbox Store, which offers digital games and DLC purchases. As for the free games, the Microsoft Store is limiting the selection to three games from developer Ubisoft's line-up. Those games are The Crew, Watch Dogs and Assassin's Creed Unity.
Also included with the bundles are the extras that would normally come with them. The refurbished Xbox One with Kinect bundle for $319 includes a single month of Xbox Live Gold. Xbox Live Gold is the subscription service that gets gamers discounts and access to multiplayer with other Xbox owners. This Xbox One deal works on just about every console bundle the site sells, though the Fallout 4, Halo 5: Guardians and Madden NFL 16 bundles are all out of stock.
Read: Which Xbox One Bundles Should You Buy?
The Microsoft Band 2 is priced at $199 during the sale in all sizes. Gotta Be Mobile reviewed the fitness accessory for iPhone, Windows and Android users earlier this year.
Read: Microsoft Band 2 Review
The company seems eager to get rid of last year's premiere Windows 2-in-1. The Surface Pro 3 with 128GB of storage costs just $599 now, down from $899 previously. Shoppers that purchase this bundle also get a compatible Type Cover accessory for $79 instead of $129. Potential buyers should note that they'll need to purchase a Surface Pen separately since this bundle doesn't come with one for whatever reason. Other Surface bundles do come with a Surface Pen but only offer $100 in immediate savings.
A Surface 3 with a compatible touch covers costs $150 less than it does normally. The Surface 3 that costs the least is the Surface 3 with 64GB of storage. It has 64GB of storage and 2GB of RAM. A year of Office 365 is also included at no additional charge. During the Microsoft Store Holiday Super Sale, it's selling for $399. When it debuted last year the Surface 3 cost $499. Again, shoppers have to purchase a Surface Pen accessory separately.
Unfortunately, the $50 discount on the Lumia 950 is only for shoppers purchasing the AT&T Lumia 50 without a two-year service contract or AT&T's Next Plan. That brings the price of the device down to $500 before tax. Gotta Be Mobile just published a review of that device as well.
Read: Microsoft Lumia 950 Review: The Phone That Can Be a PC
All told, these are some pretty stunning deals that Microsoft has running. Microsoft plans to roll out a huge games and media sale in the Xbox Store on December 22nd, making that Xbox One deal even harder to pass up.