Microsoft, HTC Shortsighted With Limited 8, 16 GB Storage of HTC 8X Model
A recent leak suggests that the HTC 8X may have more limited storage than most of its smartphone rivals along with many other Windows Phone 8 competitors. The leak suggests that the HTC 8X, which is headed to AT&T Mobility in the U.S., would come with 8 GB or 16 GB of on-board storage. The problem here is that unlike models with more expansive on-board storage, the HTC 8X is a completely sealed design meaning users will not have access to a micro SD card slot to further augment the capacity of their HTC 8X should their storage needs change in the future.
Neowin is reporting that AT&T would be offering 8 and 16 GB variants of the phone. It's unclear if additional capacities will be offered in the future, though that may be unlikely as AT&T will have to stock various colors of the HTC 8X alongside these two capacities.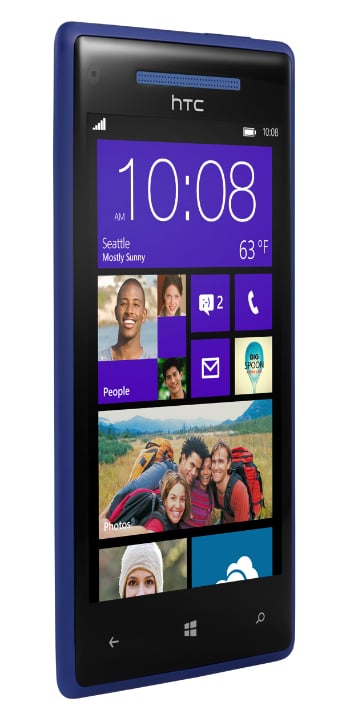 Comparison to Other Windows Phone 8 Hardware
In comparison to other AT&T-bound Windows Phone 8 flagships, HTC's 8X, which was selected by Microsoft to be the premier model for the platform and will appear in many of Windows Phone 8's advertising campaigns, commercials, and print ads, has the least amount of storage. Nokia's competing Lumia 920, which bears a similar colorful, sealed polycarbonate design, will come with 32 GB of storage, or twice the capacity of HTC's largest model or 4 times the storage of the entry-level HTC. Samsung's Ativ S model will come with 16 GB of model, but unlike Nokia's and HTC's offering, the South Korean-designed phone will come with a micro SD card slot so users can add more memory at a later date.
Comparison to Android
With the flagship Galaxy S III from Samsung dominating the Android smartphone sales, HTC's 8X appears to be even more problematic. The Galaxy S III comes in either 16, 32, or 64 GB of on-board storage and a micro SDXC card slot allows users to add up to a 64 GB memory card that's roughly the size of a fingernail. With the highest configuration for the Galaxy S III with the maximum storage card, the 128 GB Android model makes the HTC 8X's 16 GB of storage puny.
The Cloud for Storage
All Windows Phone 8 models have access to free cloud storage from Microsoft's Skydrive hosting service. New users are offered 7 GB of free cloud storage and grandfathered users are given 25 GB of free data–Microsoft made the move to cap free storage to new users at 7 GB earlier this year. This means that the HTC 8X has potentially 16 GB of on-board storage plus an additional 7 GB, bringing it up to 23 GB. Users can always offload captured photos, documents, and other content to Skydrive and reserve their on-board storage for more pertinent content.
The problem here is that the cloud isn't always reliable. You may not want to leave sensitive information in the cloud, and if you go into an area without WiFi or 4G LTE connectivity, you won't have access to what you need. Moreover, though the storage is free, with tiered and metered data plans, you're theoretically paying AT&T money to access that cloud every time you use data.
Xbox Music Encourages Streaming
An off-shoot of Skydrive for storage is Xbox Music for streaming. Microsoft had officially killed off its Zune franchise and Xbox Music, coming soon to Windows Phone 8, will allow users to either store music locally on their devices or stream content, much like they do with Pandora. This will help conserve storage space, but you'll be racking up data charges unless you stream music on WiFi, which can be hard to do if you're out jogging or hiking and using your HTC 8X as a music player.
Streaming Video
While users can always play video back natively from their devices, another solution would be to stream movies, TV shows, and other video content. With services like the new Xbox Music app for movies and TV shows, Netflix, Hulu, and YouTube, users don't need to always download. If the late 90s was an era of constant downloading thanks to P2P network, subscription services of 2012 encourages users to stream and not own the content.
Is 8 GB or 16 GB Enough?
I have a 64 GB iPhone 5 and it's almost filled to the brim. I have a huge photo library and thanks to being a godfather, I also have many videos of my godson that I like to keep with me at all times. In addition to important work documents, a collection of e-books, some movies and games, I've used up nearly all my 64 GB on the iPhone. For me, 16 GB won't be enough, but it definitely depends on the needs of individual users. For a Windows Phone 8 flagship, Microsoft really should have worked with HTC to start the 8X off with 16 GB and go up to 32 GB.

As an Amazon Associate I earn from qualifying purchases.