Microsoft Attacks iPad With New Comparison Tool
Just a week after debuting a new advertisement directly comparing Windows 8 tablets to the iPad, Microsoft has added a new comparison site that breaks down the features of popular Windows 8 tablets vs. the iPad.
The site, which is available right now at Microsft.com, puts the specifications of the iPad against the ASUS VivoTab Smart, Dell XPS 10, HP ENVY X2 and Microsoft Surface RT in categories that the company feels consumers will care about the most.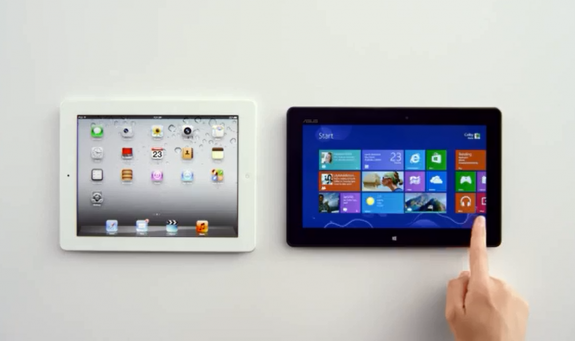 These categories include the hardware characteristics like thinness, battery life, weight, display size, microHDMI and microSD ports and printing. All of which, -weight notwithstanding, the Windows 8 powered tablets best the iPad in nearly all of these categories.
What's more interesting is Microsoft is also moving to further highlight the advantages of the Windows RT operating system in the comparison. The company points out that Apple only gifts users 5GBs of online storage vs. the 7GB Microsoft offers users for free, to say nothing of the fact that Windows RT tablets allow users to open more than one application at a time, and lets users create multiple accounts for just one tablet.
Of course, just like it did in its recent advertisements, Microsoft is also hammering home the idea that the iPad is just too expensive for what it does – when compared to the 64GB iPad which costs $699.
Read: Microsoft goes After iPad Using Siri in new Windows 8 Ad
While Microsoft going head to head with the iPad is notable, it's also interesting that Microsoft is continuing to lend some marketing muscle for the tablets that were created by its hardware partners. Recent market numbers compiled by IDC, indicate that Microsoft's Surface RT and Surface Pro tablets now dominate the Windows tablet landscape, possibly creating friction between Microsoft and manufacturers like Dell and HP.
As of the first quarter IDC believes Microsoft is now the third largest tablet vendor, while sales numbers for individual tablets like the XPS 10 have been relatively low, resulting in a combined total of only 900,000 units between them.