Microsoft Locks Down Windows Phone 7 to Prevent Custom ROMs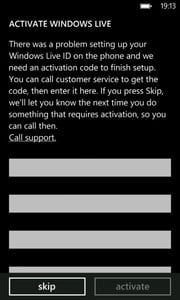 It looks like custom ROMs right now won't be a possibility on devices launching with Windows Phone 7 until someone can figure out Microsoft's PVK system. PVK, which is a security key that ties the Windows Phone 7 operating system to the hardware or smartphone. If the PVK cannot be found, certain parts of the operating system can still work, but some components, such as Xbox, Marketplace (the app store for Windows Phone 7), Windows Live, Zune, and other Microsoft services may not work.
PVK is an encryption key within the OS  that communicates with the device's motherboard. According to an HTC service advisory notification, a valid PVK key is essential to access Microsoft services.
Description:

This Service Advisory aims to resolve invalid PVK or PVK missing issue for any returned WP7 units

Condition(s) to follow this service advisory:

1. When customer complains about can not access Microsoft services such as XBOX, Marketplace, Windows Live and Zune on the WP7 devices.

2. When ASP performs diagnostic program test, ASP needs to follow the below repair actions if the diagnostic program detects invalid or missing PVK.

If the PVK is invalid or missing, there will be message on device as following when user try to login to Windows Live service.
During the Windows Mobile days, which is the mobile smartphone operating system that precedes Windows Phone 7, hackers and developers would often create custom ROMs, which is essentially a variant of the Windows Mobile OS with some tweaks and hacks applied to it to make it speedier for the device along with pre-bundled apps and software, custom backgrounds, icons and graphics, and other customizations. Those who created custom ROMs were called ROM chefs or ROM cooks.
The legality of custom ROMs were often called into question. For some, custom ROMs provided an OS upgrade where the manufacturer or carrier would not deliver said upgrade. If your device was released with Windows Mobile 5.0, and Microsoft had subsequently released Windows Mobile 5.1 and your hardware manufacturer or carrier would not provide that upgrade, users turned to sites such as XDA-Developers in search of custom ROMs that may use the Windows Mobile 5.1 from another device and tweaked to work with your specific device, often times adding some customizations as well.
With Windows Phone 7, Microsoft wanted to eliminate some of the fragmentation in user experience that occurs with third-party customizations, either officially via software packages that created a UI overlay, via manufacturers such as HTC with a proprietary HTC Sense user interface, or via custom ROMs with its own pre-bundled customizations. Without having to deal with custom ROMs, Microsoft will also make it easier upon itself to release OS upgrades directly to the customer rather than having the carrier or manufacturer decide on whether or not to roll out updates for existing devices. This way, hopefully, users won't have to rely on custom ROMs to have the most recent updates to Windows Phone 7.
Although Microsoft has not officially gone on record to say that PVK keys are used to prevent custom ROMs, the encryption so far does have that effect, at least until someone can figure out the keys. We can see two reasons why Microsoft may want to do this. The first is create a unified Windows Phone 7 experience sans any customizations that others may want to cook into the OS. Also, as part of this, Microsoft has been stating that Windows Phone 7 will have hardware and software more deeply integrated, like the Apple model, to work better together. And second, Microsoft probably wants to keep Windows Phone 7 clean and not have to deal with cooked ROMs that may infringe on copyrights, trademarks, or patents. However, there are still users who may wish to tweak and customize the OS to their liking and run a version that's been "cooked" for their device to have the fastest speeds and most responsive feel. To combat that, users would mostly likely need to crack the PVK keys.
Via: WPCentral