Microsoft Lumia 640 XL LTE Review
Creating the right smartphone isn't unlike baking a cake. It's an exact science. Mixing the right ingredients could leave you with an absolute masterpiece. Mixing the wrong things – even something minor – can have dire consequences. The analogy fits for the Microsoft Lumia 640 XL LTE. It even looks like its covered in white frosting.
The Lumia 640 XL LTE is the American, version of Microsoft's Galaxy Note and iPhone 6 Plus alternative. It's neither dainty nor small, packing a 5.7 inch display that someone nearby might mistake for a small tablet before they realize it is a large phone. The Lumia 640 isn't stuffed with the latest technology, but does come with an affordable price tag like the latest smartphones from any company besides Apple.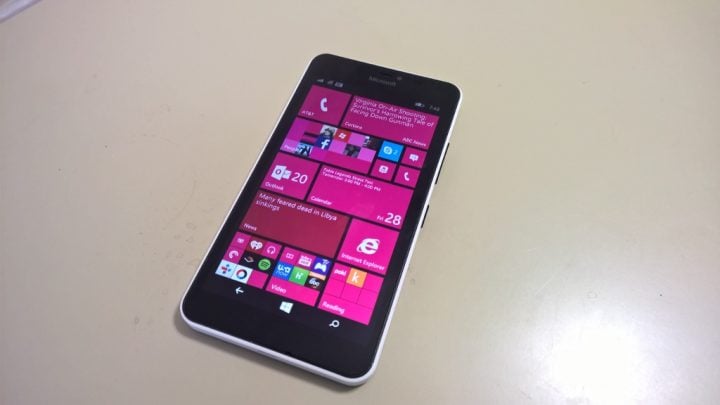 The Microsoft Lumia 640 XL LTE is just $249 without a two-year contract. What's more, it's worth every penny.
Microsoft Lumia 640 XL LTE Review: Design
Priorities are important with the Lumia 640 XL LTE. When you're holding it in your hand and debating whether it's a good device, you have to consider what you plan on using it for.
The Lumia 640 XL LTE is made up of two parts. The first part is a rigid chassis that holds all the internals. The second is a polycarbonate shell that snaps overtop the chassis, giving users new options and a way to charge wirelessly.
That 5.7-inch display dominates the front of the Lumia XL LTE, just as screens have dominated smartphones for years. In the past Windows Phones had physical buttons for Back, Start and Search. Those aren't present on the Lumia 640 XL LTE putting an even bigger emphasis on that huge display. Microsoft stamped its name just above the display but below an ear piece and front-facing camera.
Ports and buttons peek out of the polycarbonate shell of the Lumia 640 XL LTE. On the bottom is a microUSB port for charging, and on the top is a headset jack with in-line microphone support. The right edge of the Lumia 640 XL LTE has a physical volume rocker and power button. It's missing the dedicated camera shutter button. Microsoft opted to include a software button pre-programmed into the Action Center notification area on the device instead. The Lumia 640 XL LTE has a camera bulge that keeps it from laying flat on a table.
Every button press to change the volume on the Lumia 640 XL LTE feels substantial and responsive. The phone isn't to weighty whether you are holding it with one hand or two. The Lumia 640 XL LTE hits the right notes. The camera bulge had me nervous early on, but Microsoft smartly recessed the camera lens so that it's not vulnerable to scratches. Also, the bulge is so shallow that you almost don't notice it can't sit flush on a table.
Microsoft Lumia 640 XL LTE Review: Internals
The Lumia 640 XL LTE isn't a powerhouse and that's ok. Microsoft wanted to create a device that'd be accessible and priced right for a market starting to wake up to just how much they pay for their phones.
There's a Snapdragon 400 processor inside that's backed up with 1GB of RAM and all the sensors you'd expect from any other modern smartphone. With other low-end phones, Microsoft left out a sensor that adjusts screen brightness. Here it left that sensor in. That was a very, very smart decision.
Display
Having a good viewing experience is of the utmost importance for the Lumia 640 XL LTE. After all, people who want a device with a screen this big are looking for a terrific video watching and web browsing experience at the very least. Some are even likely to use it as an eBook reader replacement.
I expected to be disappointed by the 720p IPS display included in the Lumia 640 XL LTE. Coming from a Lumia 930 with an AMOLED display, I'm used to deep blacks and bright colors. Everything looks terrific on the Lumia 640 XL LTE, video and photos especially. Even the Windows Phone 8.1 operating system looks crisp and bright. No, I wasn't impressed by the blacks, but a responsive touchscreen and good color reproduction are the hallmarks of a decent display. The Lumia 640 XL LTE nails both.
Camera
The rear-facing camera on the Lumia 640 XL LTE has a 13 megapixel sensor. Pictures I took came out crisp and clear. I'd almost go so far as to say the 640 X LTE is the only camera users need.
Occasionally I did feel like pictures could be a bit sharper. Auto-focusing helped, but manually taking over focus really made the camera work its magic. I should note that the Lumia 640 XL, like most Lumia's before it, takes terrific low-light pictures. The rear-facing camera and the wide-angle front-facing camera is fine for taking self-portraits, it can record 1080P video just like the rear-facing camera can. That's a big bonus for those trying to capture their family's memories.
One feature I sorely miss is the physical camera button. Microsoft needed to make the camera experience on this phone as easy to use as possible and that camera button would have nailed it. Regular sized hands will have trouble swiping down from the top of their screen to get to the Action Center with one hand.
Call Quality & Network
We take decent call quality for granted. People text each other more than they speak. We've almost forgotten that phones used to be about voice communication. After a week with the Lumia 640 XL LTE I'm sorry to say call quality is only passable.
I always hear an echo when talking to friends and family on the Lumia 640 XL LTE. What's more, their audio sometimes cuts out, even though I have a solid connection to AT&T's LTE network. The issues aren't so frequent that they ruin all of your calls, but it did happen enough to notice. Data connectivity, which is more important to most people at this point, is solid.
Microsoft Lumia 640 XL LTE Review: Software & Extras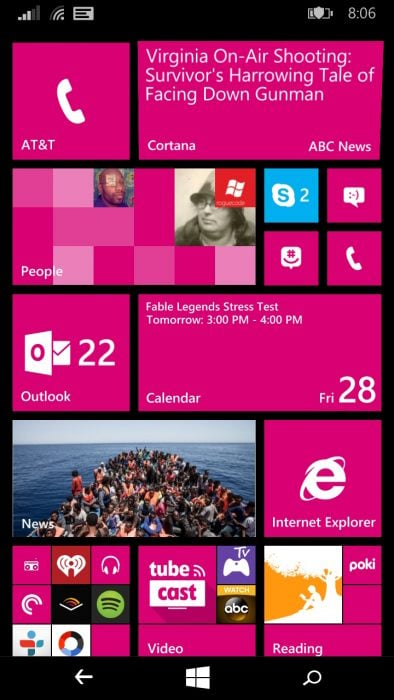 Windows Phone 8.1 is well-tuned to the needs of mid-range smartphones. If it wasn't, the quad-core Snapdragon 400 processor inside the Lumia 640 XL LTE would be a sticking point. Apps and games feel like they take a little longer to load, but the difference isn't egregious or noticeable unless you've used one of Microsoft's high-end smartphones. I can get the Lumia 640 XL LTE to stutter by pulling down the Action Center notification area every time.
Windows Phone 8.1 really does make no allowances for those with small hands and big screens. The mobile operating system looks terrific on the large screen, but Microsoft doesn't do much to take advantage of the extra room. There's no side-by-side multitasking, for example. The larger screen is terrific for taking notes with a multitouch-ready stylus in the built-in OneNote app.
Microsoft's literature on the Lumia 640 XL LTE notes that it plans to deliver the Windows 10 update for this phone sometime this year. I can confirm that this update makes it easier to reach the top of your screen with a trick that basically turns off the top of the screen. That update will also mean that the Lumia 640 XL LTE can share Windows Store apps and purchases with Windows 10 for notebooks, desktops and 2-in-1s. Slowly the Windows Store is filling with essential apps, but it still won't be enough for some.
Read:
SensorCore is available in the Lumia 640 XL LTE today for those who want to track their activity levels without another device to charge. The feature is fairly accurate.
Microsoft Lumia 640 XL LTE Review: Specifications
5.7-inch 1280 × 720 ClearBlack IPS LCD
4-core Snapdragon 400 Processor with 1GB of RAM
8GB Internal storage (Micro-SD expansion)
13 Megapixel with LED flash, auto focus and backside-illuminated sensor & 1080p video recording, 5 megapixel front camera & 1080p video recording
Microsoft Windows Phone 8.1
WiFi, Bluetooth, NFC, 4G LTE, FM Radio
3000 mAh battery & option for wireless charging cover. 37 days of standby time and 98 hours of music playback.
Ambient light sensor, accelerometer, proximity sensor and SensorCore technology.
Removable covers
Microsoft Lumia 640 XL LTE Review: Should You Buy?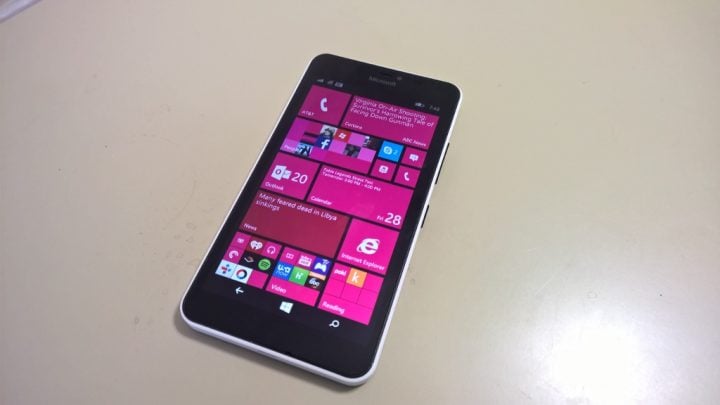 Microsoft dropped some extras with the Lumia 640 XL LTE. In particular, I'm not thrilled with the lack of a physical camera button. Forcing users to buy a separate cover to get wireless charging isn't awesome either. Both complaints are the result of owning a Lumia before.
The Lumia 640 XL LTE is a terrific phone otherwise, and a serious bargain at $249.99 without a two-year contract. It feels great in the hand and the screen is spacious and gorgeous. Pictures and video are decent enough too.
I absolutely recommend this phone to anyone. Check to see if the Windows Phone Store has the apps you care about, then buy this thing. It's a perfectly competent first or even second smartphone.

This article may contain affiliate links. Click here for more details.