Microsoft Lumia 950: Early Impressions
"The Microsoft Lumia 950 is the company's new self-made flagship with the best internals that money can buy." A year ago I'd hoped to use that as an introduction for a review on any new smartphone from the company that was capable of competing with the iPhone and devices running Google's Android operating system. Theoretically speaking, Microsoft did give me one chance to use that as an introduction to a piece. Last year it delivered the Lumia 830, a Windows Phone 8.1 device with a high-end rear-facing camera and good looks. Billed as the "Affordable Flagship," the Lumia 830 wasn't a bad device. It just wasn't high-end enough to compete with the iPhone 6.
Context is key if you're considering the Microsoft Lumia 950 to replace an aging Windows Phone or even an iPhone. Historically speaking, it's the most forward thinking, powerful mainstream Windows Phone device Microsoft Devices or Nokia has ever released – excluding its bigger brother, the Lumia 950 XL.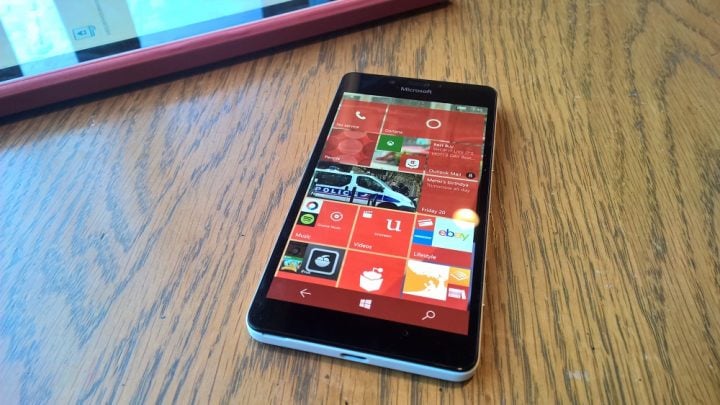 We're still waiting on some crucial details to fall into place before we release a Lumia 950 Review. I have spent the last three days using the Lumia 950 as a secondary device, taking pictures, listening to music and checking email around the house.
Microsoft Lumia 950 Hardware
On the inside at least, the Lumia 950 fits the bill of a high-end Lumia smartphone. There's a Snapdragon 808 processor with six cores and 3GB of RAM. Windows 10 Mobile, which isn't to be confused with Windows 10 on notebooks and desktops, just sings. Every swipe is fluid and rendered correctly. Apps don't feel like they're taking too much time to load. More importantly, you don't get those loading screens that happen way too often when you're using Windows 10 Mobile on older Lumia smartphones.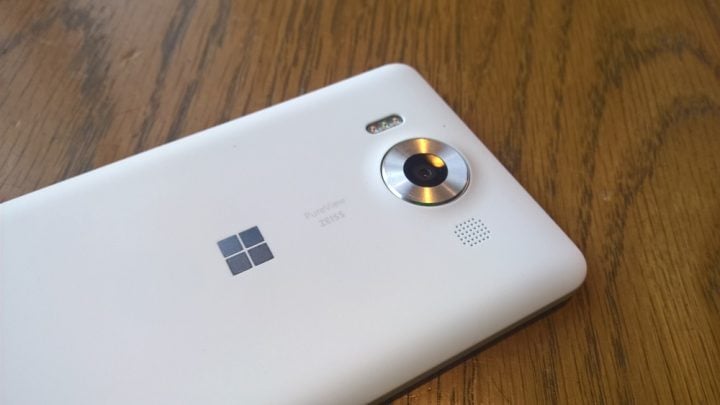 Read: Lumia 950 & Lumia 950 XL Release Details Arrive
There are lots of little extras in the Lumia 950. I'll have more on performance and some of those smaller features that make up the entire experience next week. For now, I want to provide some insight on what Microsoft considers the Lumia 950's highlights.
Microsoft Lumia 950 Continuum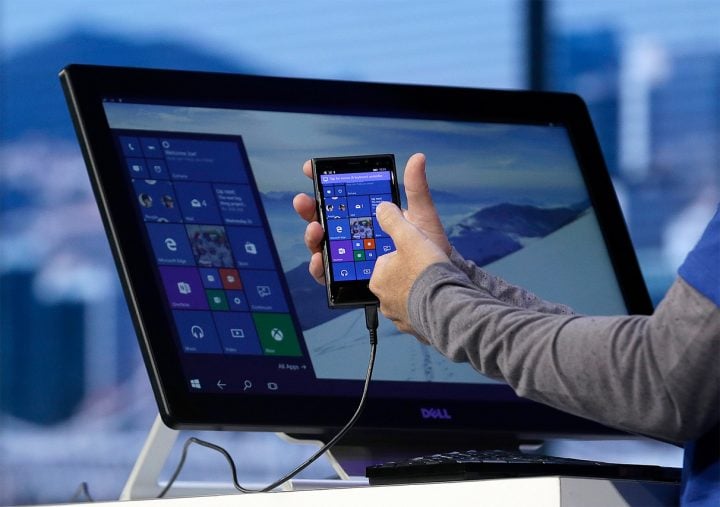 Continuum for phones is a new feature only available in the Lumia 950 and Lumia 950 XL, its bigger screened brethren with an even beefier processor. On its own, you'd never know that it was more than just a smartphone. Plug it into Microsoft's optional $99 Microsoft Display Dock and it becomes something akin to a PC.
By far, this is one of the biggest reason users are excited for these new devices. Microsoft could have something revolutionary here. In fact, it would definitely have something revolutionary, but it is not as seamless as Microsoft teased in briefings.
The phone does pair with a keyboard. You can use its screen as a touchpad replacement, just like Microsoft promised. Every time that we've seen this feature in public Microsoft has been careful to note that Universal Apps from its Windows Store are behind the magic, that any Windows 10 app downloaded from there will work in Continuum.
It's more nuanced than that. Turns out you can't use every app that's on your phone with Continuum, many of my third-party favorites don't work. What's more, some of Microsoft's own apps – like Xbox – don't either.
Microsoft Lumia 950 Windows Hello
Windows Hello is said to have been a late addition to Windows 10 Mobile and Windows 10 in general. The Lumia 950 has an optical sensor that sits near its speaker. After scanning your face twice, the device recognizes you, logging you in the same way the Surface Pro 4 and the Surface Book do.
I'm happy to report that the feature works reliably, even though Microsoft considers it to be in a beta. I'm not thrilled to say that you have to hold the device about a foot away from your face for this to happen automatically. Otherwise you end up with a lock screen advising you to move closer.
Microsoft Lumia 950 Cameras
I'll have camera samples and video samples with the full review, but I couldn't let anything about this device go out without noting how terrific the rear-facing 20 megapixel camera is. The device performs much better in low-light situations, like this picture in my office for example. All I had on was a lamp roughly 8 feed away from that picture frame. Microsoft seems to be doing a better job at post-processing too. The amount of time it takes from pushing the dedicated shutter button to getting a decent image feels so fast.
Microsoft Lumia 950: Should You Buy?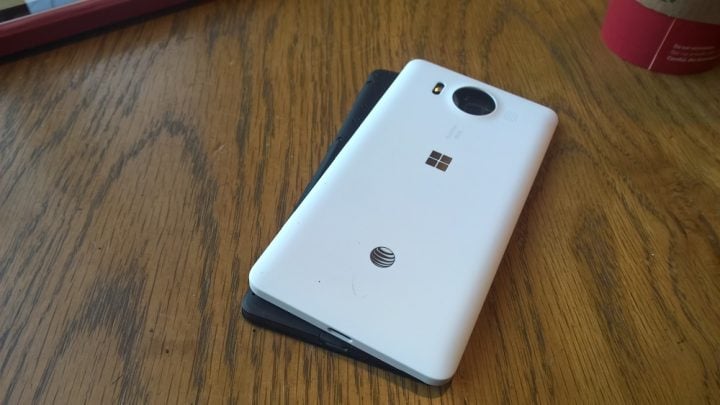 I know that the launch of the AT&T Lumia 950 is today. Naturally, I'd have loved to provide some guidance for shoppers on launch morning. But with the small amount of time I've spent with the device so far, plus some unforeseen issues, I don't feel comfortable providing guidance on whether you should or shouldn't buy.
What I can say  today is that the Lumia 950 should be on the list of new devices you take a look at before deciding which to purchase. The AT&T Lumia 950 is $150 with a two-year contract.