Microsoft May Debut Second-Generation Surface At Build
Microsoft may debut its second generation Surface tablet at its Build conference on June 26 if the latest speculations are accurate.
DigiTimes cites "sources from the upstream supply chain" that say component suppliers already shipped components for 1 to 1.5 million Intel-based devices. The second generation Surface may only include 7- and 9-inch devices according to the publication; the current Surface RT and Surface Pro both have 10.6-inch displays.
In the past, DigiTimes has a mixed track record for reporting rumors.
The report notably makes no mention of ARM-based systems, which likely means the next Surface tablets will use the full Windows 8 and not Windows RT; the current Surface RT has an ARM processor.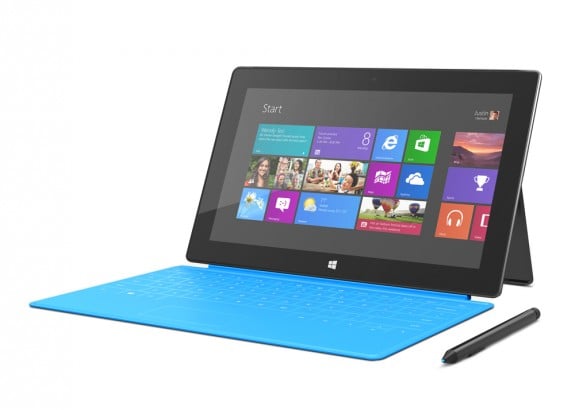 Microsoft may only produce a small number of devices for the second round of Surface tablets as it only managed to ship about 1.5 million units of the first generation so far. Microsoft previously estimated it would sell between 3 and 4 million units of the Surface Pro and Surface RT.
The possibility of smaller devices makes sense as Microsoft recently said Windows 8 will support smaller 7-inch displays. Smaller tablets like the iPad mini and the Nexus 7 proved that users really like the smaller screens and some prefer them. A 7-inch Microsoft Surface may sell better than the current 10-inch models.
It's not clear if a smaller Surface will use have a Touch Cover keyboard case or something similar, or if Microsoft will try to sell it as more of just a standalone tablet. Part of Microsoft's push for the current Surface is that it's a tablet that doubles as a sort of laptop, but a 7-inch tablet is likely too small for a keyboard.The 9-inch model likely wouldn't be much smaller than the current 10-inch model, however.
Presumably the second generation Surface tablets will run Windows 8.1 (Windows Blue), which will likely come out later this year. The new version of Windows 8 may bring the Start button back to the desktop and give users the option to boot into desktop mode (which wouldn't work well on a tablet).

As an Amazon Associate I earn from qualifying purchases.