Microsoft Moves on to MacBook Air in Latest Dissing Ad
For the longest time, Microsoft has focused on bashing the iPad with its numerous ad campaigns, but now it's moving onto the MacBook Air in the company's latest Surface Pro 3 ads.
A total of three 30-second ads have been released that compare Apple's MacBook Air with Microsoft's latest Surface Pro 3 hybrid tablet/laptop, and the Redmond-based company thinks they have a winner, with each ad ending with the tagline, "The tablet that can replace your laptop."
In the first ad, Microsoft shows off the touchscreen abilities of the Surface Pro 3 and how you can even annotate notes. Doing the same on the MacBook Air is impossible, since it doesn't have a touchscreen, and Microsoft says you'd need a separate iPad in order to get touchscreen capabilities.
As far as taking notes, the ad also says that users would need a notepad and a pen in order to do that with a MacBook Air (since the machine doesn't have a touch screen where you can draw stuff), but what's odd is that Microsoft doesn't bring up the fact that you can write notes on the iPad, so the notepad and pen isn't even needed here.
https://youtu.be/YfpULoEZIHk
In the second ad, the two laptops go head-to-head in features, both sporting 4GB of RAM and 128GB of flash storage. However, Microsoft again boasts the touchscreen abilities of the Surface Pro 3, as well as its detachable keyboard, which the MacBook Air sorely lacks.
https://youtu.be/1jP4O7rEHQ8
The last ad goes a bit more in-depth with features, and Microsoft discusses the Surface Pro 3's ability to run Adobe Photoshop (and control it with a touch screen), as well a point out that the device has a USB port and Mini DisplayPort, along with a kickstand that props up the tablet at the perfect angle.
https://youtu.be/yYC5dkQlQLA
These are all nifty features of the Surface Pro 3, but the MacBook Air also sports a USB port and Thunderbolt ports, as well as its own version of a "kickstand" where you can angle the display at any degree, so we're not quite sure what Microsoft is getting at here.
Again, the touch screen capabilities of the Surface Pro 3 are unique and if you're wanting a laptop with a touch screen you shouldn't get a MacBook for said reason.
Microsoft has been working tirelessly to try and sell its Surface tablet ever since the device's initial release back in 2012, but sales haven't been what the company has quite expected perhaps.
These new ads from Microsoft are most likely a response to Apple's MacBook Air stickers ad from a couple weeks ago, in which the company showed off its thin-and-light laptop graced with all kinds of decals, touting that MacBook users make the device their own and give it its own personality.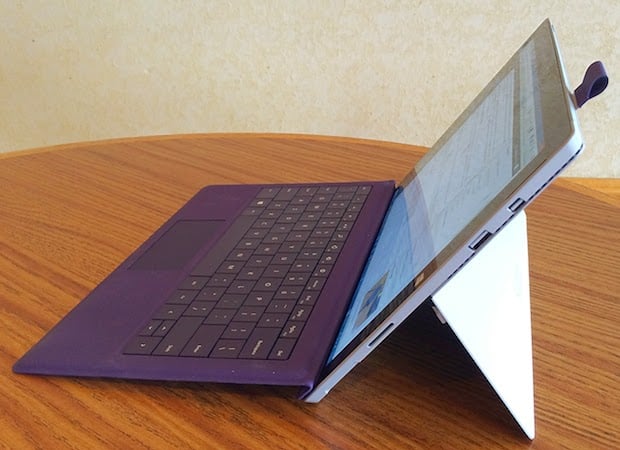 The 30 second spot goes through numerous sticker designs that you can buy at a number of online stores, with Etsy being a popular place for such products. Apple doesn't often promote third-party Apple accessories, so you know it's something special when the company creates an entire ad focused just on MacBook stickers.
This isn't too surprising, though, as these stickers are arguably the most popular MacBook accessories on the market, and users love them so much because they can add a bit of their own personality to their laptop that anyone can see.
The MacBook ad is definitely a nice change from the last few Apple ads that we've seen, which have mostly focused on the iPhone and iPad. Of course, Apple's iOS devices are the company's big sellers, so it's no surprise that it's putting a lot of focus on the iPhone and iPad, but a new MacBook ad is definitely a great change of pace for the company.

As an Amazon Associate I earn from qualifying purchases.