Microsoft Offers iPhone 5c Alternative in the Lumia 530
Microsoft hasn't said anything about releasing a new Windows Phone to compete with Apple's iPhone 5s, but the company is clearly gearing up to take down the low-end iPhone 5C and cheap Android devices like the Moto G. Today, the company announced the Lumia 530, an iPhone 5c alternative with an astonishingly low price tag.
Microsoft announced the Lumia 530 this morning, and the smartphone is every bit the successor to the Lumia 520 that came before it on AT&T and T-Mobile. The new iPhone 5C alternative includes a 1.2 GHz quad-core processor, a 4-inch display and a 5 megapixel rear-facing camera. The Lumia 530 also includes 4GB of storage but users can add more through the built-in SD card slot behind the phone's shell.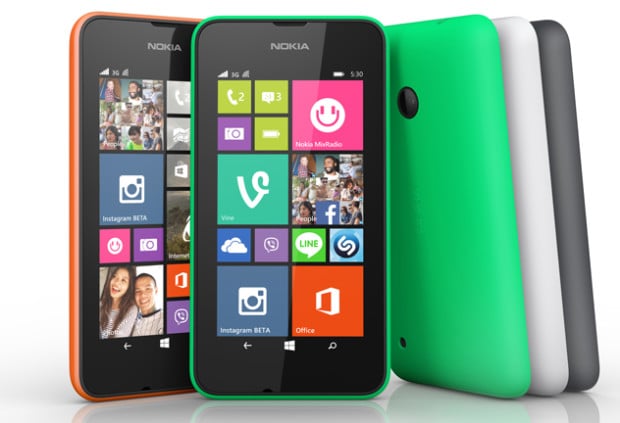 Those specifications might make it sound like a lightweight but it's not. Particularly when it comes to pricing. Microsoft will sell multiple versions of the Lumia 530. Both will be identical in design, but one of them will have two SIM cards slots for use in countries where consumers are adamant about getting the lowest calling rates they can. Microsoft says that the Lumia 530 will cost 85 euros while the dual-SIM version will cost 100 euros. Converting the European pricing reveals that when the Lumia 530 arrives in the United States it could cost around $115. That's before a two-year contract or any carrier discounts. That pricing is the key here. Most market research points to sales of high-end smartphones falling. Cheap smartphones are where the growth is.
To get to that price Microsoft did throw some features overboard. There's no support for fast 4G LTE networks, which is a very big minus. The iPhone 5C alternative also comes with just 512MB of RAM, so it won't be able to run some high-end Xbox on Windows Phone games.
The Lumia 530 is the most popular Windows Phone to ever be launched in terms of sales, T-Mobile was quick to talk more about the iPhone 5c alternative. T-Mobile's press release doesn't go into a lot of detail about pricing, but it does confirm that the carrier has plans to begin offering the Lumia 530 at some point this year. For what it's worth Microsoft says the Lumia 530 will begin rolling out globally in August.
To be clear, the Lumia 530 isn't a iPhone 5c alternative in the sense that it matches the iPhone 5c's features. The Lumia 530 doesn't have a front-facing camera. As such users will be stuck taking pictures of themselves in the nearest mirror. That being said, if the purpose of the iPhone 5c is to offer consumers a cheap and colorful starter smartphone than the Lumia 530 has all the essentials.
Like other low-end Windows Phones from Nokia, users can expect a splash of color. The Lumia 530 will come in orange, green, white and a dark gray when it debuts next month internationally. T-Mobile usually just makes white versions of Nokia's phones available to users.
Read: Windows Phone 8.1 Review: It's An iPhone Killer, Almost
The Lumia 530 will be among the first class of Windows Phones to come with the Windows Phone 8.1 update that Microsoft showcased earlier this year. That update included some sorely needed features. There's Cortana, Windows Phone's new personal digital assistant, new options for developers to add more social networks to Windows Phone's People too. Windows Phone 8.1 is deeply integrated into the Windows experience now too. Changing a tile color on the Lumia 530 with Windows Phone 8.1 will change the tile color on a Windows 8 PC or tablet with the same Microsoft Account. Users can also activate internet sharing on their Lumia 530 directly from their Windows device.