Microsoft offers Windows 7 to Students for $29.99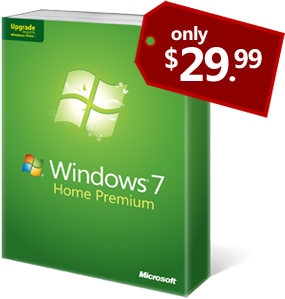 Microsoft is cutting students a big break on Windows 7. Anyone with .EDU email address can order Windows 7 Home Premium for just $29.99 through January 3, 2010. Here's the interesting part- This deal is being run through Digital River, a company that sells DOWNLOADABLE software. That's right. It appears you can download a final production copy of Windows 7 right now.
Microsoft set up a special Web site for this deal at www.win741.com. The number means Windows 7 for One (one being you).
Windows Home 7 Premium Upgrade will be available for $119.99 to the general public come October 22.
Of course if you're not in college you might want to get creative.
From win741.com:
How do I Buy?
1. Check that your PC can run Windows 7 with the Windows Upgrade Advisor.
2. Enter your college/university email address.
3. If you're eligible, you'll receive an email with purchase details.
4. Click on the link provided in the email to proceed with your purchase.
5. Purchase your license/product key.
6. Checkout and download!