Microsoft Office 2016 for Mac Preview Arrives
With the arrival of preview apps for Office apps on Windows 10, Microsoft quelled fears that it was focusing too much on the experiences on other platforms and neglecting its own. Now the company is back, with new a new Microsoft Office 2016 for Mac Preview that once again proves it is all about delivering the best productivity experience on any device.
The Office Team at Microsoft announced the Office 2016 for Mac Preview this morning in a post on the Office Blog. The Office 2016 for Mac Preview is available for anyone and everyone with a compatible Mac to download. Included are the five core parts of the Office experience: Word, PowerPoint, OneNote and Excel.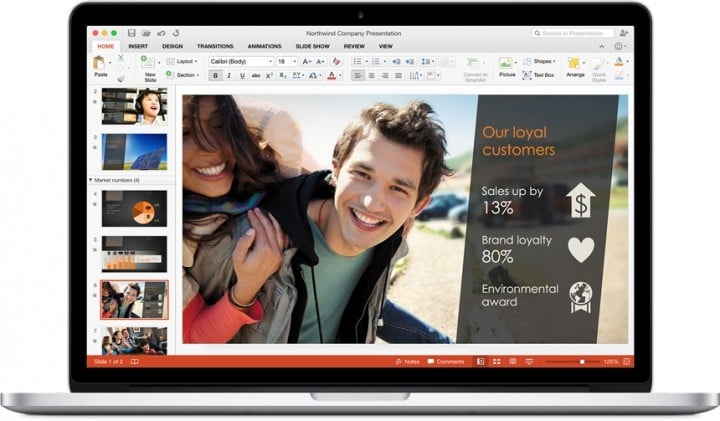 Microsoft says that it's "modernized the user experience to get things done." Roughly, that translates to simplifying the user interface and introducing elements that match what's available on Office 2013. For example, Office 2016 for Mac now includes direct OneDrive and OneDrive for business integration just like Office 2013. There's also a pre-stage area that organizes each app's settings, design templates and recently accessed files.
Microsoft has been pretty aggressive in expanding the reach of its Office apps. Last year it introduced new versions of its most used Microsoft Office apps for the iPhone, iPad and Android. That Microsoft finally embraced other platforms with Office grabbed headlines, what's kept those apps at the top of iTunes download charts after is how well they integrate with the things that make the iPhone and iPad unique as a platform. The company is doing the same with Office 2016 for Mac.
Office 2016 for Mac includes support for Retina Displays, finally putting an end to the slightly blurry browser chrome and options menus that have bothered people investing the latest Apple Mac hardware. Each of the apps included in the Office 2016 for Mac preview also include support for the full screen view that Apple added to Mac OS when it introduced the Mac App Store. This new view will allow users to completely seal off their view from whatever else is going on behind the scenes. This is to eliminate distractions.
Word in Office 2016 for Mac new in-line editing tools will finally streamline the process for collaborating on documents. In the new version of the app, comments on editing are organized into threads. Microsoft is hoping that big changes to the way data is turned into tables will improve work flow. A new tool called Analysis ToolPak will late users play around with different data sets and statistics. Of all the changes, the revamp of PowerPoint is catching the most attention. A stark black Presenter Control will give users access to the slide they are currently showing, the slide they plan to show next and their notes. Microsoft is including the Outlook for Mac app that it released last year with an improved conversation view. The OneNote for Mac client now includes text recognition software so that users can turn text in images into searchable notes.
Microsoft makes it pretty clear that the experience users are getting today isn't everything that it has planned. Users who download the Office 2016 for Mac Preview will get feature updates and changes throughout the "first half of 2015," according to the Mac Preview website. These updates will happen automatically, ensuring that users won't have repeatedly download new versions.
All told, Office 2016 for Mac already has the necessary raw ingredients for success. With its mix of new features, upgrades inspired by other versions of office and OneDrive integration the company stands to deliver Office apps on the Mac that are every bit as powerful as their Windows counterparts.
Presumably, Microsoft will launch a final version of Office 2016 for Mac for users to purchase late in 2015 or next year. The preview does require users to be running Mac OS X 10.10.

This article may contain affiliate links. Click here for more details.