Microsoft Office 2016 Release Date Arrives
Microsoft is hoping that users everywhere are waiting for an Office suite that provides better ways to co-author documents and communicate. Today is the official Office 2016 release date, meaning anyone and everyone with an Office 365 account can download new, refreshed versions of Microsoft's suite of productivity programs for Windows.
Microsoft announced that today was the official Office 2016 release date early this morning. Office 2016 was built specifically for co-authoring and features tweaks to the already familiar Office 2016 experience. By far, the biggest change to Office 2016 is the way Microsoft expects most users to download it. In its post on the Office Blog acknowledging the Office 2016 release, Microsoft mentions that Office 365 subscribers have access to the suite of apps today and will get updates faster than with its previous releases. Users can still buy it in the way they've purchased Office for years, but Microsoft isn't emphasizing it.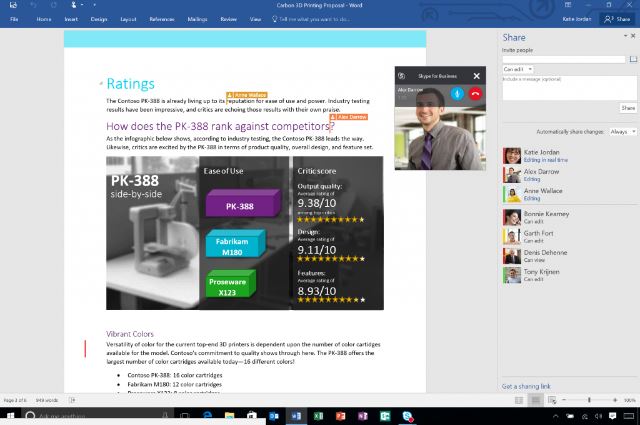 Real-time co-authoring is the star of this Office 2016 release. The feature allows anyone using one of the Office 2016 apps to create documents with other users, all without getting confused about who wrote what and what was added to the document since they last looked at it. Co-authoring is terrific in a business and home setting. At home, it's easier to put together a joint shopping list since everyone can add to it, for example. Any changes made to documents surface as they're made, making it less likely that users will get confused by new additions.
Skype for Business is an online instant messenger and communication tool available through Office 365. All of the new Office 2016 apps allow users to send messages or call other users with Skype for Business and work on documents together. Again, this feature is all about making the process of co-authoring a document easier on everyone.
Office 2016 tries to make everyday usage easier by including Microsoft's TellMe technology for accessing different features. Tell the service what it is you're looking to do and it finds the feature that you need to get the job done. Each Office 2016 app has received a visual upgrade too, bringing them more in line with Microsoft's Office Mobile apps for iPhone, iPad, Android and Windows.
Microsoft is careful to point out that today's Office 2016 release is only the beginning of what its teams have planned. Office 365 Groups is a new app for iPhone, Android and Windows Phone that lets users collaborate on projects. Office 365 Planner is similar to Groups, but includes a dashboard and notifications for everyone in the organization. For large businesses Microsoft has also added in systems for Data Loss Prevention and Multifactor Authentication. Multifactor Authentication forces users into providing a normal password and a code of some kind deliver to their smartphone or email when they try to log in on new machines.
Office 2016 is available from Microsoft's website today through its Office 365 subscription service or with a single time purchase, like previous versions of office. Office 365 Personal costs $6.99 a month or $69.99 a year and includes these new Office 2016 apps. In addition to desktop versions of Office, Office 365 is the only way to get access to Microsoft's new mobile versions of Office for Windows 10. Office 365 stores documents automatically on Microsoft's OneDrive service, making it easier to collaborate and pick up where you left off on any device.
Read: What is Office 365: 3 Things You Need to Know
Office Home & Student 2016 costs $149.99 and doesn't include a monthly or yearly charge. Office Home & Student 2016 for Mac costs the same. Microsoft released the Mac version of its productivity apps over the summer to Office 365 users, but wouldn't let anyone purchase a single use copy until today.

As an Amazon Associate I earn from qualifying purchases.