Microsoft Office 365 for Business: What You Need to Know
As technology evolves, so does the software that we use with it. Microsoft has held the productivity software crown for years now, dominating the space with its Office suite of apps. It's not easy to keep an empire like Office going. It demands constantly evaluating how people use their devices and what services they might want next. Office 365 for Business is proof that Microsoft is prepared for a new generation of business customers.
In the classic business environment, medium and large companies had technology departments. These IT departments managed everything internally for the company. Servers at the company's headquarters allowed for work email and task management. IT workers had two jobs: Keeping the PCs that they distributed to employees running and keeping the servers powering all the mission critical apps and services that the business needs up without interruption. Office 365 for Business takes at least one of those responsibilities off IT departments. Like it does for Office 365 Personal and Home, Microsoft manages all the hardware for Office 365 for Business. IT managers simply configure the service's different applications and services from a set of apps and an administration website. Companies get employees top-notch communication tools, plus Microsoft Office programs and they don't have to worry about expensive hardware investments.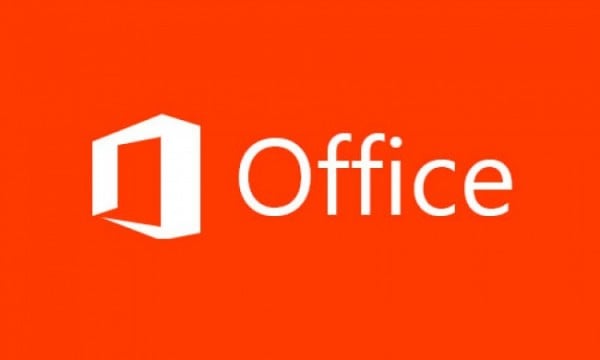 Read: Office 365 Review: Is It Worth the Money?
What is Microsoft Office 365 for Business?
Microsoft Office 365 is an IT infrastructure in a box. For a predictable cost, small and medium and large businesses are able to get their employees mission-critical pieces of software for their Windows PC and Mac. They also get the services they need to back up that software.
Plans include access to the programs that you're familiar with. There's Word, OneNote, PowerPoint, Excel and Outlook. Office 365 for Business also includes online storage with OneDrive for Business and email services with a custom domain, if users want that. Think [email protected]
Skype for Business lets members within an organization stay connected to each other. SharePoint allows IT managers to build custom destinations where members of an entire organization can collaborate and work on projects together.
Microsoft Office 365 for Business Benefits
The benefits of having an Office 365 for Business subscription can be split pretty fairly into two types of benefits. There's the web apps and services that live online or provide backend services to desktop apps. There's also the programs and apps that employees download to their PCs for work when they don't have access to the internet.
Web Apps & Services
Every Office 365 user gets access to a core set of web apps. They're Exchange support for email, OneDrive for Business, SharePoint and Skype. Microsoft also includes the web versions of Outlook, Word, Excel and PowerPoint. Newcomers Yammer and Delve are included in these services too. Yammer allows users to create corporate social media networks. Delve attempts to reach across organization lines and provide information users need. It has analytics tools that let users know how they're spending their day and more.
Programs
Word, PowerPoint, Excel, Outlook, OneNote and Microsoft Publisher are all a part of the programs portion of Office 365 for Business. Every user gets to download offline versions of these programs, plus get access to mobile versions for their iPhone, iPad, Android device or Windows device.
Microsoft Office 365 for Business Plans & How They Work
There are lots of different Office 365 for Business plans. Microsoft clearly designed each of the plans to act as a stepping stone to the next, that way business could upgrade as their organizations need more capabilities. For the lowest price, Microsoft encourages business to pay for an entire year, but there are more expensive monthly options too. Each user can have up to 5 phones, 5 tablets, and 5 PCs or Macs. These plans come packing web and phone support too.
Office 365 Business Essentials – $5 a Month Per User for a Year or $6 a Month Per User
Office 365 Business Essentials includes just the basics that users need to get started building their organization. No downloadable apps are included with this plan, only web services and web apps. There's Exchange for online email with a custom domain, OneDrive for business with 1TB of storage, online organization building with SharePoint and Skype for Business teleconferencing.
Office 365 Business – $8.25 a Month Per User for a Year or $10 a Month Per User
This plan is the cheapest to include access to the mobile apps and programs that Microsoft offers through Office 365 for Business. There's Outlook, Word, Excel, PowerPoint, OneNote and Publisher.
The Office 365 Business plan drops Skype for Business and Exchange email support. As such, it's not great for anyone that wants to give employees their own email. It keeps 1TB of online storage.
Office 365 Business Premium – $12.50 a Month Per User for a Year or $15 a Month Per User
This includes everything that the other two plans do. There's the Office programs and mobile apps, plus access to the web versions of each app. Users get the Exchange, SharePoint, OneDrive Storage and Skype for Business benefits too. Microsoft claims that this is their best value plan.
Together, these plans make up Microsoft's mainstream small and medium size business offering. That's not to say that there aren't even more plans and details to keep track of.
Office 365 for Business E Plans
The Office 365 for Business E plans are aimed at enterprise customers.
These plans offer Skype Meeting broadcasts so that millions of people can watch a talk at the same time. They also include downloads of Microsoft's Access database software. There are call-in numbers for Skype Meetings and Delve analytics. Some cyber security tools are thrown in for good measure. These plans start at $8 a month and go up to as much as $35 a month.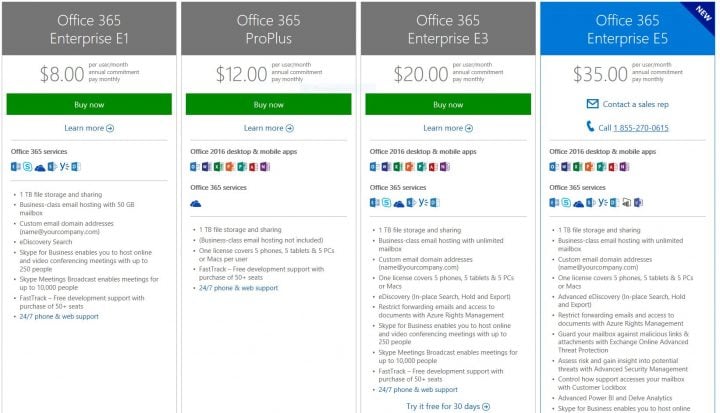 How to Choose the Right Office 365 for Business Plan
Deciding on which Office 365 for Business plan is right for your needs really depends on two things.
What types of capabilities are you're looking for? If you're really only looking to supply a small business with Microsoft Office apps and emails with your organization's name, the Office 365 Business Premium plan is a great fit. Office 365 Business Essentials are what you should use if your organization is just getting started and needs email and can work on the web through their browser. I'd start with this one as a free trial to see how it fits your team's workflow.
The bigger your organization gets, the more information you'll have and the more people you'll need to stay in touch with. That's where the enterprise programs really come in. Yammer and Delve are top-notch ways of fostering a team and managing workflow.
Good luck deciding if Office 365 for Business is right for you and your organization. Remember to scour Microsoft's website for free trials on any plans that you think might fit your company's needs.