Microsoft Office 365 Personal Now Available for $69.99 per Year
Microsoft has been making big splashes in the mobile pond of late as it works to build on its Mobile and Cloud strategy. The release of Office Apps for the iPad sent out the biggest ripples in the pond. That was preceded by a release of OneNote for the Mac, which caught many off guard. Based on what we're hearing the newly released developer preview of Windows Phone 8.1 is also garnering very high marks from lots of of early adopters.
Earlier this year, before the launch of the Office Apps for the iPad, Microsoft had announced that a cheaper, "personal" version of Office 365 would be available this spring. And today Microsoft has made Office 365 Personal available to all comers.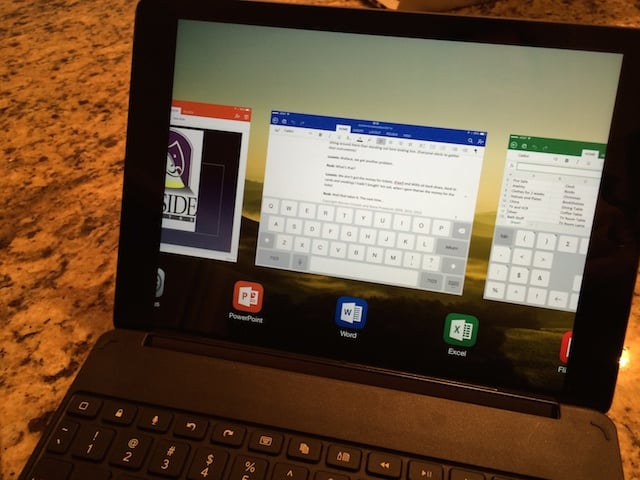 The good news for potential users of the Office for the iPad Apps is that the Personal edition will allow full functionality with those Apps on the iPad. Without an Office 365 subscription those Apps had limited functionality that did not allow users to edit or create documents on an iPad. It is anticipated that there will be an Android version of the same Apps announced later this year, so those using that platform should have access to the Personal edition when those Apps do launch.
The Office for the iPad Apps do not come as a traditional suite. Instead users can download Microsoft Word for the iPad, Microsoft Excel for the iPad, and Microsoft Powerpoint for the iPad as separate Apps. Microsoft OneNote for the iPad has been available for some time now. This allows users who want the benefits of Word but don't need to work with spreadsheets or presentations to download just that one App. All of the iPad Apps are free to download. Users can purchase an Office 365 subscription directly from Microsoft and other vendors, or via an in-App purchase through iTunes.
Note though that I can not verify as of this moment whether or not the Personal edition pricing is available via in-App purchasing currently.
A Microsoft Office 365 Personal subscription will cost $69.99 per year or $6.99 a month. That's a substantial drop from the price of a regular Office 365 subscription which is $99.99 per year or $9.99 per month. What's the difference? The full subscription allows you to install  Office applications on up to 5 different computers. The new Personal version allows you to install Office applications on one PC or Mac and one Tablet. All of the rest of the services and software are the same. For users of Microsoft's applications with an Office 365 subscription, regardless of platform or device, Microsoft's OneDrive is the glue that holds all of that together.
It is obvious that Microsoft is making a big play for iPad users when you look at the headline of the announcement page that blares: Office 365 Personal now available–and unlocks editing and document creation on iPad.
Read: Microsoft Office for the iPad: Review
Microsoft Office 365 Personal is targeted mostly towards individual consumers who don't have a house full of PCs and other devices. Students can take advantage of an even greater discount with Office 365 University that costs $79.99 for a four year subscription. (Those who take longer than four years to complete a degree might have some interesting challenges there.) Microsoft recently removed the Office 365 subscription requirement for smartphone users of Office Mobile and that version is now free for those using the iPhone, Android, or Windows Phone versions.
All Microsoft Office 365 versions currently come with Word, Excel, Powerpoint, OneNote, Access, Publisher, OneDrive, and Skype. The newer Office 365 Personal will come with 20GB of free OneDrive cloud storage for one user, and 60 minutes of Skype calling per month, just like the more expensive option. Another benefit of an Office 365 subscription is that updates for the applications are made available to users as they become ready.
Microsoft had announced Office 365 Personal before rolling out the iPad versions of Word, Excel, and Powerpoint for the iPad. It appears that the Redmond company took advantage of a short window of time after those Apps were offered to garner as many full price Office 365 subscriptions as possible before making this new, less expensive and less expansive version available on the market. While Office 365 as a subscription service had been selling very well by most accounts, there is no word yet on what boost, if any, the release of the Office for the iPad Apps had on that subscription revenue.
Microsoft finds itself, after a considerable delay, in releasing iPad versions of the iPad Apps in competition with Apple, Google, and third party alternatives that can access and work with documents created on Microsoft Office software. Though sales of Office 365 subscriptions have been strong, the jury is still out as to how many Tablet users will opt to pay an annual subscription fee to use the mobile Apps when other entrenched alternatives exist.
Users can check out the various options at this Microsoft link. Also of note, for those wishing to order a full Office 365 Home subscription Amazon continues to offer that package at a price of $63.15. That is not a digital download but a card with a code that is shipped to your address.