Microsoft Office for iPad Gets Pictured, Should Be Coming Soon
We've heard that Microsoft is working on Office for the iPad for months now. Today there's proof that such an app actually exists. It's not in the App Store just yet, but it should arrive soon.
The Daily has a photo of Microsoft Office running on an iPad. Well, at least the splash screen for Office is running on the iPad. The image shows the splash screen asking you to create a new document. The app supports Word, Excel, and PowerPoint, the three main apps in the Office suite.
The app uses Microsoft's Metro UI, the same design that's used in Windows Phone 7, Windows 8, and the Xbox 360. It means that the app also looks like Microsoft's OneNote app for the iPad, especially after and update which will bring more Metro to that app.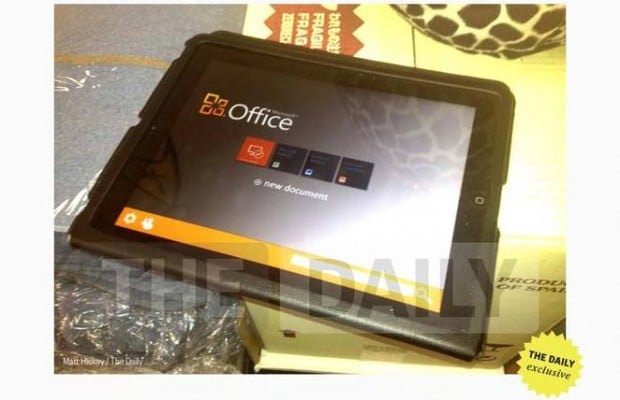 Bringing Office to the iPad makes sense for Microsoft because many companies are rolling out iPads to their employees instead of laptops. Many of those professional users have used Microsoft Office for years. If Microsoft can make the UI familiar or intuitive enough it would make sense for many of those professional users to use Office for iPad over Pages. If nothing else Office for iPad guarantees word documents, spreadsheets, and presentations will be compatible with the rest of the office without having to go through any extra steps.
Microsoft isn't giving into Apple at all with this new app, it's just making sure that it's Office suite gets on as many popular platforms as possible. Office is one of Microsoft's most successful products, so it makes sense that Microsoft would put out another version if it'll make money.
Apple offers a similar office suite, but it's three separate apps. Microsoft could position Office for Mac as the "buy one app and get everything" alternative to Pages, Numbers, and Keynote. Plus it's a more recognizable brand that both casual and professional users know (even if they don't love it).
The only thing Microsoft can't do with Office for iPad is charge too much for it. Apple's office suite goes for $30, so anything higher than that could turn off users.

As an Amazon Associate I earn from qualifying purchases.