Microsoft Office for the iPad: Review
For some, Microsoft Office for the iPad was viewed as the holy grail. For some it was endless waiting that rivaled anything Samuel Beckett ever wrote. For some the delays from Redmond made it irrelevant and they moved on to other options. There were even some who felt, for some reason, that without a version of Microsoft Office for the iPad, Apple's iPads weren't legitimate and couldn't possibly be "real work" computers. Regardless, Microsoft has now released Office Apps for the iPad in the form of Word, Excel, and Powerpoint and also updated OneNote to match the big trio. Let the "real work" begin.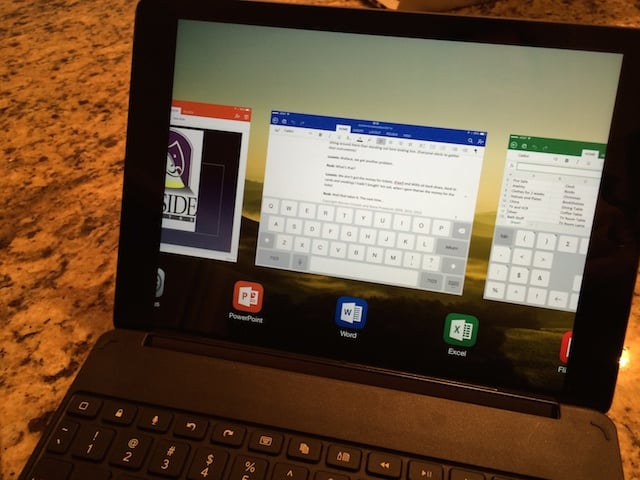 In short, Microsoft has finally pushed out a selection of productivity Apps that are well thought out and designed for the iPad experience and iOS 7. The separate Apps are tied together via Microsoft's OneDrive or Sharepoint services. Those who use Office as their primary document creation environment should be quite happy with the result. Those who may have shied away from an iPad because it lacked Microsoft Office Apps don't have that excuse anymore. Over 12 million copies of the Apps were downloaded in the first week. Those figures may tell us that those who moved on to other options instead of waiting might be willing to give the new Office Apps a try.
The "real work" argument has been raging about Tablets since the inception of the iPad. It's a bogus argument and always has been. If you have nothing better to do, debate that if you must. But you'll have an even tougher time doing so now that these well executed Office Apps exist for the iPad platform. Are they perfect? No. But they are better than I think many expected them to be based on assumptions made after Microsoft begin offering the less than capable Office Mobile Apps for iOS and Android. (By the way, those Apps are now free as well.)
Office Apps for the iPad


Office Apps for the iPad Review Guide

Related Articles
Let's take a look at several factors.
Cost
There's a cost catch with the new Apps. The Apps are free to download and use as document viewers. You have some other very limited functionality with the free version as well like copy and paste into other Apps. But if you want to create or edit documents you'll need an Office 365 subscription. If you have a subscription already, you're set and ready to go once you enter your credentials.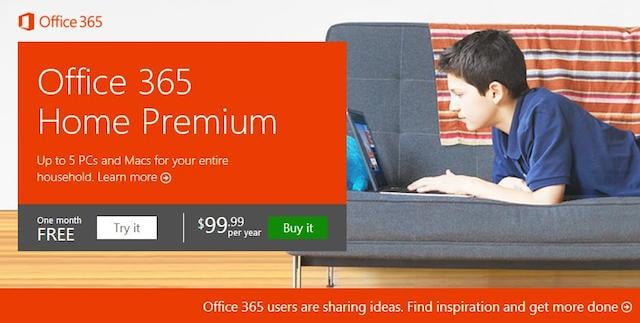 If you don't already have a subscription you'll need to purchase one for editing and creating. (Translation: to get "real work" done.) At present that $99 option gives you the use of Microsoft Office products on up to five computers. The same option can be purchased more cheaply at other sources such [amazon_link id="B00B1TEIRU" target="_blank" container="" container_class="" ]as Amazon[/amazon_link]. (Currently it costs $67.15 if you order a key card and not a download.) You can also purchase an Office 365 subscription through an in-App purchase or directly through Microsoft and other retailers. If you purchase a subscription via the App, Apple gets 30% of the cut as per its policies. So strange, but not uncommon, bedfellows are high fiving each other over these new arrivals.
Read: 4 Alternatives to Paying $99.99 a Year for Office for iPad

In a shrewd bit of marketing Microsoft will be rolling out a discounted Personal Edition of Office 365 at some still unannounced point this spring that can be used on one Tablet and one computer. That version will cost $6.99 a month or $69.99 a year. It's shrewd on several accounts. The cheaper version wasn't available at launch, which essentially means Microsoft (and Apple) got to take advantage of eager Office users buying new accounts in the rush of the release. The Personal edition will allow users to install it on one Tablet and one computer, which sounds just right for a market full of iPad users. There is also a student plan, Office 365 for University, that costs $80 for four years.
Read: Microsoft Announces Discounted Office 365 Personal Version
Are the new free Apps worth the cost of an Office 365 subscription? That depends so much on your situation. If you and your family are in an environment that uses Microsoft Office at work or home as its standard fleet of productivity software it is an easier decision. If you're a hard core Microsoft Office user eventually you'll go the Office 365 subscription route. That's the future in Microsoft's eyes. If you're a casual document creator or work with collaborators who use other document creation software it would be a tougher call. There are plenty of alternatives out there, so if budget is a concern do some exploring before you decide to jump into the game. There is a thirty day free trial of Office 365, so you can try before you buy.
Three Apps No Suite
The fact that Microsoft chose to offer Word, Excel, and Powerpoint, as well as OneNote as separate and distinct downloads follows Apple's lead with its iWork suite. It's a good lead to follow. Users have always been able to buy stand alone copies of any of the Office software products separate from a full Office suite. But the push was always to sell full suites. Now, like with iWork, if you don't need to create spreadsheets or presentations but write a lot of correspondence, all you need to download is Word for the iPad. This reviewer can certainly envision an iPad that includes Word for the iPad, Keynote, and no spreadsheet software at all.
Look, Feel, and Consistency
In general Microsoft has done a surprisingly good job of creating Apps that not only provide good functionality but also a pleasing and simple user experience. Some may say that the Apps are stripped down versions of what you find in the desktop versions of the software and that's true. But the functionality most users will need is present in these Apps. Comparing the functionality included in the desktop version of Microsoft Office to these iPad Apps is akin to comparing an aircraft carrier to a sleek ocean going yacht. You'll get where you're going but with less overhead.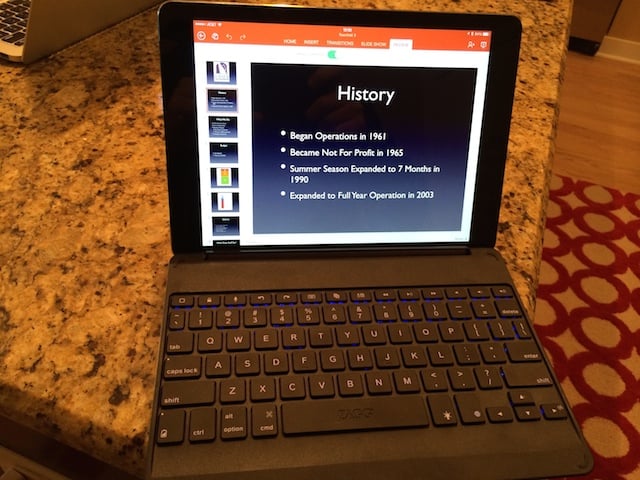 The new Apps fit well into the iOS 7 design language and if you've ever used the web versions of Word, Excel or Powerpoint or the previously available OneNote for the iPad, you'll feel right at home. Each of the Apps sports the familiar ribbon interface with different commands grouped under different tabs. There are always Home, Insert, View, and Review tabs, but depending on the App you're in and the context that you are working within, other tabs are available or not available. For example, the Transitions tab only appears in Powerpoint and the Formulas tab only appears in Excel.
With the exception of Powerpoint, the Apps let you work in portrait (vertical screen alignment) or landscape (horizontal) depending on your preference. Powerpoint is landscape only. In either orientation the Apps, tabs, and menus scale nicely so that you have the same commands and tabs on the screen without any appearance of crowding. Working in portrait mode provides more screen real estate if you use the iOS virtual keyboard, but that really is a matter of preference. The Apps look equally good on a full-sized iPad and an iPad mini.
The Apps each have a very clean and polished look about them and there is consistency to the menu commands above the tab bar across all of the Apps. It won't take you long to orient yourself. These icons take you to the File and Account management area, allow you to save/sync the document you are working on, undo and redo, search, or share with another user.

Under the Save menu, you can turn on or off an Autosave feature that saves changes to your documents as you go. You can also choose to duplicate a document if you want to preserve the original while you edit further. (Highly recommended.) You can also view a document's properties and get help. There's also a restore command if you just want to tear up the revisions you've made and start over.
If you want to search within a Word or Excel document you'll find a magnifying class in the upper right corner of the screen. Tapping this icon brings up a search box to enter your search query as well as a gear icon. That gear icon leads you to a menu where you will find the Find and Replace command, which in my usage is a function that I rely on frequently.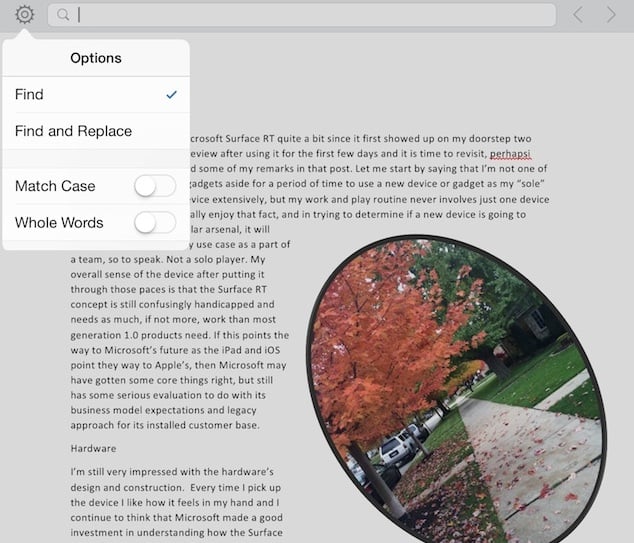 The Apps all take advantage of the editing zoom feature in iOS that appears when you select text, making it easier to place the cursor where you want it to be.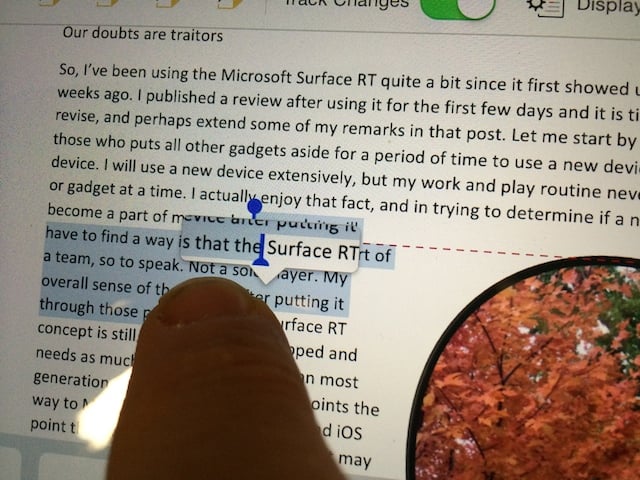 Document Fidelity
This can't be overstated. One of the key reasons these Apps are so successful is that documents created on other devices retain their fidelity when viewed in the iPad versions. You may not have all of the power functionality some need on desktop versions, but all of the work done in the full suite of Office software in complex documents will look the same on the smaller screen of the iPad. The fact that Microsoft was able to make that happen is more than a net plus.
Popular Functionality
Many Microsoft Office users only tap a small percentage of the features available in the desktop fleet of Apps. Most of those popular features are included in the new iPad versions and easily available from the ribbon interface. Power users won't find some of their power tools available and I'm not sure how great a loss that might be.
In some cases you can perform all of your editing or revision chores and some you can't. Examples where you can't include comments in Excel and Powerpoint. You aren't going to perform a mail merge with these Apps, but you can still create complex documents, spreadsheets and presentations.
The most complex documents I create in Word are play scripts. Could I do that with Word for the iPad? Yes. Could I create some of the spreadsheets I used to in Excel for the iPad? No. Simply because in the current version you can't update data automatically from other workbooks. With Powerpoint I'm good to go as long as I don't need animations, which I very seldom used.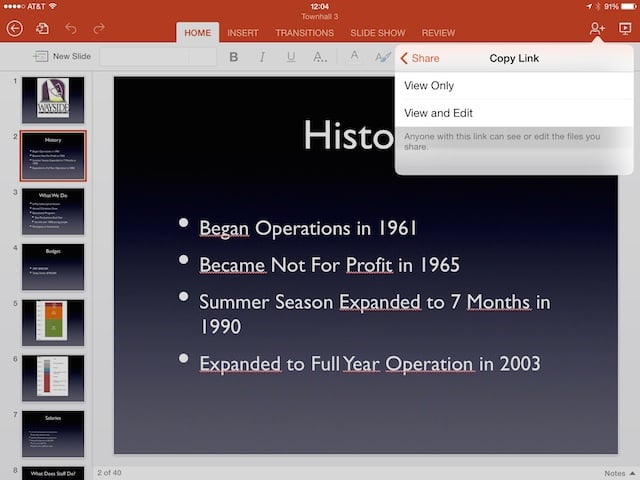 But those are my work scenarios and may not be yours. To be honest, I'm surprised by the robust functionality that is included in these new Apps. It is more than I was counting on. It is easy enough to insert pictures, tables, charts, and other objects via touch controls. It is also easy enough to edit and rearrange those objects to your satisfaction. Common editing features like bold, italicize, justify, changing fonts, highlighting, creating lists, etc… are all just a tap away. Spell check can be turned on or off depending on your desire. You can count words until you are tired of counting. If you need a math formula, it is probably included.
This reviewer certainly can't speak for all of the users out there, but I think it is safe to say that for the majority of users there is enough common functionality available for the creation and editing of most documents.
Collaboration
One of the features we expect in productivity Apps these days is the ability to collaborate with other authors while creating and editing a document. Within each of the Apps you can copy a link or send a link to another user for this sort of collaboration.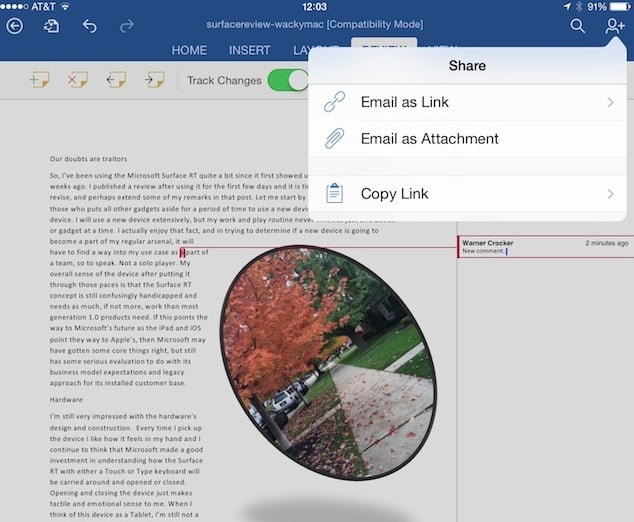 Markup changes can be tracked by user in the same way you are used to on the desktop versions. You can lock sections once they are edited to perfection. For road warriors who review and edit documents these Microsoft Office Apps offer you the flexibility to work as you are probably accustomed to on other devices. In Excel and Powerpoint your ability to edit and add comments is limited to viewing only.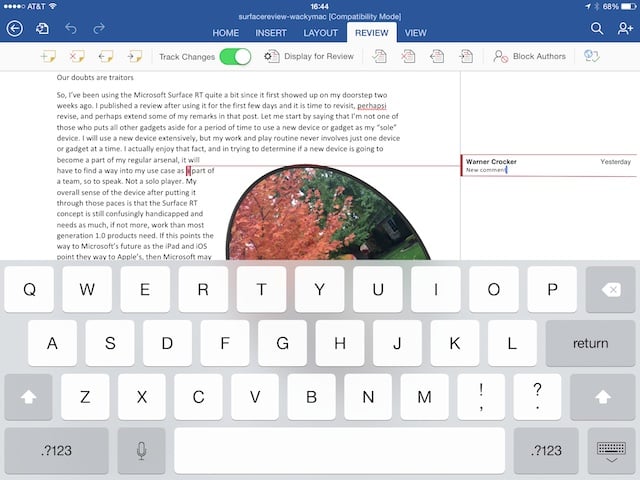 The Virtual Keyboard and External Keyboards
While these Apps are designed with touch in mind, each of them in one way or another requires you to use a keyboard. The iOS virtual keyboard works well enough if you're comfortable with that approach. It needed to or Microsoft would have taken criticisim. Microsoft has taken advantage of the ability to create App specific keyboards to provide an additional keyboard for Excel that offers a number of common operators and a numeric keypad layout.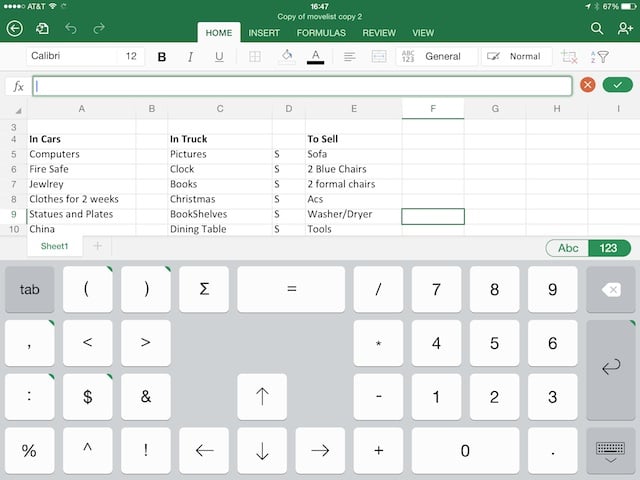 Third party keyboards offer more functionality. I've tested several external Bluetooth keyboards with each of the Apps and all work just fine. While you don't have keyboard shortcuts available with the virtual keyboard, you do have some available with a third party keyboard. Command + B for example let's you bold selected text. Keyboard navigation is available as well. Microsoft has included a well thought out help section that lists these shortcuts within each App.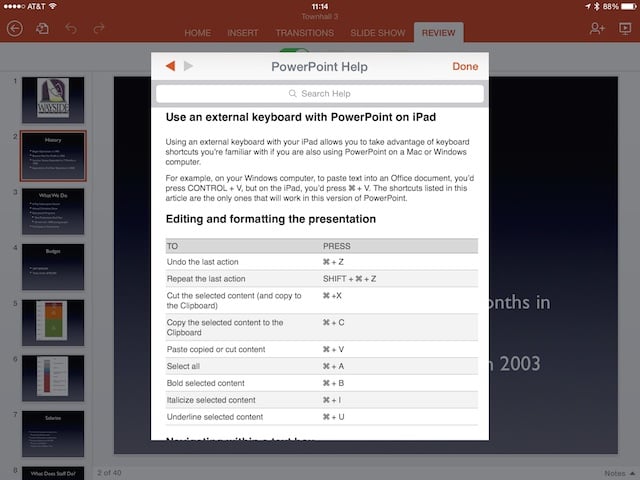 That help section can be found by tapping the Save icon in each App and selecting Help and Support.
Within that structure you can find a help guide that lists keyboard shortcuts available within each App. Familiar keyboard shortcuts like copy, paste, bold, etc… along with navigation controls can be viewed there. In fact, the Help Guides Microsoft has included for each of the Apps are quite well done and worth a look. They also provide a comparison between the various Office editions, so if you're trying before you buy with these Apps, it might be worth a look at those sections.
If you are using the Apps on the iPad mini it is actually quite easy to thumb type on that smaller form factor.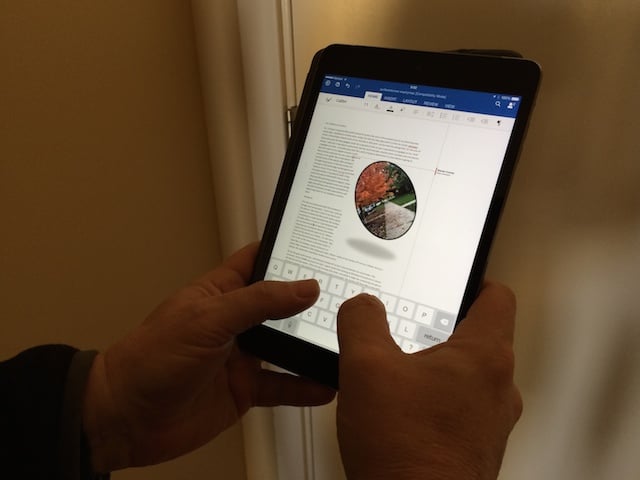 The File and Accounts Page
Each App has the same interface for opening documents and creating new ones. You can add other accounts from these pages, but at the moment those accounts include only OneDrive and Sharepoint accounts. You won't be able to add Dropbox, GoogleDrive, or iCloud accounts at present, if ever.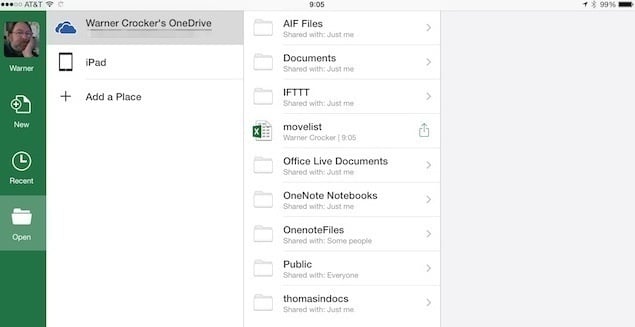 When you choose to create a new document you are presented with a number of templates and/or themes to use for your document.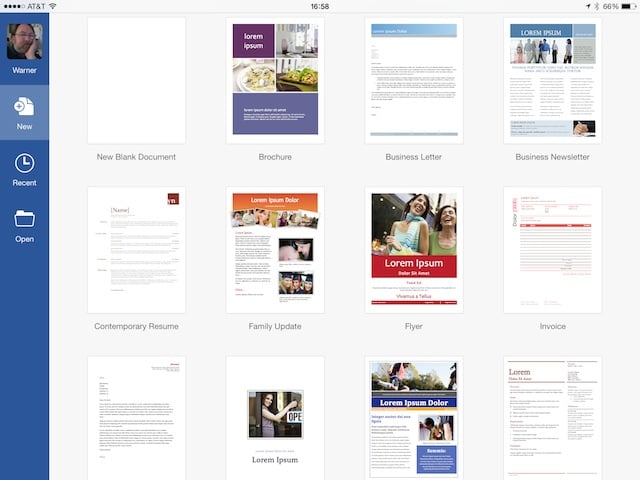 In the Recent view you are given the option to "Pin" the document which simply keeps that document at the top of a list of documents. It doesn't move it to your iPad the way some sites are reporting.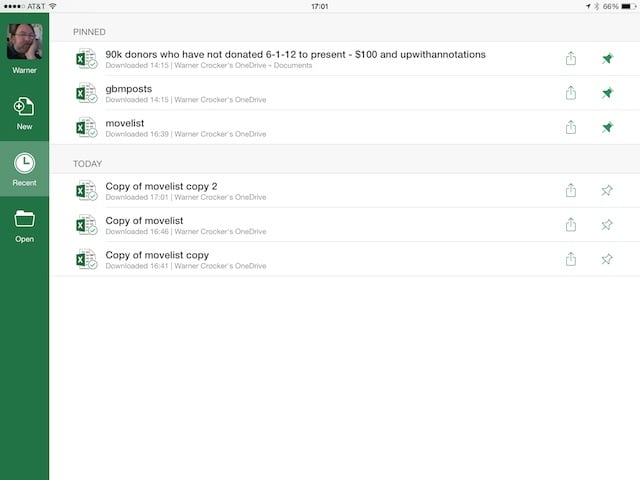 To do that you can save a document locally to your iPad by choosing "Duplicate" within the Save function of each App. Microsoft follows a trend and describes "Duplicate" as what most are familiar with as "Save As." Choose it and then choose your iPad as the destination. Quite honestly I miss "Save As."
The big difference is that your are restricted to OneDrive, Sharepoint or your iPad as locations.
Specific Apps
Word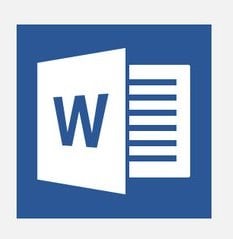 Microsoft Word is probably the most commonly used Office application. For many typing text into a word processor is second nature as is editing that text. With an external keyboard editing and creating simple documents in the iPad feels as effortless on first attempts as it does on a desktop or laptop. Working within complex documents also feels just as natural. I've never taken the time to really work with the iPad's virtual keyboard for this kind of work, but for those who have I'm reasonably confident they will feel equally as comfortable.
I believe that the tools you use and how you relate to them are an important part of the creative process. An iPad with a good external keyboard has always felt just as comfortable for me as a laptop or desktop. That continues using Word for the iPad. In fact I prefer this version of Word to the version included on the Surface 2. There's less clutter because of the minimalist design of the ribbon in this iPad version and given the iOS "one window at a time" approach it just feels more conducive to writing. Granted you can hide portions of the ribbon in the desktop version. Surprisingly Microsoft says that touch friendly versions of the Office Apps are still a ways away. One wonders what is taking so long.
Read: Touch Version of Office for Windows is Still A Ways Off
As mentioned previously most of the common functionality you would expect from Microsoft Word exists within the tabs at the top of your document. In Word these tabs include Home, Insert, Layout, Review, and View. If you are using pictures or shapes new tabs with commands for those objects show up as well.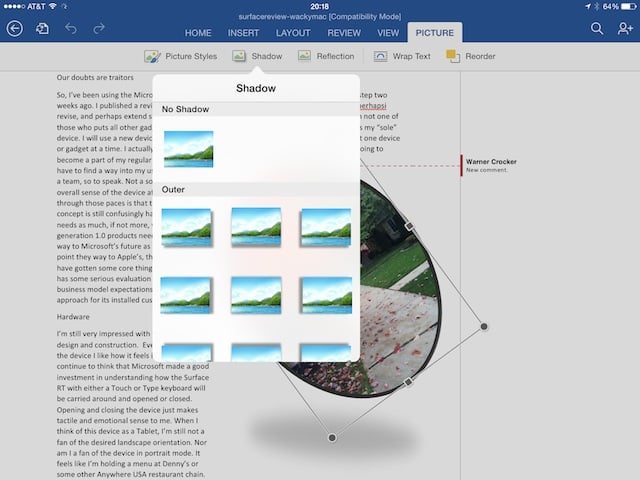 Screenshots in the gallery below provide a look at what is included in each tab. Compared to the Office version included for free on the Surface 2 you won't find tabs for Design, Mailings, or References.
Compared to Office on a Windows desktop you won't find Design, Mailings, References, or Add-Ins.
(You can click on the thumbnails below for a larger view of some of the menu commands.)
The core purpose of any word processor is to enter text and then edit it. That's all possible and without obstacles here. Again, I don't sense any fundamental differences between using Word on the iPad than I do using Word on any other machine. Each user will have a different take on this. Some have already called this a stripped down version or labeled the UI as pedestrian. Beauty may be in the eye of the beholder, and the suitability of functionality plus design might be as well.
Simply put, if you have an Office 365 subscription, an iPad and Word for the iPad, you can fire it all up, begin typing and at the end of the day turn out a document that you could submit for any business, educational, or personal use. Unfortunately you can't print that document out directly from Word for the iPad (or the other Office Apps either) without resorting to some third party Apps. Microsoft says that it will be adding features to these Office Apps going forward and printing from the Apps should be included down the road.
Read: How to Print Office for the iPad Documents
Excel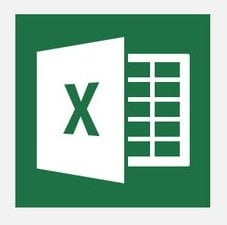 Excel is the king of spreadsheet software, even more so than Word is for word processing. While third party solutions have existed to work with Excel spreadsheets on Tablets for some time, this reviewer has found most of them lacking. Excel for the iPad surpasses third party options and other spreadsheets I have tried on a Tablet, but of the three new Office Apps it is the least effective port to this platform in my view. That view is colored by how I work with spreadsheets and may not affect yours. Is it good enough to create and edit spreadsheets? For most work yes. For complex work, not quite.
That doesn't mean Excel for the iPad is a failure. Far from it. It is the best spreadsheet software available for a Tablet currently. But some spreadsheet jockeys will find some of the missing features disconcerting.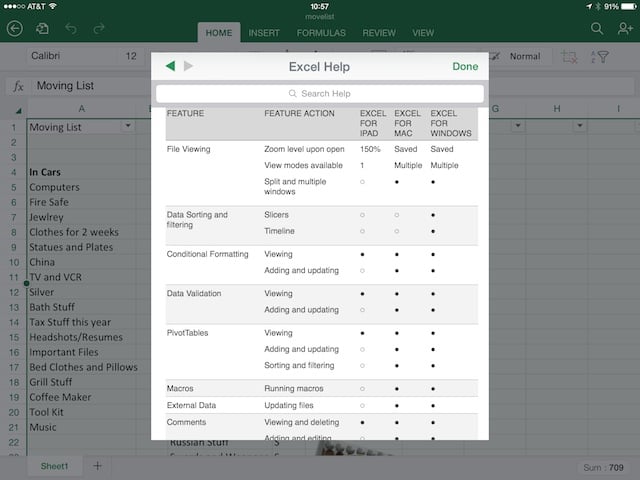 A case in point from my usage. I frequently sort data entered into a spreadsheet. There is no data tab and the simplified Sort function resides under the Home tab. A complex sort over a range of columns or rows requires you to make selections within each column. It's a cumbersome process. Other features that you won't find in Excel for the iPad include the ability to run macros or update files with external data. While you can read comments you can not add or edit them. For many users these absences may not be a problem.
Power Excel users will also find that macros will not run on the iPad version. Combined with the fact that a spreadsheet can't update data from another source, this will be a flag for power users.
I also find that while touch has been nicely implemented, I will always be using an external keyboard when working with Excel for the iPad. It just makes more logical sense in my usage. For example, if I wish to select a series of adjacent columns I can do so by holding down the Shift key while using the arrow keys on a third party keyboard after I select a column heading. To do the same thing with a virtual keyboard you need to select and drag within a column or row, not the heading.
The iPad version contains tabs for Home, Insert, Formulas, Review, and View. If you work with Charts or Shapes other tabs appear for those contexts.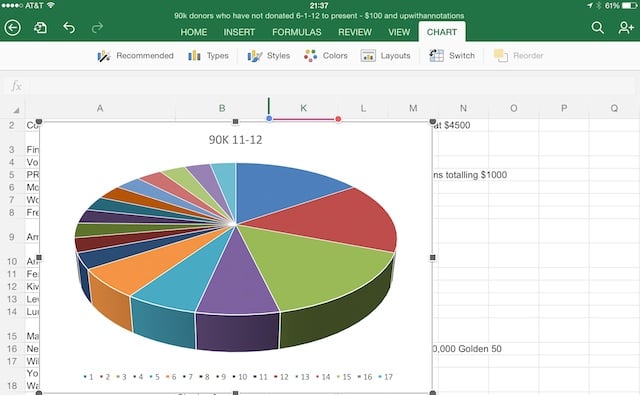 The Surface 2 version contains tabs for File, Home, Insert, Page Layout, Formulas, Data, Review, and View.
The Windows desktop version contains additional tabs for Add-ins and Team.
While you won't find macro support, Microsoft did not skimp on bringing power to the iPad version for Excel. There are over 400 formulas available to choose from providing a range of math and financial functions.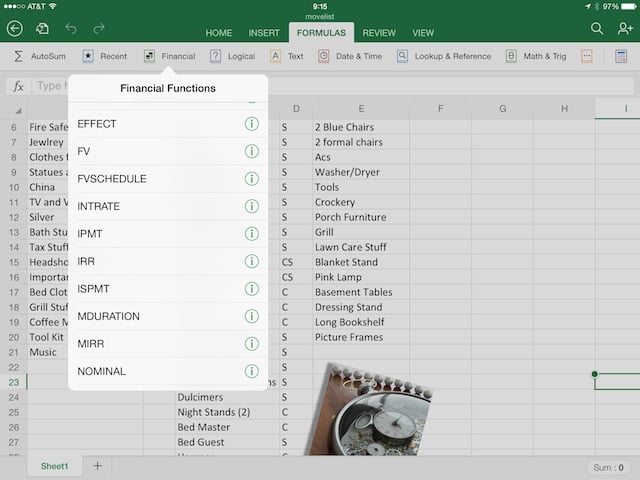 Inserting charts, text boxes, and pictures is an easy process, although with pictures you are restricted to those on your iPad. You can't bring in pictures from other sources even your own OneDrive account. That's true across all of the Office Apps for the iPad.
While I don't do as much spreadsheet work as I used to in my previous life, when I did I often worked with multiple workbooks open at a time. iOS multi-tasking limitations rear their ugly heads here. You can only have one Excel notebook open at a time. Flipping back and forth between workbooks is a cumbersome process at best. It will be interesting to see if this is different on the Android platform when Microsoft releases versions for that OS.
Powerpoint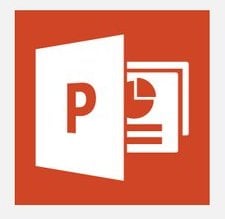 One place the iPad shines as a "real work" device is as a presentation tool. Whether showing off a presentation on the iPad itself or using it to drive a presentation on a larger screen, the iPad is far and away a better device to do this with than a laptop or other computer. Apple's Keynote and the iPad were in some ways made for each other, leaving iPad users who work with Powerpoint on other devices somewhat behind unless they wanted to play a game of import and export. That is no longer the case with Powerpoint for the iPad.
Powerpoint for the iPad allows you to create, edit, and easily show off presentations and as a touch first application is easily the best of the three new iPad Office Apps. Like Word and Excel, however you won't find all the bells and whistles of the desktop here, but most will find enough.
The tabs in Powerpoint for the iPad include Home, Insert, Transitions, Slide Show, and Review. Contextual tabs appear if you're working with Pictures or Shapes.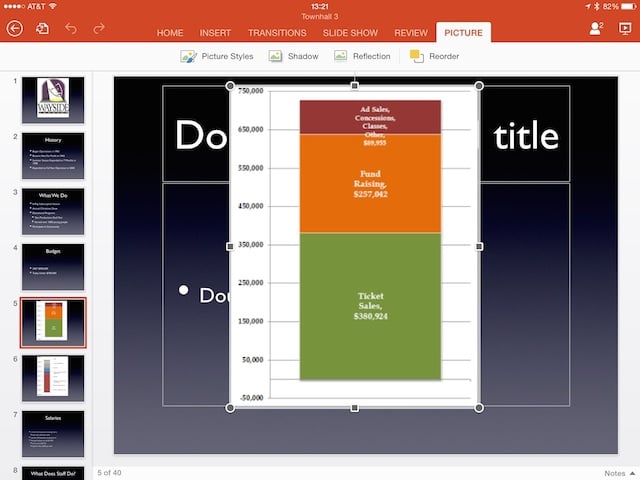 You won't find Design or Animation tabs like you do in the Surface 2 version.
Nor will you find an Add-In tab as you will on a Windows desktop version.
Things you might miss include not being able to add add video or audio to a presentation, animations, adding or changing a background image, or adding or changing comments.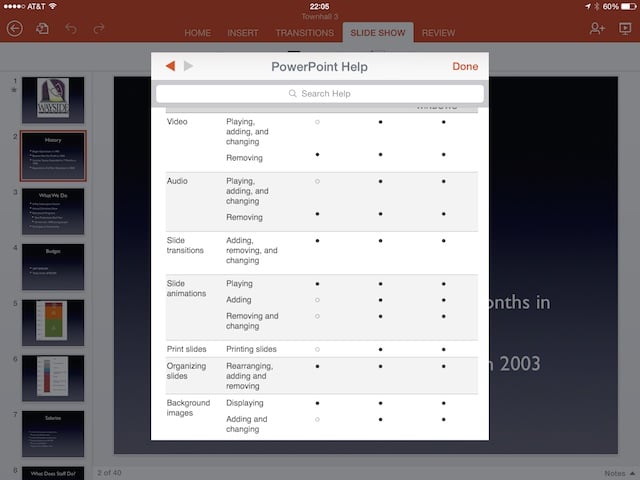 When using your iPad to present through another device you can hold and press on the screen of your iPad to bring up a laser pointer on the display.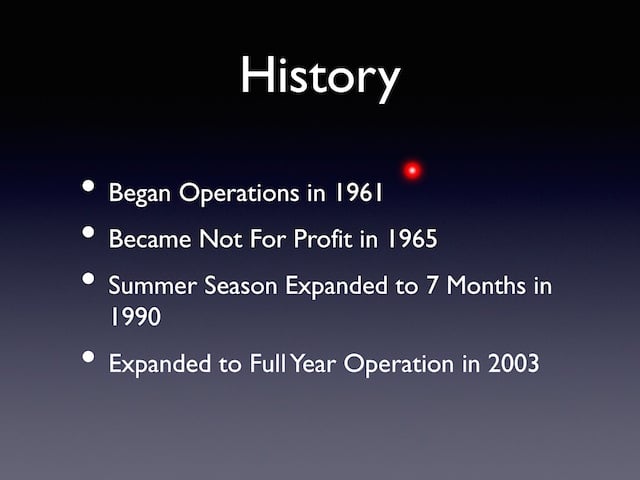 It is also quite easy to use your finger to mark up your slide in presentation mode as well.
Curiously, using an external keyboard will not allow you to advance slides with the space bar. It's all about swiping on the screen to reach the next slide.
As in Word and Excel, it is quite easy to insert pictures, text, tables, and shapes into a slide using touch. Manipulating those objects is just as easy when it comes to resizing or rotating them. While animations don't exist in this version, there are 36 included transitions available for you to choose from. Although you can not control the duration, sound effects, or delays. Animations and transition timings from slide shows created on other devices are retained but you can not edit them.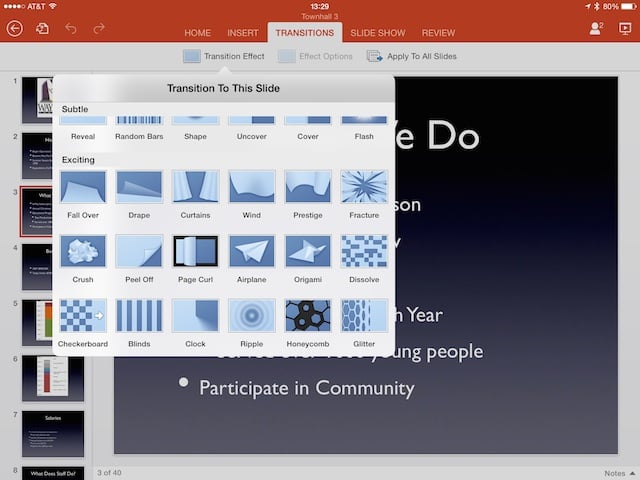 In my view, Powerpoint for the iPad is the most successful of the three new Office Apps when you think of these Apps as being created for a touch friendly device. The lack of some features like including video and audio make its Apple competitor, Keynote, a step ahead of the game.
The Omission of Printing
Microsoft chose not to include a method for printing documents directly from these applications. There is a promise of including this in the future. Even so, this is a puzzler. Microsoft's General Manager for Office Marketing, Julia White, is quoted about this omission as saying  printing is "an inferior mode of communication." Granted there are many circumstances when we don't need to print documents the way we used to in order to communicate with others. But the need still exists regardless of how inferior some who should know better might think of it. Fortunately, there are third party methods of printing your Office documents until a native solution exists.
Read: How to Print Office for the iPad Documents
The OneDrive Silo
At the moment OneDrive is the only way to store and digitally manage your Office documents from within these Apps. You can open documents from other sources such as email attachments or Dropbox using the Open In functionality built into iOS. Note though that you'll still need a OneDrive account to save any work you do on those documents. This could be a problem for some who prefer other Cloud storage and syncing solutions. A one year subscription to Office 365 gets you 20GB of OneDrive storage and there is a 30 day free-trial available.
Microsoft isn't alone here. Apple creates its own silo with iCloud. It's great that documents we are creating on iPads (and presumably other Tablets) are being instantly saved to the Cloud(s). It is certainly understandable that these companies want you to use their Cloud storage for your work. But the current silo approach can be a limitation for users who have invested in other solutions and don't prefer to change.
Pros and Cons
Pros

Well designed for Touch and iPad Experience
Most common and familiar functionality included
Office docs created on other platforms retain fidelity

Cons

Requires Office 365 subscription for creating and editing documents
Power users might miss some features
No printing
Conclusions
Microsoft's Office Apps for the iPad are now here. So, what's the bottom line? Were they worth the wait? For those who work with Microsoft Office on other platforms that answer is certainly yes. These are well designed Apps that offer enough common and familiar functionality for many users that also take advantage of the iPad's capabilities. That "yes" might depend on whether you're willing to invest, or have already invested, in the Office 365 annual subscription concept. Put another way, third party alternatives are still viable depending on the document creation environment you live in and how much you rely on Microsoft Office documents. But if you live and work in a Microsoft Office environment and want to do so on an iPad you've now got quality first class Apps to do just that.
If you've moved away from Microsoft Office while waiting for Office to appear on the iPad, the 30 day free-trail of Office 365 makes taking a look at what Microsoft finally brought to the  iPad easy enough to do. It might be worth the comparison.
Microsoft has created a trio of Apps that work very well for the tasks we expect them to perform. "Real work" can now be done on the iPad. More correctly stated, "Real work" can now be done on the iPad with Microsoft Office products.