Microsoft Office Mobile 6.1 Now Available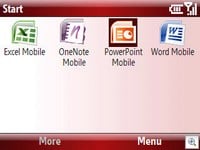 Microsoft has rolled out an upgrade to Office Mobile 6.0 that now allows you to read native Microsoft Office 2007 file formats. If you recall, Office 2007 introduced a new file format based on Open XML, but the new file format at the launch of Office 2007 wasn't available on other platforms. Of course there was a work around by simply saving Office documents in an earlier compatibile format.
Well, for Windows Mobile users you can now use the native Office 2007 format in Windows Mobile with Office Mobile 6.1. You'll need to have Office Mobile 6.0 installed to use the upgrade, or purchase a version of Office Mobile 6.0 to use this.
Read more about it or download here.
UPDATE: Looks like changes are afoot here, as Microsoft has pulled the info and download page. We'll post more as we have it.

This article may contain affiliate links. Click here for more details.