Microsoft Office Online Apps Now Available in Chrome Web Store
Microsoft has been very busy in the last month as it works to develop and extend its Mobile and Cloud strategy. Earlier today we posted about the availability of the new lower cost Office 365 Personal edition and included references to the newly released Microsoft Office Apps for the iPad, as well as the fact that Office Mobile is now available for free for iPhones, Windows Phones and Android Phones. And then there's what looks like some very positive impressions for the newly released Developer's Preview of Windows Phone 8.1. If it sounds like Microsoft is serious about you being able to access your Office documents regardless of the platform or device you're using, then you've been paying attention. Yes, it's been a busy time for Microsoft's Mobile and Cloud strategizers.
More news on this front appeared on Monday when Microsoft announced in a blog post that it was making Office Online applications available in the Chrome Web store for Chrome users But to be accurate what's new are shortcuts for the Chrome App Launcher to the web versions of Word, OneNote, and Powerpoint that users have been able to work with in at the Chrome browser for some time now. The idea is that the shortcut allows a Chrome user to create an Office document online with one click on the launcher.
Previously named Office Web Apps, Microsoft rechristened the Apps as Office Online in January 2014. Word, PowerPoint, and OneNote can now all be added to the Chrome App Launcher with a version to add similar functionality for Excel coming soon.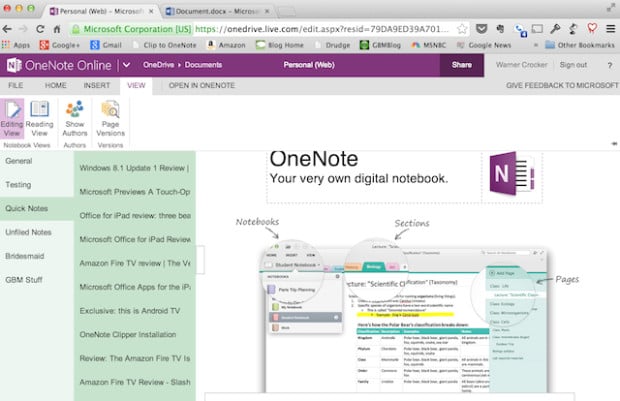 To take advantage of the new launch capability users need to be logged into Google Chrome and install the Apps into the launcher from the Chrome Web Store. The Office Online Apps offer a similar ribbon interface that most Windows users are familiar with when they open an Office App on a desktop or laptop. Most of the functionality that the majority of users need is retained in these web-only versions.
That said, in addition to the new launch capability, Microsoft also announced new enhancements to each of the Office Online Apps. They include:
In Excel Online users can now insert new comments and edit and delete existing comments, along with improved support for Visual Basic Applications (VBA). That new support allows users to open and edit VBA-enabled spreadsheets without interfering with the VBA in the file.
"Tell Me" functionality is now a part of Excel Online. "Tell Me" helps users find relevant commands in a drop-down list from.
In Word Online, Microsoft has added commenting to the editing mode which allows users to make comments and changes simultaneously with other collaborators. A new simplified way of dealing with footnotes and endnotes has also been added, allowing users to add them inline.
Slide layouts in PowerPoint Online look more like what the final result will be after editing. PowerPoint Online also now has "Tell Me" functionality.
OneNote Online users now have printing support so that they can print out their notes directly from the App.
Microsoft is obviously very serious about its Mobile and Cloud strategy and appears to be making good on moves that were obviously begun awhile ago to keep Office users happy regardless of their platform of choice. Even to the point where Microsoft is working with its competitors in the document creation category to make its Office software available on those other platforms.
Of special note in all of these new categories of Microsoft Office is the fact that users can collaborate on documents. Users of traditional Office software products have been able to collaborate for quite some time. But for online users Google Docs has been chipping away at that model as document creators were able to work within a browser and collaborate. That kind of separation of Office suite by browser is eroding. Now those who prefer, or are bound to, the Microsoft Office standard can do so more easily do the same in Google's Chrome browser.
It is also interesting that Microsoft is not only loosening the reigns and bringing Office App functionality to other platforms, but with Web Apps and Office Apps for the iPad is admitting what many have known for quite some time. While some users need the full power of what is offered in the full Microsoft Office suite, many only need some of that functionality to continue their work. While it might be accurate to call these new generations of mobile orientated Apps "stripped down," that really only applies to power users.
Note that some are suggesting that the recent and almost concurrent news of Microsoft dropping its Scroogled campaign isn't that much of a coincidence in timing. The Scroogled advertising campaign attacked Google's Chromebooks as not being able to run Microsoft Office, among other targets.
Whether Microsoft and Google are making nice with each other of late or not isn't the point. Users benefit when they can work how they want to and with the tools they choose when it comes to document creation. They more options users have available to them the better. And who knows, the more options users exercise the more they might just become attracted to other platforms and devices as well.