Microsoft Officially Releases Silverlight 1.0, Loren Heniy Gets to Work
Microsoft has officially released Silverlight 1.0, the cross-browser platform plug-in for delivering rich user experiences on the Web. With the 1.0 release they've also extended support for Linux.
And while Tableteers everywhere are hoping Silverlight will bring Inking to the web, Loren Heiny seems to be leading the way. Loren has taken his ActiveX Search Tip that allows you to use Ink for searching in a browser and now has created a Silverlight version. You can check it out here. I just gave it a shot an it works like a charm. Good work, Loren.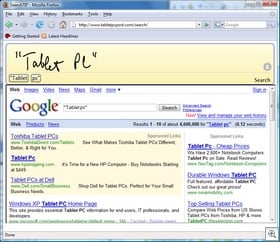 This article may contain affiliate links. Click here for more details.