Microsoft Officially Talks Windows 8.1 Update 1
We've been talking about Windows 8.1 Update 1 for quite some time now. Now it is Microsoft's turn. At Mobile World Congress in Barcelona, Microsoft is now officially acknowledging that an update is coming to its latest operating system and what some of the features are. Microsoft isn't officially calling it "Update 1," or pinpointing an official release date yet. Microsoft's Joe Belfiore announced that an update will roll out "this spring." As expected, Update 1 is targeted at trying to appease mouse and desktop users by finding a middle ground between the touch orientated UI of Windows 8 and adding some controls for those who just don't care for Microsoft's Windows 8 touch approach on a desktop.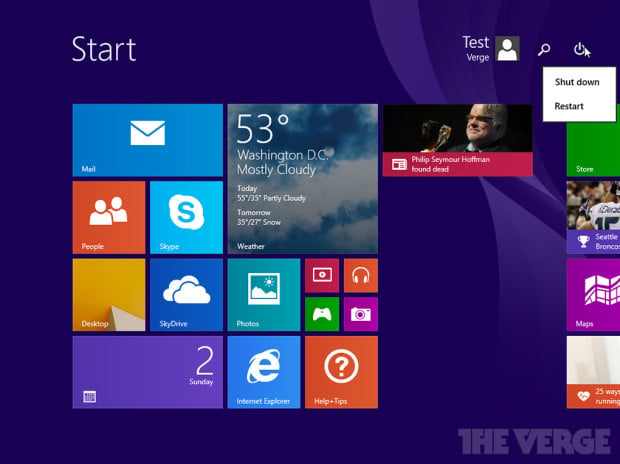 Belfiore, who is in charge of phones, Tablets, and PCs at Microsoft commented:
Some of those touch affordances weren't really tuned as well as we could do for those mouse and keyboard users. We found people weren't aware of where they should look in the UI. Those are the things we've really started to improve for this update coming this spring.
Regarding Touch, Belfiore also noted:
We love touch. None of the work that we are doing in this Windows update is in anyway degrading the touch experience.
So, obviously Microsoft is looking not only for the middle ground but a back door approach of  acknowledging what most already know. The radical design and user experience change that came with Windows 8 is not sitting well with most of its traditional customers.
The visible changes talked about at Mobile World Congress have mostly been discussed before due to a series of leaks of information from early builds of the updates. Those changes include:
A new mouse UI for right clicking and closing Apps
A title bar at the top of Metro or Modern UI Apps
Power/Search Buttons on the Windows 8.1 Start Screen
Easier launching and switching of Apps via the Taskbar
Microsoft is also lowering the hardware requirements bar to make it easier for OEMs to create cheaper PC variants running Windows 8.1. OEMs will now be able to make PCs using just 1GB of RAM and 16GB of storage. This comes after recent reports that Microsoft is also dropping the licensing fees for Windows 8, which will also allow for cheaper price points for Windows Tablets.

As an Amazon Associate I earn from qualifying purchases.