Microsoft OneNote for iPad Disappoints
I just downloaded Microsoft OneNote for iPad after learning about it on the Microsoft OneNote blog.
I haven't been a OneNote user for quite some time, but I was excited to see that OneNote was available for the iPad. I was hoping to get that great OneNote experience I had when I used it on my Tablet PC back in the day, but sadly, it's just another syncing text-based notebook app.
You can add images, but there is no inking. OneNote might be exciting if you use OneNote on your computer to type notes and snip web pages, but I wanted a great inking notebook like OneNote was for me a few years ago on my HP TX2000.
The OneNote iPhone app has been around for quite some time. The new Version 1.3 makes it a universal app that runs natively on the iPad and in a smaller format on the iPhone or iPod Touch.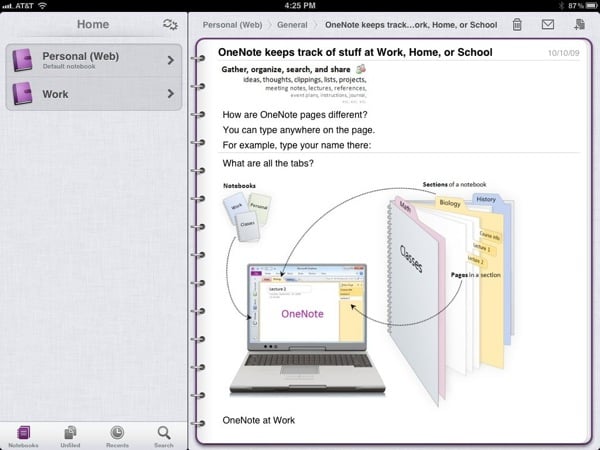 The app will be beneficial to those who use the desktop version and sync it through Windows Live or if you just use the online version. However, if you want to ink with a stylus, then you're out of luck. As I said, it syncs with the online or desktop versions of OneNote through SkyDrive. Below you can see a note I created on my computer through Live.com and synced it to my iPad via the app.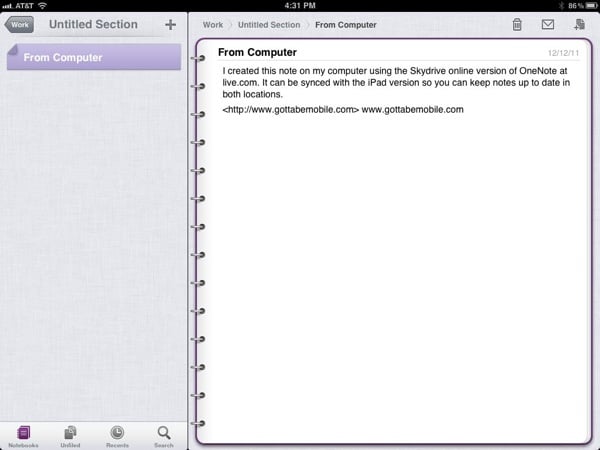 The app looks nice but it crashed on me once right after downloading it. You can use it in landscape mode (see above) or in portrait (see below).
The basic free version can sync up to 500 notes. After that you must upgrade to a paid version for $14.95. Without inking, I'm inclined to stick with Evernote. It has more capability through third party apps and gives me just as much usefulness as OneNote.
Other new features include the following:
Support for more languages
Tabbed user interface
Quick note creation in the unfilled notes section
Tables rendered – but you can't edit them
Better Windows Live sign-in
Option for Wi-Fi only sync
The upgrade option for $14.95 through in-app purchase
Get Microsoft OneNote free in the App Store.
Source: OneNote Blog

As an Amazon Associate I earn from qualifying purchases.