14 Microsoft OneNote Tips & Tricks
The true darling of the Microsoft Office ecosystem is Microsoft Word. Close to supplanting that word processing tool is Microsoft OneNote, some would say.
OneNote was the poster-child for "New Microsoft" before we knew that the company was heading in a new direction. It predates the wonderful upgrade that is Windows 10. It existed before Microsoft started adding mobile apps to the Office family by buying popular iPhone apps like Sunrise and Accompli.
Maybe, you've never heard of OneNote, but chances are that you have it installed. The digital note-taking application has come with Office bundles for years. It's in the very latest Office 2016 upgrade. The Office 365 subscription service that Microsoft offers online comes with it too, though you don't necessarily need to pay anything to get the app installed.
Microsoft OneNote is a terrific way to create a grocery list, take notes in class and keep your life organized. The notes that you take can be stored locally or synced to your other devices using Microsoft's OneDrive service. Here are some Microsoft OneNote Tips for those getting started with the digital notebook tool.
OneNote 2016 for Windows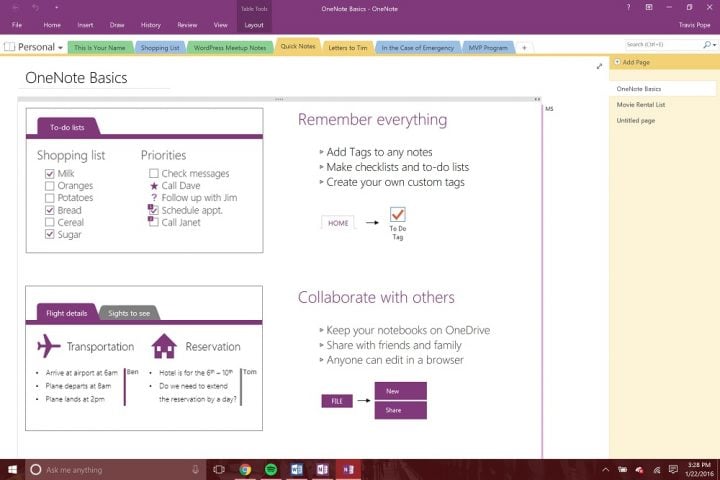 OneNote Tips & Tricks: OneNote 2016 For Desktops is Free
Microsoft doesn't make much of the Office suite completely free to users, but OneNote is the exception to that rule. That even includes the OneNote 2016 app baked into Office 2016.
Other note taking apps cost money, but OneNote 2016 doesn't. Microsoft switched to using OneNote as a lure to get users into its ecosystem a long time ago. The company's Office website offers the free download now to anyone running Windows or Mac. If you have a version installed on your PC that's older than this one, install OneNote 2016 to replace it.
OneNote Tips & Tricks: Add Media
OneNote gets a lot of credit for letting users add typed and written notes. Many forget that the app supports other styles of note taking too. You can add, audio, video and pictures to your notebooks using Office 2016. This is terrific for class lectures and projects were you don't want to feel compelled to write every single thing.
Audio and Video recording options are inside the Insert tab. Note that only Desktop versions of OneNote support audio and video additions right now.
OneNote Tips & Tricks: Lock Your OneNote Notebooks
Often times, getting your work out of OneNote can be a problem. What if you want to share what you've written? The OneNote Team has a trick for that. OneNote 2016 can export pages and sections from a notebook, turning them into things that other programs and apps can understand.
Click the File option on the far left of OneNote 2016. Now click on Export. Now you can create PDFs for others out of what you've written down or typed.
OneNote Tips & Tricks: Ink to Text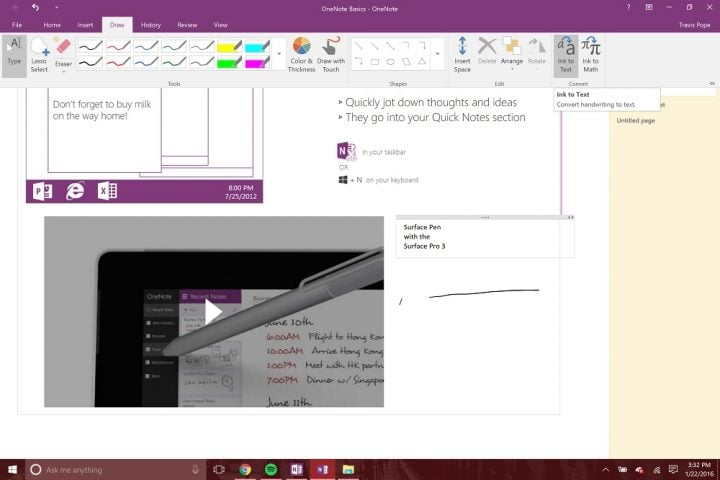 In OneNote 2016 you can click a single button and have all of your handwritten notes turn into text so that its easier for others to read. Select the text you'd like to transform, then click on Draw. Next, click on Ink to Text. If you're working on numerical equations, Ink to Math is a big help.
OneNote Mobile
OneNote Mobile is the youngest of the OneNote apps. Made specifically for Windows 10, it comes pre-installed on most machines. If it isn't on your system, you can download it from Microsoft's Windows Store.
OneNote Tips & Tricks: Quick Capture
The best notebook you have is the one that you have available to you. To that end, OneNote has a lot of shortcuts that are hardware and software dependent. Surface 3, Surface Pro 3, Surface Pro 4 and Surface Book allow users to create a new page in their notebook or add a screenshot to a notebook by clicking on the Surface Pen's top. Don't forget to pin the OneNote app you your Start Menu or Taskbar for quick access if you don't have a Surface.
OneNote Tips & Tricks: Sharing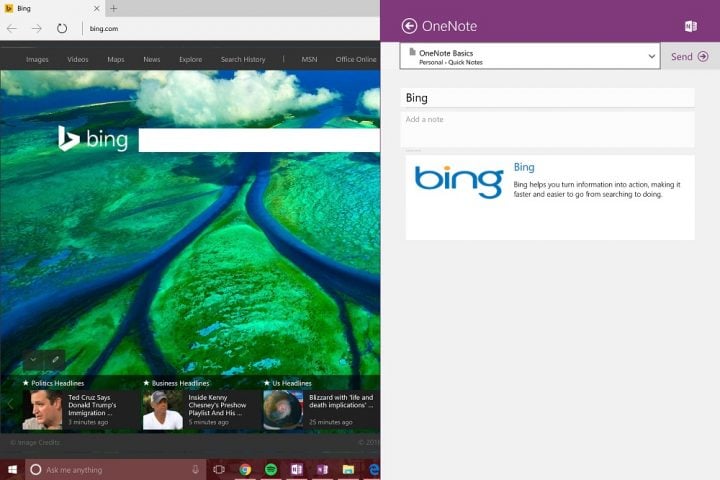 OneNote Mobile includes support for Windows 10's sharing tools. You can send almost anything to a OneNote Mobile notebook just by hitting the Share button in the app and selecting OneNote. For example, in Microsoft Edge, you can send web pages directly to OneNote.
OneNote Tips & Tricks: Draw Even If You Don't Have a Pen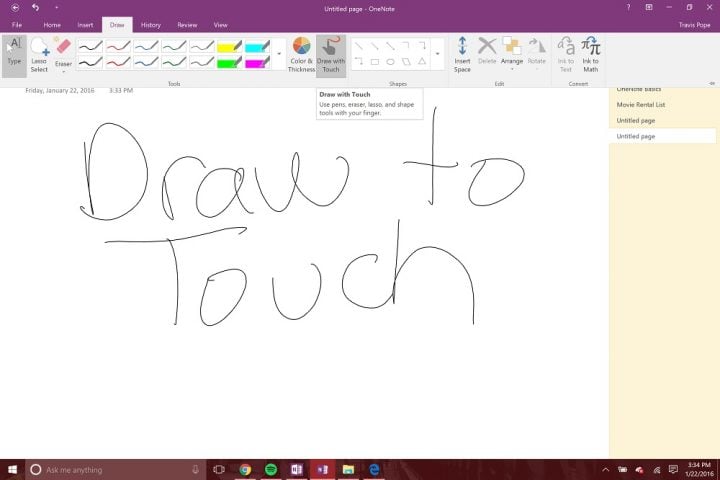 This isn't specific to OneNote Mobile, but it's important since the people using the mobile app are more likely to have touch, but not a stylus. Besides typing notes, you can add to your notes by writing with your finger. Look for the pointer finger in the Draw menu.
OneNote Tips & Tricks: How to Preview New Features
Microsoft's Windows Insider Program provides new features to testers regularly. What if you don't want an entire test operating system on your device, but are interested in new features for OneNote? A switch in the OneNote Mobile Settings area lets you turn on things Microsoft is still testing, like this new interface pictured above.
General OneNote Tips & Tricks
Generally speaking, there's some advice that's valid no matter what version of Microsoft Word you're running.
OneNote Tips & Tricks: Create OneNote Notebooks for Everything
Like kids and teenagers that have different notebooks for each subject, Microsoft is hoping that you'll create different notebooks for everything in your life. It's the right thing to do if you're really trying to be organized.
A good starting point is to use your first notebook as your place to store details and items for your personal life. Then add notebooks for other topics as you need them. OneNote Mobile for Windows has a button switching between notebooks and creating new Notebooks in the left top corner. Create new notebooks from the File menu in OneNote 2016.
OneNote Tips & Tricks: Add Pictures & Files When Necessary
Some things just don't translate well to written word and text. In those cases, don't hesitate to take a picture of a document or writing on a whiteboard and throw that into either version of Microsoft OneNote. You'll thank yourself later when you completely understand your notes and need a refresher.
OneNote Tips & Tricks: Adjust Pen Thickness & Color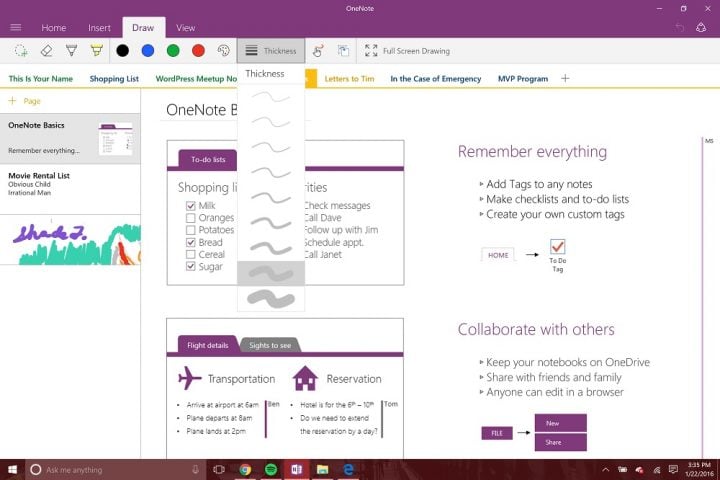 Both versions of OneNote have upgraded ink options that allow you to decide what color you're writing in and how thick each stroke will be. Use those tools to adapt to your favorite writing experience and add some depth to your notebook. Highlighters also let you put a spotlight on the things that matter.
OneNote Tips & Tricks: Download OneNote Companion Apps
OneNote is available practically everywhere you could want it. There's OneNote for iPhone and iPad, Mac, Android and the web. Use a mix of all of them to make sure that your all important notes are available wherever you need them to be. Each of these apps are free too.
OneNote Tips & Tricks: Use Tags for Quick Lists
Every version of OneNote allows you to create tags and add some flourish to your lists. Check marks give you a visually appealing task list. There are tags for email, passwords and more too. You can create your own tags for use in OneNote 2016.
OneNote Tips & Tricks: How to Use the Lasso Tool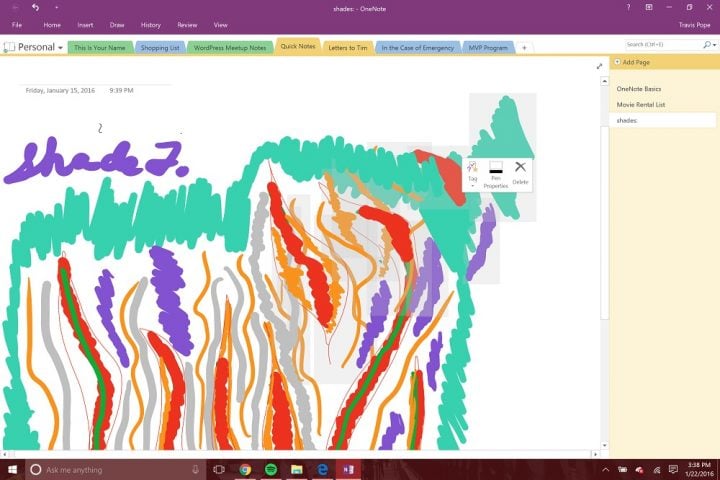 Click and scroll over entire sections of information to quickly select them. This is perfect for handwritten notes that need to be reshuffled for better understanding or to make room horizontally for more information.
Good luck using OneNote. It really is a terrific free app, despite not getting a lot of attention from Microsoft Office fans.