Microsoft Prepping a Surface Mini Tablet Roll Out on May 20
We've been hearing word about the Microsoft Surface Mini Tablet for quite some time now. While the rumors don't fill blog pages with the same amount of gusto that Apple rumors do, a smaller Surface tablet from Microsoft will certainly be of interest. Now it appears that Microsoft is prepping an event in New York City for May 20, based on an invitation that went out to members of the press. That invitation invited the press to a "small gathering" for a Surface event, and the speculation is that "small" translates to Surface Mini. Apparently new Microsoft honcho CEO Satya Nadella will be presiding. So, what do we know?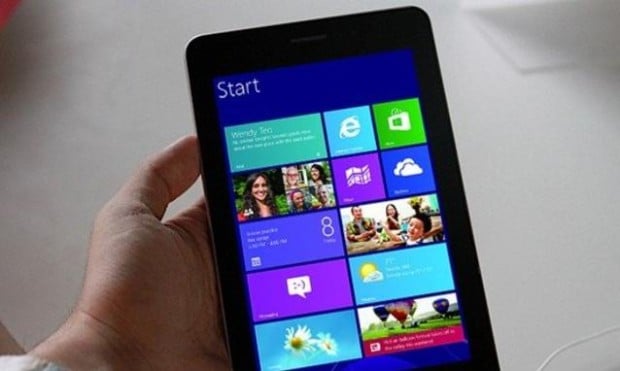 Actually not much. The Surface Mini concept has been bandied around like a lukewarm potato since last year, and one of the reasons many don't see it as big news is the lackluster response to the original and second generation Surface RT and Surface Pro tablets. That said, Microsoft, like its competition has recognized that a 7 to 8 inch form factor might indeed be the sweet spot for many consumers who are considering a tablet, purchase.
The Surface Mini is reported to be somewhere between that 7 and 8 inch size. We don't know any other specs. In fact we don't know if the Surface Mini will run on Intel based chips or the ARM Chipset or whether it will run a full version of Windows like the Surface Pro line, or the RT version like the Surface RT and Surface 2. Rumors have said the Surface Mini will launch with a stylus, which might give credence to the Intel based chipset. But again, we don't know. There has also been speculation that the Surface Mini will have Kinect-like features.
See UPDATE at the end of this post for newer information.
A recent leak from Amazon showed the the Vostrotone Surface Mini case designed to protect the Microsoft Surface Mini and its keyboard. It listed a ship date as May 18.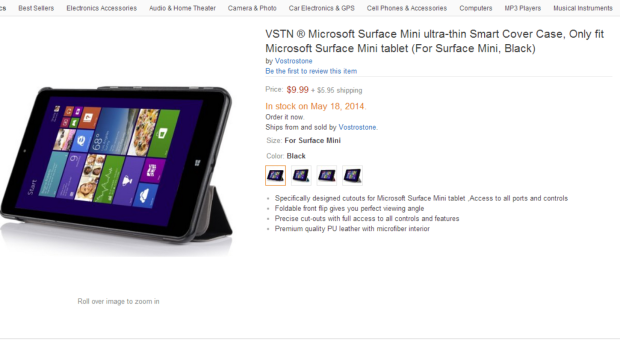 If that product description is accurate then the Surface Mini might launch with a keyboard similar to the original Surface lineup of Tablets.
Microsoft has also been hard at work promoting its Universal Apps concept. The idea there is that developers can create an App that would work across the various Microsoft Windows 8 devices, adapting to screen-size and hardware specifics to create a more consistent experience across Windows desktops, phones, game consoles and tablets. It would also mean that consumers could purchase an App once and use it on multiple devices.
Will a Surface Mini generate excitement? Without knowing too many specifics, that is tough to say. It is also a tough guess given that the prevailing market prediction narrative is that tablets may have reached a saturation point. While that is a debatable point, it would be challenging for any new tablet entry to gain attention and hope for market share if that analysis is even partially true. Smaller Windows 8 based Tablets from makers like Dell, Lenovo, and Acer have thus far not generated much enthusiasm among consumers.
That said, Microsoft has been garnering positive press and some momentum on a number of announcements this winter and early spring, ranging from the release of Office for the iPad to Windows 8.1 Update to the changes seen in the developers edition of Windows Phone 8.1.
While many of those big announcements were obviously in the works before Steve Ballmer stepped down as CEO and Satya Nadella took the reigns in Redmond, these well received previous product announcements have benefited from a media honeymoon following Nadella's appointment. Will that honeymoon continue with this presumed product announcement?
UPDATE: Paul Thurrott is reporting that is his Microsoft sources tell him that the Surface Mini will indeed run on ARM chips and the Windows 8.1 RT platform. He is also reporting that it will have a stylus and and Inking capability that will provide "a very accurate and high quality stylus for note-taking and OneNote integration." That will be an interesting combination for Microsoft to pull off in my opinion. He's also reporting that any kick stand or keyboard cover will be sold as an accessory, which follows the trend that Microsoft started and continued with the original Surface tablets.

As an Amazon Associate I earn from qualifying purchases.