Microsoft Previews New Hotmail
Microsoft is previewing what's to come in the new Hotmail and from the looks of the blog post they've made some considerable changes. The biggest take away I see at the moment is that to work with Hotmail you won't be leaving your email interface to work documents and other attachments. The new Hotmail is also giving you a quick look at what kinds of email you receive, separating incoming mail into categories like contacts, social media, flagged, etc… The theory is that this allows you to focus on the email that is a priority to you.
Microsoft also includes a new "sweep" feature that looks like it allows you to "sweep away" email you aren't interested in at the moment. This essentially looks like a new way of filtering email as it comes in or as you process it. This also works with your Gmail or Yahoo accounts if you choose to run them through Hotmail.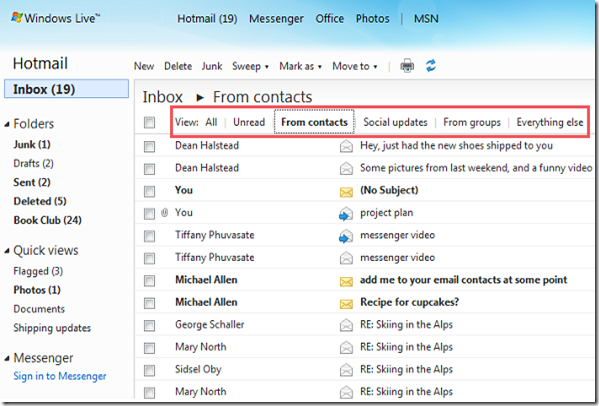 The new Hotmail also connects with Microsoft's Skydrive and Office 2010 Web apps to help you work documents and attachments and also share those with those you choose to. Again this is a preview, but if you're a Hotmail user you might want to check out the promised changes.