Microsoft Promises a Whole New Beginning with Windows Phone 7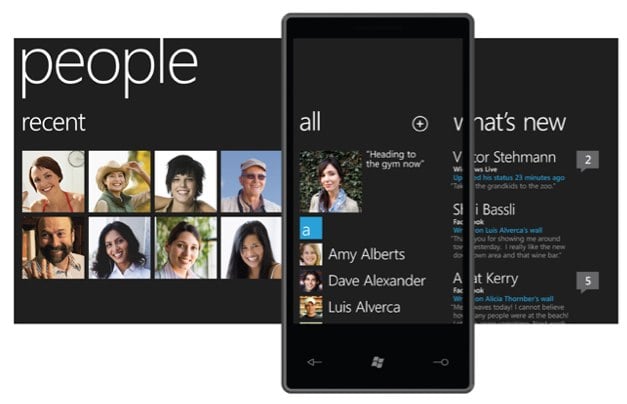 It has taken awhile, but Microsoft is finally taking the wraps off of Windows Phone 7, the next generation of its mobile OS for smartphones. Microsoft is promising that this is a whole new beginning and not just a new chapter in using a phone. Throughout the presentation at Mobile World Congress a couple of themes were loud and clear. First, the phone is not a computer, it is a different experience entirely. Second, the phone is personal and needs to be customizable to the user's experience.
Microsoft is breaking its core experiences into what it calls hubs. There are seven hubs described in the press release:
* People. This hub delivers an engaging social experience by bringing together relevant content based on the person, including his or her live feeds from social networks and photos. It also provides a central place from which to post updates to Facebook and Windows Live in one step.
* Pictures. This hub makes it easy to share pictures and video to a social network in one step. Windows Phone 7 Series also brings together a user's photos by integrating with the Web and PC, making the phone the ideal place to view a person's entire picture and video collection.
* Games. This hub delivers the first and only official Xbox LIVE experience on a phone, including Xbox LIVE games, Spotlight feed and the ability to see a gamer's avatar, Achievements and gamer profile. With more than 23 million active members around the world, Xbox LIVE unlocks a world of friends, games and entertainment on Xbox 360, and now also on Windows Phone 7 Series.
* Music + Video. This hub creates an incredible media experience that brings the best of Zune, including content from a user's PC, online music services and even a built-in FM radio into one simple place that is all about music and video. Users can turn their media experience into a social one with Zune Social on a PC and share their media recommendations with like-minded music lovers. The playback experience is rich and easy to navigate, and immerses the listener in the content.
* Marketplace. This hub allows the user to easily discover and load the phone with certified applications and games.
* Office. This hub brings the familiar experience of the world's leading productivity software to the Windows Phone. With access to Office, OneNote and SharePoint Workspace all in one place, users can easily read, edit and share documents. With the additional power of Outlook Mobile, users stay productive and up to date while on the go.
Some other interesting things I've gleaned from watching MWC presentation.
Microsoft is merging its XBox Live and Zune experiences into its mobile platform.
Not quite sure how this works yet, (I'm guessing using Office cloud apps) but OneNote is mentioned prominently as a note taking application.
More as it comes.

As an Amazon Associate I earn from qualifying purchases.