Microsoft Pulls Surface Pro 3 User Guide w/ Surface Mini Info
Today Microsoft officially puts the Surface Pro 3 on sale at its own stores, online, and at retailers such as Best Buy. To accompany the release of the new "tablet that can make you forget your laptop" (or vice versa), Microsoft has also released a Surface Pro 3 User Guide that users could download. That's a good thing for those who might need a little help with the hybrid. But curiously, humorously, and ultimately predictably, the Surface Pro 3 User Guide featured a few errors that included a few references to the still unannounced and still mythical Surface Mini tablet that many thought Microsoft would be selling right about now. Microsoft has now pulled the Surface Pro 3 User Guide.
Before Microsoft pulled the user guide you could have downloaded the document from this link and enjoy some helpful tips for a Surface Mini yourself.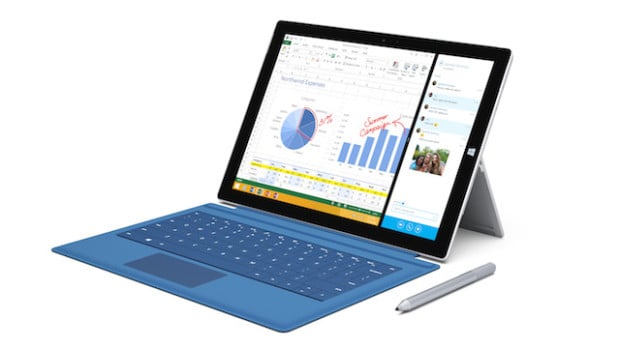 With the Surface Pro 3 User Guide featuring references to the still mythical Surface Mini, it lends credence to the much reported rumors that Microsoft decided almost at the last minute to not release the Surface Mini in May, 2014. Most Microsoft watchers had assumed the Surface Mini was a fait accompli given that invitations to the New York City event featured the clever messaging about the event as "a small gathering."
It has been a not so well kept secret that Microsoft has had a Surface Mini reasonably ready to go for some time now. The so-called reasons for not releasing a Surface Mini currently are that new Microsoft CEO Satya Nadella and once again Microsoft executive Stephen Elop felt that the Surface Mini did not have a strong enough business case behind it, given competition from other makers such as Dell and Toshiba who already had low cost 8-inch tablets running Microsoft on the market. Others believed that Microsoft wanted to wait until it could release a touch-friendly version of Office, which it has released for iOS.
Instead of announcing and releasing the Surface Mini, Microsoft introduced the Surface Pro 3, which goes on sale today. Whether both would have been announced is a matter of debate, had Microsoft not pulled the plug on the Surface Mini. The Surface Pro 3 is a much larger and presumably much more expensive device that features an evolution of the original Surface hardware concept: a tablet that can be a laptop with specially designed keyboard that costs an extra $130.
Some of the included references to the Surface Mini in the user guide looks as if the publication was intended to be a reference solely for the Surface Mini. Other items include references to both the Surface Mini and the Surface Pro 3. Most likely, some quick editing was done to excise references to the Surface Mini, but not as thoroughly as Microsoft was probably hoping.
The included references feature information on setting up the new pen (remember it is not a stylus) with the Surface Mini as well as other topics.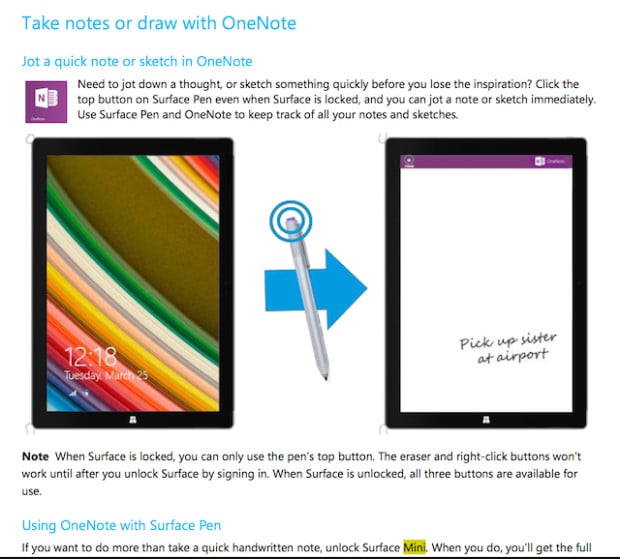 The Surface Pro 3 has met with an interesting range of early reviewer opinions since its debut in May. While some reviewers praise the hardware and some praise the hybrid nature of Microsoft's use case for the new device, others have criticized the dual nature of the Surface Pro 3 as having a sort of mobile split personality.
However you slice it, the Surface Pro 3 will find its advocates and its detractors. The question Microsoft is certainly waiting to find an answer for is will consumers take to such a high-end device with such a high-end price tag (the Surface Pro 3 starts at $800 plus $130 for the keyboard). While many tablet consumers who opt for an iPad or other tablet will eventually spend extra for a third-party keyboard and more storage (the Surface Pro 3 low end model comes with 64GB of storage) bringing the prices of the competition more in line, other tablets such as the iPad, don't include a keyboard as a key feature in their marketing campaigns.
An early check in at two local Chicago Best Buy locations reveals that there were no consumers waiting when the stores opened to purchase a Surface Pro 3. Both stores had the devices in stock.

As an Amazon Associate I earn from qualifying purchases.