Microsoft Puts Surface 2.0 Up for Pre-Order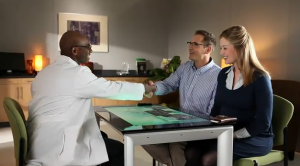 Don't go looking for a Microsoft Surface 2.0 Table under your tree this holiday season, unless you're a business that might want to install them in your casino, hospital or store. Microsoft has put the 2nd generation up for pre-order according to a report by Mashable.
Surface 2.0 is different than the original. For starters there are no cameras under the surface in the way that Surface one worked and essentially each pixel is a camera. Microsoft calls this Pixelsense. This means you don't have the giant base underneath and Surface 2.0 now has legs instead. Multi-touch can now accommodate 50 simultaneous points so you can toss a lot of digits at the table. The hardware is made by Samsung.
This is still not a consumer gadget or piece of furniture and the US price is listed as $8900. Microsoft unveiled Surface 2.0 at CES 2011.


As an Amazon Associate I earn from qualifying purchases.