Microsoft Reaches for the Sky, Touches the Cloud with Windows 8
Microsoft has ambitious hopes and dreams for Windows 8, its next computing platform that's designed not only to compete with the rising popularity of Apple's mobile iPad tablet and the plethora of ARM-based Android slates, but also to mark the next generation of PC computing in a post-PC world. With declining PC sales, due in part to rising tablet interest, Microsoft is in a double-bind–how to stop its losses in its traditional space while making in-roads with the mobile tablet space, and Windows 8 seems to be that answer.
At the Build conference–the traditional Professional Developers Conference–in Anaheim, California, the company has begun to show off more about that effort on a newly minted Samsung tablet running on Intel's Core i5 chipset. While there are still many questions about Windows 8, we're beginning to see Microsoft's vision for the platform, both in terms of connectivity and user experience.
Connectivity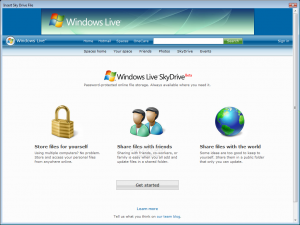 In a mobile world that's being hyped with 3G and 4G marketing by U.S. carriers, it seems that Microsoft is cognizant that success may lie somewhere in the cloud. The developer hardware that the company is giving away to some 5,000 attendees at the conference all come with mobile 3G connectivity and a free year of service courtesy of AT&T.
Mobile broadband connectivity will be increasingly important on mobile, computing, and desktop platforms as users begin to share, collaborate, and stream. We're seeing iOS merge with Mac OS X at Apple's WWDC developer conference, and Steve Jobs had hyped up the birth of iCloud as a cloud-based streaming, synchronization, and connectivity solution.
On Windows 8, the cloud will be the natural evolution of Windows computing as the platform begins to borrow elements from its uber-connected younger sibling, Windows Phone 7. From the Metro-inspired UI to Live Tiles that are always connected to display the most relevant, up-to-date information, Windows 8 will increasingly rely on an always-connected experience.
Speaking of always-connected and inspiration from Windows Phone 7, one of the most polished cloud-based experience of Windows Phone 7 that I adore on that platform is photo synchronization and storage to SkyDrive, Microsoft's cloud-based storage. Unlike Apple's iCloud, which just synchronizes pictures from an iOS device to other devices, SkyDrive will also store and host your images, acting as both a synchronization conduit and a cloud-based hard drive. That feature will also be coming to Windows 8, and the company has begun to show off the beautiful mobile-inspired UI with elegant slide-ins and pop-ups on how to quickly and easily share images on Windows 8 tablet, as seen in the YouTube video below:
Given the tablet's 64 GB SSD, having access to more storage, whether it's online or local, will be a benefit to users who need access to a lot of files, photos, music, or videos.
Cost
It's unclear how Microsoft and its OEM partners will price Windows 8 tablets and hardware when they launch. Right now, given that developer builds come with 3G connectivity, we're anticipating that there will be versions with either WiFi-only or WiFi and 3G connectivity in tablets when those become available. However, for Microsoft to be taken as a serious consumer company, it will have to work closely with manufacturers to ensure the proper hardware user experience.
On the hardware side, Samsung and Apple are both demonstrating that slim and thin is in. Lightweight for holding, carrying, and traveling is also essential to mobile connectivity, as is instant-on and minimal heat dissipation–nothing worse than holding a scorching hot slate in your hands. So while Microsoft wants to sell people on all the things they can do normally with a Windows OS on a PC with a Windows 8 tablet, the company will also need to consider hardware design.
Additionally, as the Samsung tablet that was given away comes with an expensive Intel Core i5 chip, we're hoping Microsoft is able to deliver acceptable performance on lower-spec hardware running either ARM processors or Atom chipsets to keep costs low. Fortunately, though, Microsoft is making claims that Windows 8 is even more conservative as far as hardware goes than current-generation Windows 7, but we'll need to see how far Microsoft goes to make it competitive in the mobile space.
These tablets will not only have to compete in the same space as the iPad and Android tablets in terms of pricing, but will need to maneuver with the same svelte and agility that mobile OSes can. Moreover, as the 3G edition of the iPad commands a $130 premium, an expensive 3G-capable Windows 8 tablet may not fare well.