Microsoft Readies OneNote for iPad Pro Release Date & More
Apple is still playing coy with a potential iPad Pro release date, but Microsoft is readying its apps for whenever the company's productivity-focused tablet arrives. This week, Microsoft announced new partnerships and a software update that'll make its OneNote note-taking application perfect for anyone to use on iPad Pro release day.
Microsoft announced upgrades to OneNote ahead of the iPad Pro's release yesterday on its Office Blog. OneNote is Microsoft's multi-platform note-taking tool. Many use it to get quick ideas out of their head and into some place that syncs across devices. College students and professionals are known to use the tool to create completely digital, searchable notebooks for their classes and activities.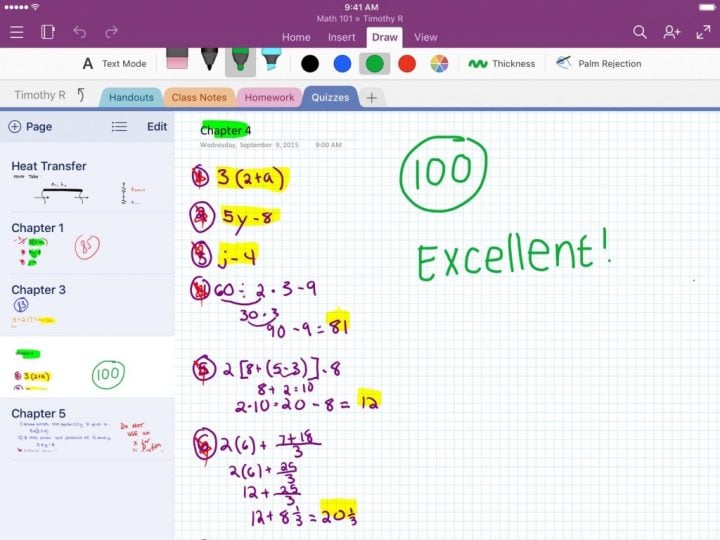 Read: iPad Pro Release Date & Price Confirmed
Microsoft says that this latest update to OneNote for iPad comes stuffed with support for the new Apple Pencil. That's the stylus that Apple plans to sell to iPad Pro users who want to draw or take notes.  "Easily sketch, outline, write and annotate to your heart's content."
Apple has yet to release the Apple Pencil, but the iPad users have had stylus accessories available to them for years. The most admired of these stylus add-ons have been from a company called FiftyThree. Microsoft says that this latest OneNote for iPad update provides support for FiftyThree's Pencil accessory. OneNote now boosts integration with FiftyThree's Paper app for iPad too, letting users send over things they've already written down.
When the iPad Pro release date arrives, users will get one new feature that OneNote users have requested for months on end: shape support. "Once enabled, simply draw shapes with your pen and watch as your shapes are automatically converted into better-looking versions of themselves." With the feature iPad Pro users won't be beholden to their own poor drawing techniques when taking notes.
In the last two years, Microsoft has been very aggressive about bringing a best-in-class experience to owners of Apple's devices. For example, the iPad received a touch-friendly versions of Microsoft Excel, Microsoft PowerPoint and Microsoft Word before Microsoft's own Windows ecosystem did. OneNote in particularly, has always supported both Android and iOS. So well supported are iOS and Android users, that a minority of Windows users are worried about the company focusing too much on the needs of other platforms.
Read: iPad Pro vs Surface Pro 4: Which is Better?
Microsoft can't be accused of forgetting about users of its own hardware and services with OneNote. Convert to Shape support is coming to OneNote Mobile for Microsoft's own Windows 10 operating system in November too. Additionally, Microsoft is getting ready for the release of the Surface Pro 4 and Surface Book on October 26th.
It seems Surface Pen support is already in place for those who purchase Surface Pro 4 and Surface Book. Both devices come with a stylus that lets users take notes by hand. Many use the stylus to navigate the entire operating system. The Surface Pen that comes with these new devices has heightened pressure sensitivity and a rubber eraser cap that lets users feel like they're really erasing things on a sheet of notebook paper with a #2 pencil. It also has removable tips that let owners switch to different sizes strokes when they need to.
This week's post on the Office Blog indicates all of those features will be supported on release day. It's worth noting that the new Surface Pen can also be used on Microsoft's Surface Pro 3 and Surface 3.
Apple has said only that the iPad Pro release date will happen sometime this November. It hasn't begun taking pre-orders for the tablet itself or any of its accessories, like the Apple Pencil.

As an Amazon Associate I earn from qualifying purchases.