Microsoft Refreshes Bing On Android
Following a refresh of its iOS app, Microsoft has finally refreshed Bing for Android, giving users a few new features and a better user interface.
It's that aforementioned refreshed interface that users will like the most. Bing for Android pre-dated Microsoft's push to unify its interface designs behind one set of principles. As such, the app didn't feature a lot of the stark icons and flat user interface design that has become synonymous with Microsoft's software. Thankfully, this update remedies that issue, and Windows Phone and Window's 8's influence can be seen through the application.
Despite its interface design, Bing on Android's mission seems to not have changed in the slightest. Although Microsoft bills the app as a search engine, it's really a front for connecting users to all sorts of Microsoft services and technologies. For starters, the company has refreshed the app's TellMe-powered voice search functionality. TellMe surfaces on the Xbox One and Windows Phone 8 too. Users can also sync bookmarks and settings from Microsoft's SkyDrive cloud storage utility.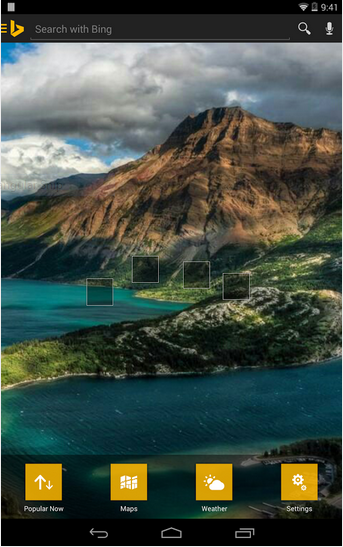 There's also built-in maps and the ability to share pages with users through Facebook, messages and emails. The app will finally let users set the Bing Daily Image as their Android home screen wallpaper, though it won't change that background automatically as many users had hoped. All told, it's a pretty nifty update for any user who has Android but prefers Microsoft's set of online services and solutions. In fact, it's actually just as robust as what users on Microsoft's own Windows Phone 8 actually get with its native Bing application. Microsoft recently brought many of these features to iPhone and iPad users with an update to its Bing on iOS app too.
If there are new features here that aren't in the iOS application, we've had a hard time finding them. Microsoft didn't actually indicate exactly what features it added in the update, saying that the update included "Redesigned UI and many new features." As such, the new features noted here are only the ones we've noticed.
Users can download the refreshed Bing for Android app in the Google Play Store now. Devices with Bing for Android already installed will update on their own.

This article may contain affiliate links. Click here for more details.