Microsoft Removes Start Button on Windows 8 in Favor of Honeycomb-Like Multitasking
At Mobile World Congress, Microsoft is letting out even more details about its next-generation Windows 8 operating system and we now know that aside from the Metro-like Start screen–borrowed from the company's mobile Windows Phone 7 operating system–that in classic desktop mode, there is no Start button. On Windows 7, the so-called Start button was a circular orb that appears traditionally in the lower left hand corner of the screen that gave users access to recently used programs as well as control panel settings, and a full directory of installed applications. On Windows 8, the classic desktop mode gets a cleaner look in favor of a minimalistic design approach that removes the Start button, a feature that debuted on Microsoft's desktop OS since Windows 95.
Instead of the Start button, users can hover over the area with their mouse and up pops a bar with recently used apps and programs. The multi-tasking feature will allow users to click the preview windows found within that pop-up bar on the left hand side of the desktop to multi-task between apps. The feature is very reminiscent of both Android 3.0 Honeycomb–which debuted a year ago alongside the Motorola Xoom tablet for Verizon Wireless at the Consumer Electronics Show–and also the new Android 4.0 Ice Cream Sandwich operating system on slates and tablets.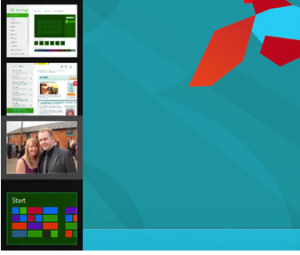 The activation of this multitasking function requires a mouse hover. It's unclear how tablets running Microsoft's Windows 8 OS will be able to replicate the mouse hover. Currently, the biggest challenge of adapting a desktop OS to a touch-centric OS and UI is replicating hover functionality, something that Android users had discovered when trying to interact with Adobe Flash-based content that were originally created for keyboard and mouse inputs, rather than touch. Conversely, the difficulty in adapting a touch-based OS and UI–like those found on smartphones and tablets–to the keyboard and mouse experience is replicating functions, like drag and hold on the touchscreen to a mouse or trackpad–something that Motorola phone owners have experienced when trying to control their Droid devices in Webtop OS mode on the Lapdock.
Those looking to test drive Windows 8 can download the consumer preview of Microsoft's next-gen OS that will battle the likes of Mac OS X, iOS, Android, and Linux.
Via: The Verge

As an Amazon Associate I earn from qualifying purchases.