Microsoft Reveals Xbox One Rise of the Tomb Raider Bundle
Microsoft didn't just lock down the rights to publish Rise of the Tomb Raider. The company also plans to use a special Rise of the Tomb Raider Xbox One bundle to lure gamers over to its platform for all their gaming needs. That bundle sits on top of an already impressive stack of holiday packages.
In a post on its Xbox Wire news website this week Microsoft announced the Xbox One Rise of the Tomb Raider Bundle. The bundle is a very smart move for Microsoft, who partnered with publisher Square Enix to bring Rise of the Tomb Raider exclusively to the Xbox One and Xbox 360 this calendar year. PS4 and Windows users will have to wait to play the game until next fall.
With Rise of the Tomb Raider being as big of a release at it is, many expected that Microsoft would introduce an Xbox One bundle to make adopting an Xbox One this holiday easier on shoppers. By purchasing a bundle holiday shoppers get a game and a console in one box. This bundle means that there's one less hurdle standing in between potential Xbox One buyers and playing Rise of the Tomb Raider.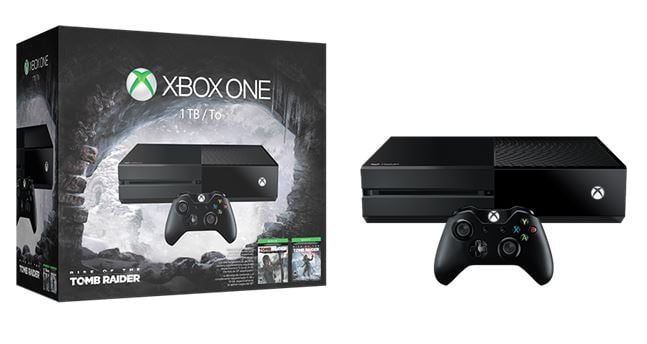 In a somewhat strange decision, Microsoft opted not to create a themed Xbox One console for this bundle. The Xbox One that buyers get is jet black, the default color for all Xbox One consoles. It does have 1TB of storage, double what Xbox One consoles sold at launch have inside. Buyers don't need to purchase Rise of the Tomb Raider separately, because there's a code for a digital version of the game included in the bundle. There's also a code for Tomb Raider: Definitive Edition, a remake of the game that launched on the Xbox 360 and arrived on the Xbox One in 2013. Microsoft is also including the tactical Survival Kit, a set of outfits and a weapon skin that players can use in the game.
The Xbox One Rise of the Tomb Raider Bundle will go on sale this coming November. Presumably, it'll be on the same day that boxed and digital copies of Rise of the Tomb Raider are available for everyone. The Rise of the Tomb Raider release date is November 10th in the United States and November 13th in Europe. To get the Rise of the Tomb Raider Xbox One bundle shoppers will need to head to Best Buy or Microsoft's own retail stores. The console won't be sold on Amazon or at in other retailers in the United States.
Read: Which Xbox One Bundle Should You Buy?
It was only a month ago that Gotta Be Mobile broke down the rather extensive list of Xbox One bundles available to shoppers. In that time, some things have changed. Microsoft wants to ensure that anyone who wants an Xbox One this holiday season can buy one. To that end, it's launching another round of Xbox One bundles, different the console bundles available this summer.
Yesterday the company revealed the Xbox One 1TB Holiday Bundle. It also costs $399 and has a black 1TB console with matching controller. Instead of Rise of the Tomb Raider and Tomb Raider Definitive Edition, shoppers get free digital copies of Gears of War: Ultimate Edition, Rare Replay and Ori and the Blind Forest. This bundle goes on sale everywhere in October.
According to the Xbox website, these aren't all of the bundles hat are on the way. Microsoft plans to launch another today and three more this week for a total of six holiday bundles all together. This is besides the older bundles that are still available on store shelves.
The Xbox One starts at $349.99 for a model in black with a wireless controller and a 500GB hard drive. Besides the 1TB Xbox One Bundle, there's the $499 Xbox One + Kinect bundle. The Kinect acts as a motion sensor, microphone, camera and helps the console integrate with cable boxes, televisions and audio equipment.

This article may contain affiliate links. Click here for more details.