Microsoft Said to Snatch Key iOS 8 Feature For Windows 9
When Microsoft shows off Windows 9 at an event in late September its list of new features could include interactive Live Tiles and a centralized notification system – two things seemingly inspired by what Apple has done with iOS 8 and what it has done with its own Windows Phone 8.1 operating system.
We don't yet know what's included in Windows Threshold, or what most are already calling Windows 9. That being said, a steady set of leaks keep providing details about how the operating system is shaping up. One such leak, which surfaced at WinBeta earlier this morning indicated that Microsoft plans to introduce Live Tiles that let users perform tasks without having to actually open that application. For example, a future mail app could allow users to delete spam and unwanted messages from the apps Live Tile on the Start Screen.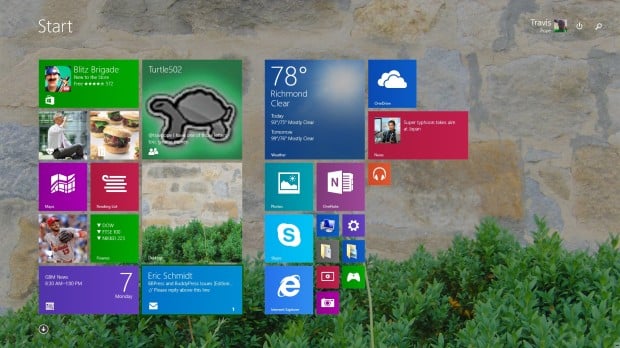 If it does arrive, the feature would make it more convenient for users to take action on notifications being shown on the Start Screen instead of having to dive into each app. That's likely the same goal that led Apple to develop the actionable widgets that it showed off for iOS 8 back in June. iOS 8 is expected to début on-board two new iPhone 6 devices at an event sometime in September.
Actionable Live Tiles alone would be well worth the wait, but Windows 9 may also include another exciting feature ripped straight from iOS 8 and other mobile operating systems. In a report confirming the information WinBeta shared, technology site The Verge is reporting that Microsoft also has plans to introduce a unified notification area in Windows 9. Not much is revealed about the notification area, but in theory, it will work like the Action Center included in Windows Phone 8.1 or iOS 7 and iOS 8. Users will be able to go there any time for an updated look at what's going on their device.
All told, both features sound pretty exciting even if they've been done before on other Microsoft operating systems or even iOS. Unlike Windows Phone, which has matured suddenly into a legitimate alternative for iOS on the iPhone, Windows 8 is still far behind the iPad in terms of usability. Today, there's no notification center at all. As such, if a user doesn't have an app's live tile pinned or isn't in front of their tablet to see the notification they never get it. That's a huge flaw, one Microsoft fixed for Windows Phone with the Windows Phone 8.1 update.
Read: Start Menu + 5 Must Have Features Rumored for Windows 9
Rumors point to Windows 9 being the operating system that will also include a minimized Start Screen to replace the Start Menu and Windows Store apps that can run on the Desktop. Microsoft showed off those features at its BUILD 2014 event, but it only said they were coming in a future version of Windows at the time.
The Desktop interface that allows users to multitask easily will be cut down to size with Windows 9, reportedly. Rumors say that Microsoft will let buyers of 2-in-1s move between the Desktop and Start interfaces, but tablets – like the Surface 2, will hide the desktop by default. That makes sense as the Surface 2 doesn't let users install Desktop apps like iTunes.
All indications are that Microsoft has plans to discuss Windows 9 at an event sometime in late September. At this time the company could also reveal a Technical Preview that includes many but not all the features that Windows 9 will launch with. Monthly feature updates will add even more things – like the Cortana personal assistant – between the release of the Technical Preview and the final version of Windows 9 arrive sometime next year.
Read: Start Menu & Windows 9 Coming September 30th
To be clear, the September 30th Windows 9 reveal event is only rumored at this point. Microsoft does have a press event scheduled on September 4th, but it's expected to show off new Windows Phones at that event.

As an Amazon Associate I earn from qualifying purchases.