Microsoft sells more than 2M Windows Phone… licenses. Poor or promising?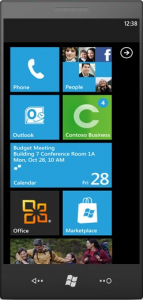 Depending on who you ask, last quarter, either more than two million Windows Phones shipped to carriers OR more than two million Windows Phone 7 licenses were sold to OEMs. Either way, there's no way more than two million Windows Phones reached end users last quarter. Engadget claims the elephant room is how that compared to iPhone sales. My big wonder is how that compares to Windows Mobile sales.
The general consensus is that we need to give Microsoft some leeway on their sales figures since this is a new product. Except it's not. The OS is called "Windows Phone 7". It is acknowledged as the seventh version of an existing product. It is explicitly not a new product. I'm fine treating it as a reboot and giving it a pass on comparisons against the iPhone or Android. But the fact remains that Microsoft has been shipping a mobile OS for years. So how do Windows Phone sales compare to Windows Mobile sales?
Well, we don't know how it panned out for the last quarter yet. That 2M figure came from an interview with Greg Sullivan by Ina Fried. If WinMo was not seriously cannibalized by WinPho, then Microsoft is doing pretty good and the revamped platform is off to a promising start. Otherwise, they're off to a lackluster one.
Here are some numbers I do have. According to Gartner, 2.45M Windows Mobile devices were sold to end users in 3Q 2010. Tack another 1-2 million Windows Phones on top of that for Q4, and Microsoft is looking very strong with that strength diminishing depending on how many fewer than 2.45M WinMo devices sold. However, that figure is down from the previous quarter of roughly 3M WinMo devices sold, which is down from 3.7M in Q1 2010.
Best case, WinMo + WinPho sales for the quarter may be headed back to (but still short of) 2008 levels, when 4.7M WinMo devices were sold in Q4. Worst case, they're still in decline. Most likely, they're back on the upswing, if only slightly. We won't know for sure until after their full mobile sales numbers are released, and even then we'll need to wait for end user sales analysis. I'm pretty sure the numbers will be positive, but whether it's time to break out the champagne depends on if you think they needed a big hit or just needed to reverse course.

As an Amazon Associate I earn from qualifying purchases.