Microsoft Shares More Details About Twitch on Xbox One
The Xbox One will allow Twitch users to record and share their own gameplay via the social network, but it won't let them do it live like Sony's PlayStation 4.
That's according to Microsoft, who shared more details about Twitch for the Xbox One in a post on Xbox Wire. While it's unlikely that users will decide to not purchase the Xbox One because its version of Twitch doesn't allow them to share their video game footage as it happens, all indications point to the feature becoming a big deal to so called "hard-core" gamers over time. Its hardcore gamers that love to share their online gaming exploits with the world as fast as they can.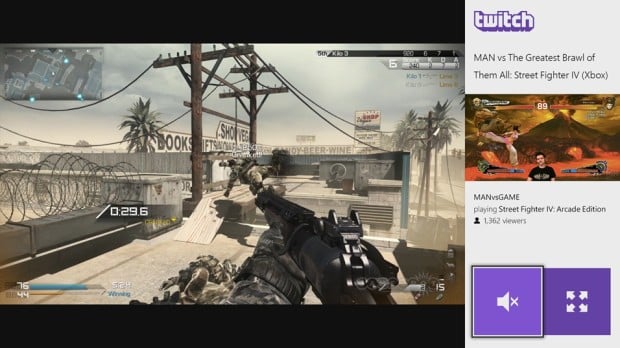 As such, Microsoft has confirmed that it plans to add livestreaming to the social network's Xbox One application sometime in 2014. Interestingly enough, this is only the second time Microsoft has publicly discussed plans for applications beyond the Xbox One's November 22nd launch. The first announcement came when it disclosed that Xbox One users would get a version of HBO Go at some point in the near future.
Although Twitch on Xbox One won't have livestreaming, it'll still support all of the features users expect from an application heading to Microsoft's next-generation entertainment console. Users will have the option to Snap Twitch to the side of their screen so that they can watch other's videos while browsing websites in Internet Explorer, looking for media to buy and playing games themselves. The application will also feature Kinect Voice and gesture support. Users can launch the Twitch app by simply telling their Xbox to "go to Twitch," according to today's blog post.
Twitch will even integrate with the Xbox One's new OneGuide. OneGuide stitches together the latest in entertainment from across the Xbox One's apps. That includes live television and SkyDrive. Microsoft has also added a video to its site to showcase all of Twitch's features.
Twitch will launch with the Xbox One on November 22nd. Gamers who use the app can earn achievements for completing tasks just like they can in Xbox One games.