Microsoft Shares Info About Apps Xbox One Users Can Expect
Users will have a lot of different entertainment options besides just gaming when they pick up the Xbox One at launch. Unfortunately, it won't be nearly as many options as they had with the Xbox 360.
Microsoft formally announced the entertainment applications that users can expect this morning in a post on Xbox Wire. According to that post, users in the United States can expect a wealth of apps to be available in the Xbox One's app store including Amazon Instant Video, Crackle, CW TV, Fox Now, FX Now, HBO Go, Hulu Plus, Machinima, MUZU TV, Netflix, Target Ticket, TED, The NFL on Xbox One, Twitch, Univision Deportes, Verizon Fios TV and Vudu.
While that's certainly a large cache of content, it's not nearly as robust as the entertainment applications that are available on the Xbox 360 today. For example, Xbox 360 users can also watch YouTube video through a dedicated application. There won't be an application for YouTube at the Xbox One's launch. Instead, users will need to use Internet Explorer to stream videos from the service's website.
Oddly, there aren't any audio applications in this lineup either. While the Xbox 360 boasted apps for iHeartRadio and Rhapsody, the Xbox One won't launch with either. Presumably users will be able to reach these services through Internet Explorer as well, however Microsoft hasn't confirmed if that's the case.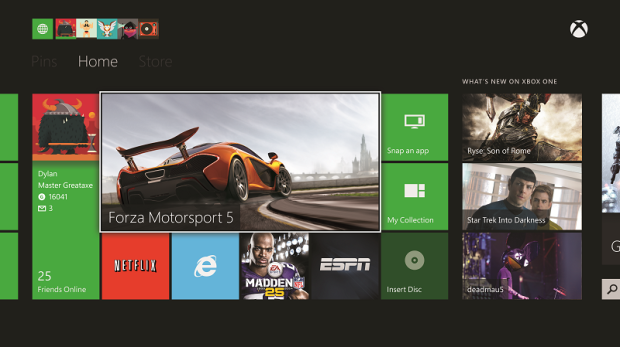 All told, users can expect 19 different entertainment applications when the Xbox One launches and HBO Go sometime after. That's on top of the native applications for Xbox Fitness, Xbox Video, Xbox Music, Internet Explorer, Skype, SkyDrive and the Upload Studio app that allows users to chronicle their exploits in games and upload them.
Xbox One buyers will need an account with an Xbox LIVE Gold subscription before they can use any of the Xbox One's entertainment applications – even if they've already paid for a subscription with each service. A month of Xbox LIVE costs $9.99, while a year of Xbox LIVE goes for $59.99.
Microsoft has confirmed that users can stream MP3s and video files from the PC to the Xbox One. It also says that users can expect more applications to launch weekly.
The Xbox One launches on November 22nd for $499. Unfortunately, pre-orders are sold out. Some users may be able to get their hands on an Xbox One if they line up early. Microsoft has confirmed that its retail partners will have a limited amount of consoles on hand for users who didn't get a pre-order before launch day.