Microsoft Shares Quantum Break Release Date Window and Videos
All at once Microsoft is managing to boost excitement for its Xbox One console ahead of the Electronic Entertainment Expo and disappointing potential buyers. Today it announced that its coveted Quantum Break exclusive for the Xbox One will be stuffed to the brim with next-generation graphics and gameplay. It's also officially confirming that Xbox One users won't see Quantum Break until 2015 at the earliest.
Microsoft made the announcement ahead of its Electronic Entertainment Expo earlier today. Instead of billing Quantum Break as a next-generation shooter that allows users to take advantage of and manipulate time, Microsoft is calling it a "cinematic action game." Of course, that much isn't new, Microsoft showed off a video in which the game's protagonist used time to his advantage at last year's show.
Thankfully, the press release and accompanying video do provide a few new details for users who can't wait to pick up Quantum Break next year. Users play as Jack Joyce, someone trying to stop the destruction of time as humans understand it. That much sounds almost standard for any game's story.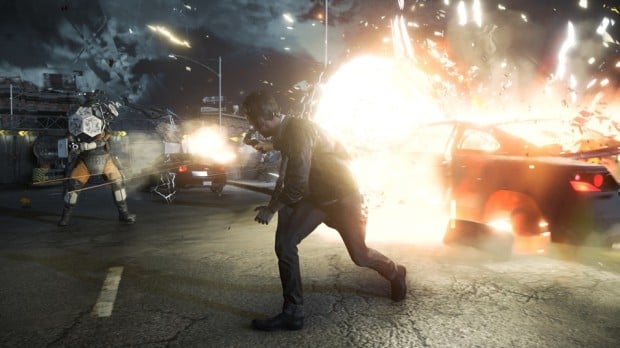 What's interesting here is that it appears Remedy Entertainment will once again be playing with the episodic format that made its previous game, Alan Wake, so memorable. Originally, Remedy had plans to release bite-size chunks of Alan Wake much in the way broadcast networks do television shows. Microsoft and Remedy abandoned the format in the end by stitching episodes of the game together and shipping them on one disk. To their credit, the game still played as separate episodes and even included short intros telling gamers what happened in the previous portion of the title.
Quantum Break will feature alternating story sequences and half-hour episodes for users to enjoy. Remedy says that "the game is about heroes." While the "show is about villains." Remedy later elaborated on the nature of the game saying it's in the game portion that users play as protagonist Jack Joyce. In the show gamers will "follow the schemes and power play inside Monarch, the corporation that's Jack's main enemy."
That Microsoft is sharing more information about an upcoming exclusive Xbox One title before this year's event is great. Microsoft seems to be setting expectations and making sure that no-one goes into its event with high expectations. Last weekend Microsoft did the same thing, announcing that Halo 5: The Guardians would arrive next year as well.
At this point, it remains unclear what Microsoft will show at its E3 press event on June 9th. In recent weeks it's shared the information about Halo 5, introduced an Xbox One bundle that costs just $399 and doesn't include the Kinect 2 sensor. Shortly after it announced this new cheaper Xbox One bundle it said that it would eliminate the pay wall that requires Xbox One and Xbox 360 users to have Xbox Live in order to use entertainment apps. To be clear, users will still need an Xbox Live Gold subscription to play multiplayer, take advantage of weekly deals and exercise with Kinect Fitness. Just last week the company announced and began testing external hard drive support so that users can add to their Xbox One's pool of storage. The company has gone on record saying that it'll talk about nothing but games at this year's show but with Quantum Break & Halo 5 out of the running, what the company will show is up in the air.
Microsoft could share more about the Fable Legends game that it revealed last year. Rumors of a follow up to the Crackdown game that Microsoft bundled the Halo 3 multiplayer with are running rampant as well. Crackdown is one Microsoft's few open-world titles. Users play as a comic book hero and earn power-up to enhance their character's super powers.
Microsoft's E3 media on June 9th will be shown on Spike TV and streamed over Xbox Live. Remedy Entertainment has a Quantum Break reveal scheduled for this year's GamesCom event. GamesCom starts August 14th.