Microsoft Shows Apple How To Do Cut and Paste in the Bing iPad App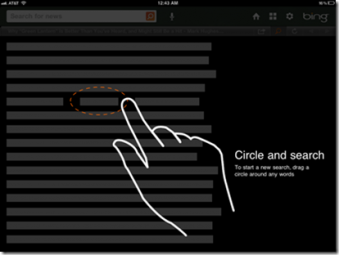 Tablet PC geeks are going to both love and hate this one. Microsoft rolled out and update to its Bing App for the iPad today. And with it came a new way to do some cut and paste and search. Microsoft calls this (wait for it Tableteers, wait for it…) the Lasso, and also Search Without a Box.
Yep, I know many readers here remember the Lasso gesture. Well, it's back, but only for the Bing iPad App apparently. Anyway, the way it works is this. You open up the App, you search for something. Once you click on a result, say you want to search for something within that result. Well, there's a tool bar that now adorns your screen. On it you see a magnifying glass with the glass outline made of hashes. Click on that. You can then use your finger to circle (or lasso) what you want to search within the web page. Assuming it recognizes what you've lassoed. If it does you'll get a happy sound effect and a check mark. If not, a sad sound effect an X.
At that point, your recognized search result opens up a page of results that flies in from the right. You can search that or slide the page back to the right and out of your way.
Yes, I've tried it with a stylus and that does give you a little better control than with your finger. As you can imagine lassoing a circle on a web page can be tricky and you'll get more rejections than you will recognized words or phrases.
Of course the question many folks currently using Windows Tablet PCs might be asking is, "hey, what about us?" But then, that's an old story isn't it? What this shows is that cutting and pasting could probably be a little simpler on most of these mobile platforms. Don't ya think?
You can read more about it here on The Bing Community Blog where they call it Search Without a Box.

As an Amazon Associate I earn from qualifying purchases.