Microsoft Shows Features Coming In Next Windows 10 Update
Microsoft only began updating users to its Windows 10 operating system in late July. Now it's giving members of its Windows Insiders Program access to new features coming to all users in its next major Windows 10 update.
The company announced the new features being prepped for a future Windows 10 update this week in a post on its Windows Experience Blog. Free Windows 10 upgrades arrived for owners of Windows 8 and Windows 7 notebooks, desktops and tablets earlier this year. Since becoming available to everyone, the operating system has been installed on over a 100 million different devices. Windows 10 Insider Preview Build 10565 packs some features and changes that address some big problems users are still seeing with Windows 10.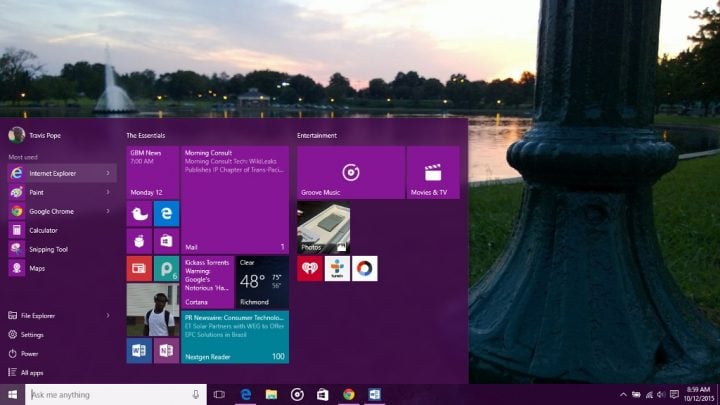 These fixes start with Windows 10 upgrade problems. Going forward Microsoft says that it'll allow users to take advantage of the free Windows 10 upgrade using the product keys that they have for Windows 7, Windows 8 and Windows 8.1. These product keys are the stickers that come attached to older PCs and are included with newer PC's documentation. Problems with obtaining upgrade keys and more plagued the launch of Windows 10 back in late July.
Another nice to have feature is a setting for designating a single printer as the default printer for a device. That wasn't something that was previously possible with Windows 10. The features coming in this Windows 10 update don't get flashier than these things though. Users can inject a little color into their Title bars at the top of apps and programs too.
Microsoft Edge, the browser built-in Windows 10 that Microsoft hopes user flock to instead of Internet Explorer, is now able to preview tabs. The feature works as one might expect. While in another tab users can hover their mouse over another to get a preview of what's available in that tab. Microsoft Edge now syncs Favorites and additions to its Reading List area between multiple PCs.
Microsoft is finally addressing its Skype and messaging deficiency when compared to iOS and Android too. The latest test build of Windows 10 includes Skype calling and messaging apps that let users ditch the cumbersome Skype desktop program from yesteryear. These new apps allow users to send messages, place a phone call or place a video call to users with a Skype account. Separately these apps are known as Messaging, Phone and Skype Video. Microsoft says it plans to add more features to them before they go out to regular users of Windows 10. Already they let you reply to messages directly from notifications instead of diving into each app.
The biggest updates are reserved for Cortana, Microsoft's digital personal assisstant. With this upgrade Cortana can understand hand-written notes to her just like she can with speech and basic text. This move puts input on the same level as other input methods just as Microsoft needs it the most. It's Surface Pro 4 and other devices made by its partners place a big emphasis on users also navigating with a stylus. Cortana will now track movie tickets and order Uber rides directly to the theater. To pull this off Cortana scans incoming email, just like she does for flight information.
Again, these features are only available to members of the Windows Insider Program for now, but Microsoft clearly plans to roll them out to the general public sometime in the near future. Rumor is that Microsoft has a Windows 10 Update, code-named Threshold 2 scheduled for release around the same time it plans to deliver Windows 10 Mobile for smartphones and tablets. The Lumia 950 and Lumia 950 XL are set to arrive this November, hinting at a November release date for the Threshold 2 update.
To be clear, Microsoft hasn't confirmed plans for any major Windows 10 updates besides on-going bug fixes to address issues users reported with the initial Windows 10 Upgrade.

This article may contain affiliate links. Click here for more details.