Microsoft Shows New Xbox One Experience Ahead of Launch
In a new video Microsoft reveals to Xbox One owners what they can expect when the New Xbox One Experience arrives for them in a little over a week's time.
Microsoft discusses the New Xbox One Experience at length in post this morning on Xbox Wire, the console's official source for new information. The New Xbox One Experience brings with it Xbox One Backwards Compatibility, new apps, new Xbox Live social networking updates and a brand new experience when switching between apps, games and its built-in store. Microsoft has said that it'll add its Cortana personal assistant from Windows 10 and DVR support to the New Xbox One Experience in 2016.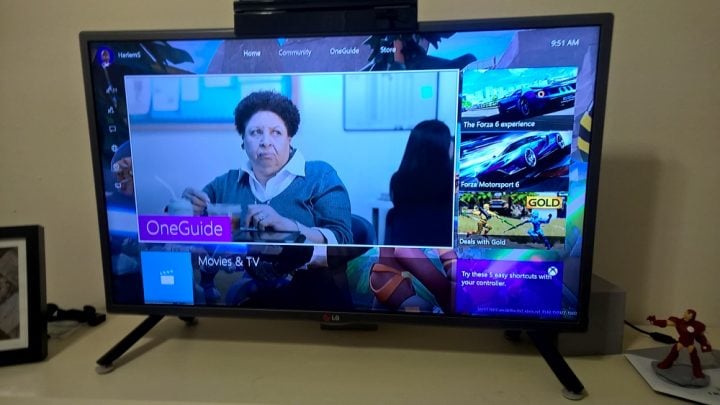 It was in a livestream for Halo 5: Guardians last week that Microsoft revealed the New Xbox One Experience release date is November 12th. Excitement for the software update has been high ever since. Mainly, because the software running on the Xbox One right now needs some big improvements. It's also because once the update arrives, Xbox One owners will be able to play some of their old Xbox 360 games on the system.
Microsoft's Mike Ybarra begins by touting the advantages of the new Home area for Xbox One. Based on comments from fans, Microsoft decided to ditch all the horizontal scrolling from the original software and position everything vertically. The last played game is on top, with access to other apps and games below it. Each of the games on the Home screen have direct links to friends playing those games already and every game's Hub. Game Hubs, are profile pages where users can look at a game's Achievements and read the latest status updates from the game's developer.
Read: Stunning New Xbox One Dashboard Revealed
The most dramatic change for the New Xbox One Experience is Pins. Pins have their own area on the Xbox One today. With this new software launches, Pins are at the bottom of Home, forcing users to scroll down to see any of their Pins or to get to the My Games & Apps area.
Today's post also offers a breakdown of the Guide. Originally, Microsoft required users to jump in between different apps or snap an app to the side of their screen to create a party or even send a message. Now the company seems willing to admit that walling off everything into apps that need to be snapped wasn't the best idea. That's where the Guide comes in.
Scroll over to the left on the New Xbox One Experience and there's the Guide, a one-stop shop for all the information or tasks gamers and entertainment lovers need. The Guide acts as a stand-in for individual apps. Users can snap an app, open settings, look at their notifications, read messages, create a party or sign in from this screen. When inside a game or app, the Guide is accessible by pressing the Xbox logo twice.
Read: Crucial Xbox One Backwards Compatibility Details Arrive
Ybarra is promising more details about the other areas of the New Xbox One Experience leading up to the software updates launch. The company revealed last week that users would need to purchase any downloadable content for their Xbox 360 games they play on Xbox One through the Xbox website or through their Xbox 360 console. We already knew that the Xbox One would add digital Xbox 360 games that users already purchased directly in their Xbox One games library.
To be clear, the New Xbox One Experience and Xbox One Backwards Compatibility updates are both free for anyone who has an Xbox One already or does purchase an Xbox One during the holiday shopping season. Theoretically, the company will begin installing the update on all the consoles it sells eventually.

This article may contain affiliate links. Click here for more details.