Microsoft Shows Off Xbox One Game Streaming
Today during its E3 press conference Microsoft announced that its new Xbox One console will have Twitch TV integration for game streaming.
The Twitch Integration will let gamers livestream their current game online with anyone interested in watching. Gamers will be able to give running commentary on their game as they play and interact with their viewers through the snapped Twitch app. The app will also let gamers upload clips to the service so others can watch after it happened.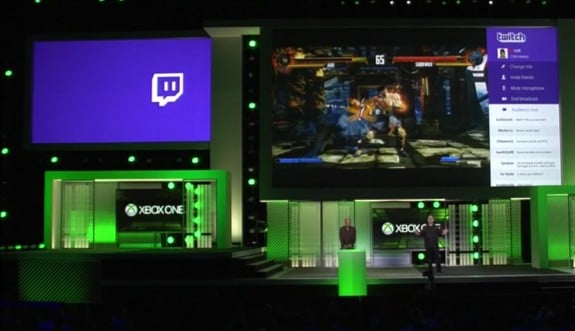 Like many online features, Twitch will only work for gamers who have an Xbox Live Gold account. The good news is that on the Xbox One, as long as one gamer on the console has an Xbox Live Gold account, everyone on the console gets those same features. That means that families now only have to pay for one subscription to enjoy the online features.
The Xbox One will also have its own way to share game clips after a game with the system's new Upload Studio. Microsoft demoed the feature on stage after a quick match of the new Killer Instinct that's coming to Xbox One.
After the match a notification appeared on screen asking the player to upload a clip of the game to Xbox Live. The Game DVR feature of the Xbox One automatically saves a clip of the game which gamers can then edit using the controller, or with SmartGlass.
The app gives gamers the chance to shorten clips and add themes to the clip to match the game the clip is from, or a mood they want to set for the clip.
Sony's PlayStation 4 will also have the ability to share livestreams of games, though its service will work with UStream instead of the gamer-favorite Twitch. On Sony's platform developers can control which parts of their game gamers can stream. There's no word on if Microsoft will enable similar controls.