Microsoft Skips Windows 9, Reveals Windows 10
Just as rumors indicated and leaks confirmed, Microsoft does have a new version of Windows in development that'll add the Start Menu back to the Desktop. It'll be called Windows 10, not Windows 9.
Microsoft formally announced Windows 10 along with some of the upcoming features that users can expect earlier today at an intimate event in San Francisco. Hosted, by newly minted Window head Terry Myerson, Windows 10 will include each one of the features that Microsoft showed off at its BUILD 2014 develop event were on full display.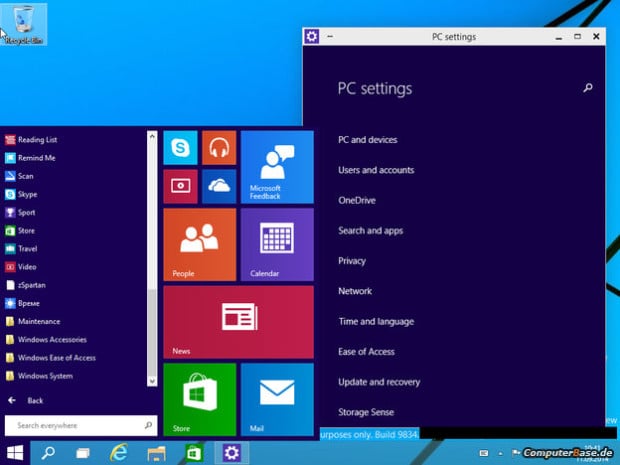 In introducing Windows 10, Myerson set the tone by discussing how users expect their devices to "just work." According to Myerson, this new Windows had to be built from the ground up for a "Cloud first, mobile first world."
Microsoft says it's delivering one central app platform across, all of its devices. Pictured in that slide were traditional Windows platforms like laptops, notebooks and tablets. Also included was the Xbox One, the company's latest gaming console. With Windows 10, Microsoft will unite every app store it offers. In theory that's a huge advantage for users who have one or more devices on its platform already. For example, purchasing an app on Windows could unlock it on the Xbox One or vice-versa, at least that's the theory any way. It's more likely that this won't be the case and Microsoft is aiming to allow developers to create an app for Windows and have it work reliably on every one of its platforms. Today, Windows 8.1 and Windows Phone 8.1 don't share an app store, but do unlock companion apps when a user makes a purchase on one or the other.
Microsoft's Joe Belfiore showed off the new Start Menu on stage at today's event. A power button, a search box, a list of most popular used applications and direct links to apps that previously lived in the Start Screen were all included. As with the Start Screen, modern apps were represented by a Live Tile. Belfiore repeatedly made references to Windows 7, the version of Windows many PC users still adore and know how to use. It was these users that Microsoft upset most with the Start Screen in Windows 8.
"We want all these Windows 7 users to have the sentiment that yesterday they were driving a first-generation Prius… and now with Windows 10 it's like a Tesla," Belfiore told those in the audience. He thin compared this new interface to an automobile saying users "don't have to learn any new way to drive."
This new Start Menu can be adjusted for size. Microsoft has also updated the Start Menu search functionality to be universal. When someone searches for things in the Start Menu in Windows 10 they'll get results for files, the web and installed apps. Microsoft also showed off Windows Store apps running inside the Desktop and blasted Windows 8 for the "duality" that it introduced to the Windows ecosystem.
The multiple desktop view that leaks surfaced of earlier this year was also shown on stage. It's being called Tasks View and it's essentially multiple desktops that hold apps sorted by what task users are trying to complete. Apple's Mac OS operating system has had a view like this for sometime but this is the first time it's been available on Windows. Users will be able to snap apps directly to the side of their screen
Rumors indicated Microsoft planned to only focus on business users with today's invent and so far that seems to be the case. There's been no mention of anyone beyond mouse and keyboard users almost a half an hour through its event. That makes sense as Microsoft is hoping to rebuild its credibility with power users – the majority of which use Windows on machines that don't have touch. The company did show a Start Screen that changes based on input method that's being introduced specifically for 2-in-1s like the Surface Pro 3.
Microsoft says that it will roll out the Windows Insider Program for users who want to experience these changes for themselves. The Windows Technical Preview Microsoft launches tomorrow will include versions for laptops and desktops.
Microsoft won't start talking about Windows 10's user-oriented features until next year. Windows 10 won't launch officially until "later" in 2015.