Microsoft Store Black Friday Deals: Price Drops on Surface and Xbox 360
The Microsoft Store, Microsoft's direct-to-consumer retail outlet may not have the biggest footprint, but that isn't stopping its online website from announcing that it'll slash prices on Xbox 360s, Xbox 360 accessories and Surfaces at midnight on Black Friday.
That Microsoft might want to get customers on its own retail site for deals isn't all that surprising really. After all, most retail stores try to outspend each other with limited time deals on the day after Thanksgiving all the time. No, the interesting thing here is the Microsoft Store's approach. Unlike other retailers, Microsoft isn't yet telling users how much they'll actually save.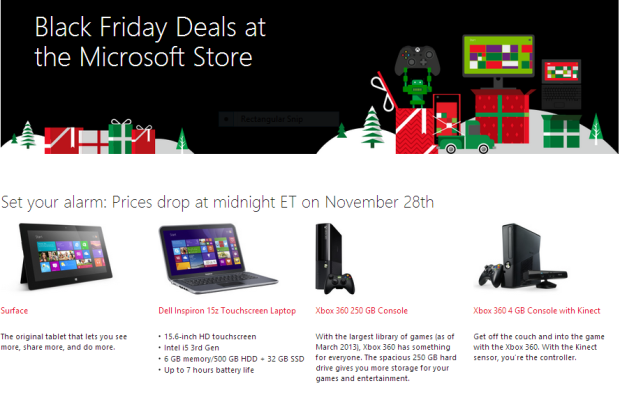 Instead, Microsoft is only confirming that users should expect an assortment of Black Friday deals online at midnight the day after Thanksgiving. Although we don't yet know how much of a price drop users will get once the sale starts, Microsoft Store's assortment of items is large.
Items listed as getting prices drops include Microsoft's original Surface tablet, the Dell Inspiron 15z laptop, an Xbox 360 with 250GB of storage, an Xbox 360 with Kinect and 4GB of storage, a Gateway NV570P10u laptop and the Samsung ATIV Book 5 ultrabook. The list also includes the Nokia Lumia 520 for use with AT&T's wireless network, and MakerBot Replicator 2 3D printer.
Users looking for accessories for any of those items will also find discounts on the Jawbone JAMBOX, Beats by Dr. Dre Mixr headphones, Beats by Dr. Dre Solo HD headphones, JayBird BlueBuds X Bluetooth headphones, Skullcandy Inked earbuds, WeSC Piston Street headphones and the Beats by Dr. Dre Pill audio system.
Microsoft will also discount the special edition Camouflage Wireless controller for the Xbox 360 and a slate of Xbox 360 titles including FIFA 14, Halo 4: Game of the Year Edition, Call of Duty: Ghosts, Grand Theft Auto V, Madden NFL 25, Assassin's Creed IV: Black Flag and the Skylanders Swap Force Starter Pack.
All told, it's not a terrible line up of goods, however users won't find out if there is anything to really get excited about until November 29th at midnight. Well after they may have already decided to shop somewhere else.