Microsoft Store Cancels Some Surface Book Pre-Orders
It seems that Microsoft's online retail store is struggling with Surface Book pre-orders. Some unlucky Surface Book buyers are reporting that their purchases have been cancelled out of nowhere, forcing them to place another order that they won't actually receive until November.
The Microsoft Store began cancelling Surface Book pre-orders earlier this week. Users began reporting these cancellations in the r/Surface Reddit Community, detailing their experiences and troubles with their orders. The Surface Pro 4 is Microsoft's tablet that can be a full-on notebook replacement. The Surface Book is a high-end notebook PC. In its base is a dedicated graphics processor, extra batteries and ports. The top half of the Surface Book is a detachable tablet that support Microsoft's Surface Pen accessory.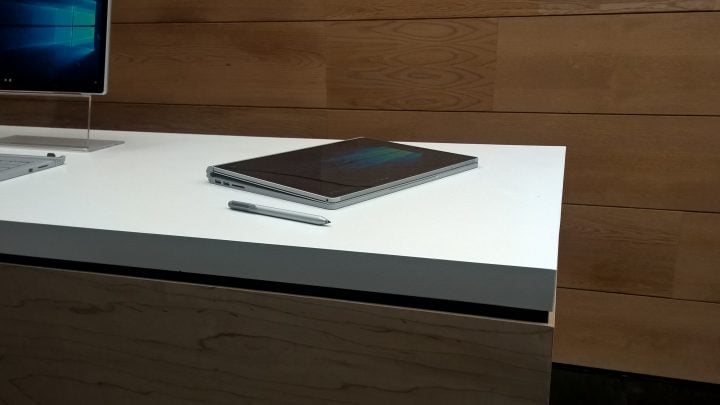 According to most, the issue isn't related to the Surface Book being in stock, but authorization issues with the Microsoft Store that the company has known about for months. Quickly, the thread on Surface Book pre-order cancellations turned to false reports of fraudulent activities that the Microsoft Online Store is known for. "Might be unrelated but check to see if your bank flagged the purchase as fraud. Happened to me this morning," the first user in the thread says.
Read: Microsoft Surface Book Impressions
"Yeah that's why they cancelled the order. I thought they wouldn't charge until it ships, my bank just put a hold on the funds," another user who has had his Surface Book pre-order cancelled remarks. This user had his pre-order cancelled out right and says that he isn't expecting to get his Surface Book on release day because the device shows a "2 month ship date" when he tries to place the order again.
Banks seem to be marking the transactions on buyers accounts as fraud because the purchase amounts are so large. The Surface Book starts at $1,499 for an entry-level model. RAM and storage upgrades for the device are pricey. Many banks flag transactions that are out of the ordinary for their customers as a way to protect them from unauthorized chargers from scammers. The problem here is that it seems the Microsoft Online Store didn't ask some users to provide new account information before it automatically cancelled their pre-order.
The Surface Book has a 13.5-inch 3000 x 2000 resolution display. There's a single USB port, MiniDisplay Port and Microsoft's Surface Connect port for charging and connecting to other accessories. It comes with Windows 10 Pro instead of the standard edition Windows 10 operating system.
The Surface Book with Intel Core i5 processor, 128GB of storage and 8GB of RAM is $1,499. The 256GB Intel Core i5 Surface Book with 8GB RAM and 256GB of storage is $1,699. Getting a Surface Book with Intel Core i7 processor costs at least $2,099. The most expensive Surface Book costs $3,199. It includes 1TB of storage, an Intel Core i7 processor, 16GB of RAM and a discrete graphics processor.
It's a bad situation for early adopters to be in. After all, they're taking a chance on Microsoft's first-ever notebook PC. The Surface Book is connected to its base by what Microsoft calls a dynamic fulcrum hinge. The hinge looks sort of like a spine, letting users adjust their display at any angle. When docked with the base, the entire machine gets a performance and battery life boost because of the internals the base contains. Pushing a button on the Surface Book unlocks a mechanism inside the Surface Book body that frees the display. Microsoft includes the base and a Surface Pen with every Surface Book.
The Surface Book page on Microsoft Online Store is now showing a shipping time of 4-5 weeks for the entry-level model. The mid-range models have a shipping delay of 6-7 weeks. The most expensive Surface Book won't ship until January 22nd, 2016.
Update: A Microsoft Store spokesperson confirmed to Gotta Be Mobile overnight that the company will work directly with customers to get their order out within days of their original order's arrival date.
"As we are processing and shipping the previously placed Surface Book pre-orders, some needed to have order details re-entered to properly process the transaction. We will be contacting impacted customers, and should they wish to keep their order, it will be shipped within a few days of being re-entered."

This article may contain affiliate links. Click here for more details.