The Microsoft Surface 2 Take 2
Sometimes you get a lemon. And with gadget lemons it is tough to make lemonade. I've had a Microsoft Surface 2 since launch night on October 22 and have written quite a bit about my experiences. (See the links at the end of this post.) Early on with the device I experienced a few random crashes that I chalked up to software conflicts. Windows 8.1 was new, the device was new, there were bound to be some hiccups. Microsoft has been pushing out firmware and software updates for the Surface 2 at a good clip since the launch and I have to give them credit for that. Today's Microsoft Patch Tuesday updates include quite a few changes specifically for the Surface 2. Improved battery life, improved stability, and performance enhancements for the Type and Touch Covers are listed among other things. My thought was with the brisk pace of updates things would settle in.
But in the past week those random crashes became much more frequent. It's never a good idea with a new device, especially the first version of a new device to wait for too long to see if things will straighten themselves out. So, today I took a trip back to the Microsoft Store and talked to Microsoft's version of a genius. Microsoft calls them Service Advisors.
For GBM I had snapped a few pictures of the Surface 2 when it had crashed and fortunately those pictures came in handy when showing what had happened. One look and the Service Advisor said he was just going to swap it out.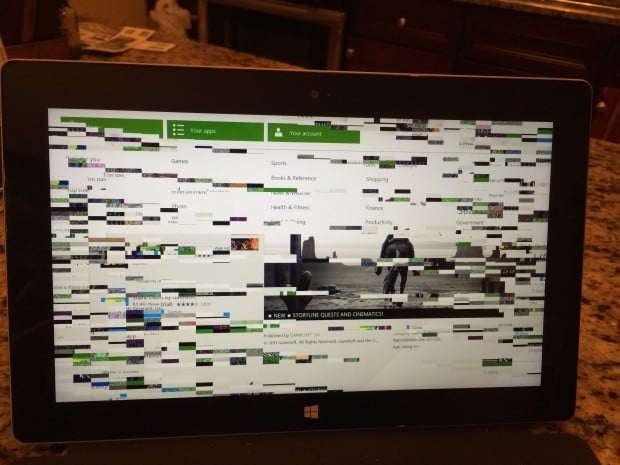 I've still no idea what caused these crashes. As I say they were quite random. At times the screen would display the pixelated effect shown in the picture, at other times the unit would just fail to boot unless I removed the Touch Cover and let it sit for awhile. But we all know that random crashes happen when you least expect them and when they are the most troublesome. So, the Service Advisor swapped out the unit. I came home and began to set up a new Surface 2.
A word of advice here. If you're having difficulties with a device and have local access to a Microsoft or Apple Store, it is a good idea to get to know one or more of the reps. This is especially true with new devices and device categories. These companies want to know if products have bugs. Spelling out your case coherently and calmly often leads to good results (like swapping out one device for a new one.) New devices with strange behaviors are captured by the store and sent back to be investigated so hopefully issues will be solved in later releases.
One of the nice things about mobile technology these days is access to the Cloud. For the most part your settings and data are stored in the Cloud, making it much easier to restore a device, or swap to a new device than it used to be. Microsoft's Cloud system, Skydrive, works this way. Once I booted up, I was asked if I wanted to set it up as a new device or restore from backup. I chose the latter option, which is not how I usually do things. Typically I set up all new devices from scratch, but I wanted to see if there was something in the software mix that might cause this new unit to have the same difficulties. Obviously I'll have to wait and see if that occurs. So far things are running more smoothly, but it is far too early to tell.
Read: Microsoft Surface 2: Less Confusing and More Viable
Here are a few interesting observations about setting up the Surface 2 this time around:
There have been quite a few updates from Microsoft since the release on October 22, both firmware and software. All of Microsoft's pre-installed Apps have also been refreshed. Once I was booted up and logged it, it took 39 minutes to perform all the updates and refresh all of the Apps. This was before today's updates. Essentially this means that anyone purchasing a Surface 2 should prepare to spend at least 39 minutes updating software.
On Windows 8.1 in all of its variants, Microsoft includes a People Hub.
This is where you can see updates and notifications from members of your social networks, email and calendar all in one place. Once you open the People App you can add accounts. To do so you swipe in from the right to bring up the Charms Menu and choose Settings. You're then given a series of choices including Accounts. Choose Accounts and you can then choose to Add Accounts. After doing so, I was puzzled by this because I was only given three options to choose from: Outlook.com, Exchange, and Sina Weibo. Where were my other accounts such as Twitter, Facebook, and Linkedin?
The bottom line here is that it takes quite some time for the People Hub to sync in your other accounts, and you just have to be patient and they should appear. It took approximately 15 minutes of syncing for things to look normal again.
Read: Microsoft Surface 2 Review Part 2: Apps and the Problems They Cause
If you've downloaded Apps from the Microsoft Store (separate from the ones Microsoft includes with the Surface 2) and placed them on your Start Screen, the Tiles will appear with an down arrow in the lower right corner. To re-download the App you just tap the Tile and it will download. Or, if you're feeling adventurous and have some time to kill you can head to the Windows Store, swipe down or up on the Store screen and choose Your Apps. From there a drop down box is available where you can choose Apps Not Installed on This PC, among other choices.
If you choose this and and then choose Select All at the bottom of the screen, you can then choose to install them all in one shot. I would caution against this and recommend you bring Apps in as you need them. Too many Apps are older and haven't been updated yet for Windows 8.1.
Microsoft does a good job of remembering your settings and layouts from one device to the next. Note though that if you're moving from an Intel based PC to a Surface 2 not all of your settings will transfer back and forth between these two devices.
Again, don't be timid about taking a new gadget back to a store if things don't feel right. You've paid good money for the device you now own. It should work the way you think it should.
Other Posts about the Microsoft Surface 2 and Surface RT

As an Amazon Associate I earn from qualifying purchases.